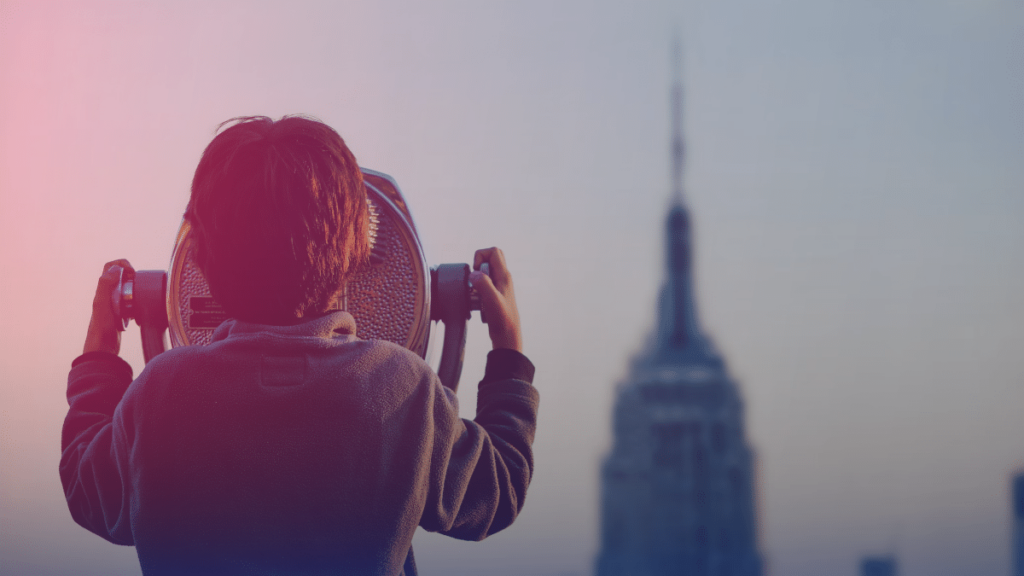 If there's one word that best describes Grepsr's 2022, it would be introspection. We sieved through our processes and retained what works, and discarded what doesn't, to make room for improvement and growth.
We all have the right to our crazy dreams.

Soichiro Honda
2022 has really been a curious time for us. As we emerged out of lockdown, not only unscathed but riding high after undergoing a dizzying spell of unprecedented growth, we were forced to take a step back, and look at the past decade.
As improbable as it sounds, we never even set a date to celebrate Grepsr's founding.
Our team doubled in 2020 at the peak of the Covid snafu. We moved to a new location with a futuristic setup and state-of-the-art architecture.
A crop of leaders had grown inside Grepsr, who could deliver on tight deadlines, deal with complex use cases, and ensure our global clientele was satisfied.
As brand spanking new young bloods joined our organization we were faced with a question, to which, frankly we didn't have a straight answer.
The question was: What Now?
Taking stock of the past
We worked through two natural catastrophes — the 2015 Nepal earthquake and the 2020 global COVID-19 pandemic.
The former showed us the ropes to working from home. As tremors rocked our world, our team focused their attention to ensuring data extraction schedules were maintained, and client queries answered.
Contrary to our clients expectations, which had dropped significantly owing to the earthquake, we delivered on time as if no seismic activity had been recorded in this part of the world.
Just like the earthquake, the past decade was replete with unpredictable shocks and aftershocks, but we've learned that if we put client needs first, we can get through almost anything.
We were once shortlisted as one of many data acquisition service providers for a leading ecommerce retail brand. They were having a tough time collecting data from their dashboards and putting it into a presentation.
There were hundreds of data points, and since all of it was being done manually, we resorted to doing what we do best. We automated the entire process, as a result of which, we were chosen to be their sole data extraction partner.
The cornerstone of our progress has been rooted in problem solving. Recently, we've started building dashboards for one of our customers. They wanted a better view of their data, and we paired data visualization with our data extraction services to help them better understand the data they were receiving. Nothing groundbreaking, but definitely a big leap.
Fast forward to 2022, and we have come a long way. We now have some of the biggest companies in our client base — many of them Fortune 100 enterprises.
We realized it was perseverance and dedication to the craft that fueled our growth until this point. Growing from here on was going to be a different ball game altogether.
Data processed in 2022
We are fortunate to come as far as we have. We certainly couldn't have done it without our stellar team. The production and consumption of data continued to grow in 2022 as expected. To meet the demand, we had to scale our resources, both in terms of manpower and technology. You can see the results below: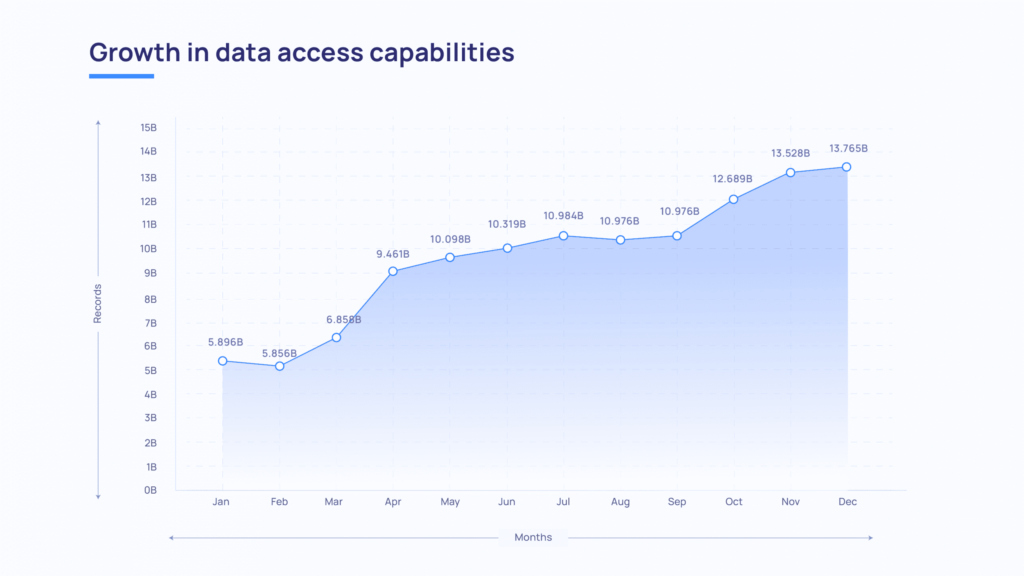 We collected 121,042,692,223 records in 2022. Which translates to:
10,086,891,019 per month
336, 229, 701 per day
14,009,571 per hour
233,493 per minute
3,892 per second
Brands crave data
Simplify access to data. This has been our mission from the very start. Even in 2022, we saw a massive demand in web data and stepped up to the occasion to help companies from around the globe get access to quality data ready for deployment.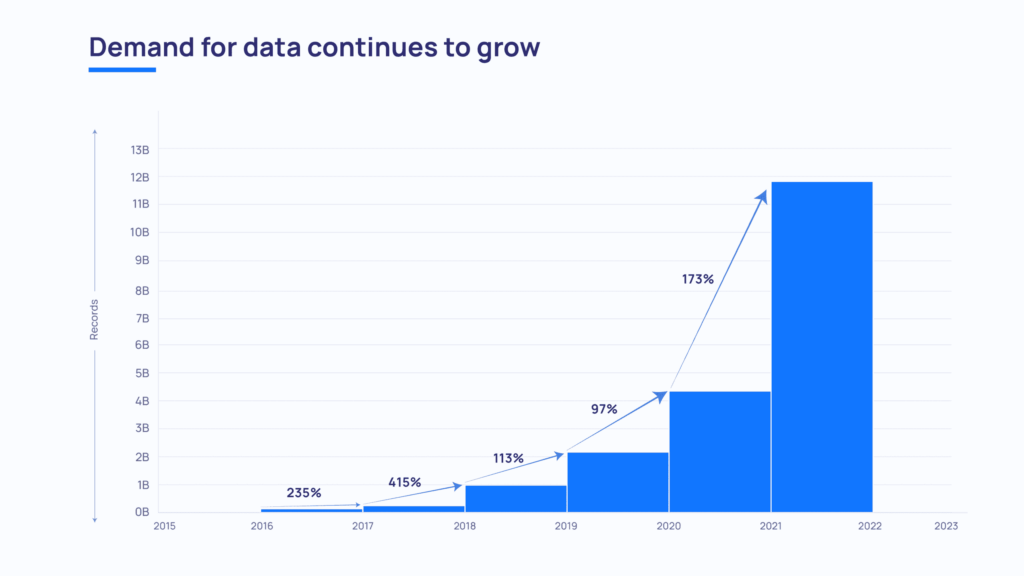 We processed 173% more data than in 2021. If you look at the trend from 2016, you will see that there's a recurring theme to it. Companies are relying more and more on data, and if you haven't begun leveraging data already, it's high time that you get started.
Tech stack evolution
In 2022, a significant portion of our engineering effort went into developing features that went beyond hands-on data extraction. It's all part of our larger agenda to build a watertight data management platform. Broadly, we focused on the following areas: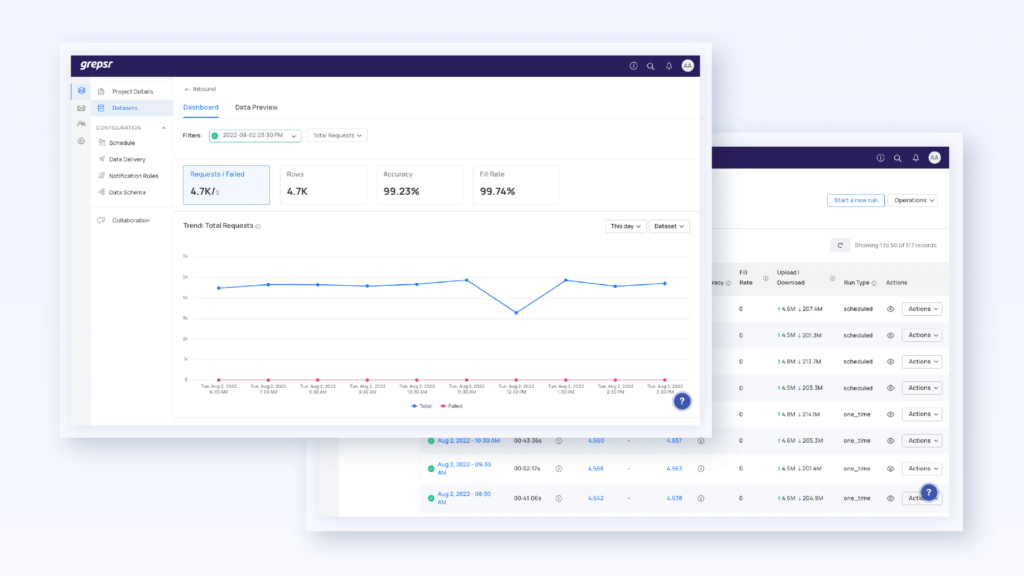 1. Data quality and transparency
We identified and implemented more data quality metrics like accuracy and fill rate which is now easily accessible to the users of our platform.
2. Team management
As part of our drive to make our platform more user-friendly, we made improvements in assigning well-defined roles and permissions to the users. We also made further augmentations to minimize security vulnerabilities.
3. Project management
We've incorporated new options in the platform that helps users create and manage projects more effectively. More specifically, we focused on transparency between the Grepsr team and our users.
4. UX/UI upgrade
To make sure the users do not get lost navigating our platform, we've created a simple and self-sufficient interface to empower the users throughout their journey.
5. Platform support
Now you can find a user guide and help section in the platform. We added this to aid the user in getting a full understanding of our platform right from the start.
A huge step in the right direction
Stanford University Graduate School of Business's seed program is designed to help promising entrepreneurs and startups transform their businesses and lives.
As part of the program, our leadership team engaged in a two-year-long course, dissecting the problems associated with our growth. We listened to the experiences of hundreds of startups around the world and discussed many possible ways to identify problems and discover their mitigation.
It's been a year of immense learning and mindset change with the Stanford University Graduate School of Business through the Seed Transformation Program. Great experience learning from like-minded leaders from different industries. It was made possible only with our leadership team at Grepsr that stepped up during the program and will be instrumental in our transformation going forward.

Amit Chaudhary, Co-founder & CEO, Grepsr
We looked deep within ourselves and played out many scenarios. With the guidance of experts in the field, we learned the fundamentals of running a truly sustainable enterprise.
As technical founders who have bootstrapped all the way to build a sizable and revenue-scalable business, Stanford Seed has been a transformation for both me and Amit. It has unlocked perspectives that we never thought of before. We are ready to scale Grepsr and build a truly global company that delivers on our mission to Simplify Access to Data.

Subrat Basnet, Co-founder & CTO, Grepsr
Our Vivid Vision
We're excited to launch Grepsr's Vivid Vision.
Basically, it's our roadmap for the future. Importantly, it's the impact we want to have on the world stage.
In trying to pave the way forward, we figured it'd be a great opportunity to share our plans for the future with everyone we are associated with, in one way or another. Be they our esteemed clients, valued employees, trusted partners, or cherished well-wishers.
So, if you're like us and believe in playing the long game, you now have a clear understanding of what Grepsr offers and what you can expect from us in the future.
Without further ado, we'd like to present our goals for the future:

1. Inaugurate the Grepsr Institute of Data
Albeit the western world is well-versed in data technology, the Nepalese private and government institutions still have a long way to go to develop systems that guarantee effective usage of data in their overdue digital transformation.
As a leader in the data space, the onus falls on Grepsr to upskill the Nepalese workforce on different data technologies and prepare them for a data-driven world.
We plan to work in this area in the coming years and establish the Grepsr Institute of Data to facilitate learning of various data technologies.
2. Be named one of the best workplaces in Asia
One of the exercises in drafting our Vivid Vision also involved codifying our core values. Even if we didn't explicitly state what they were, all our team members knew about it in some form or another. Grepsr encompasses a culture focused on growth and rooted in empathy.
We believe that if we take care of each other and work together towards a common goal, we can achieve great things. Relying on this age-old wisdom we aim to be nominated as one of the best workplaces in Asia.
3. Build partnerships along the data value chain
If you want to go fast, go alone. If you want to go far, go together.

African proverb
Our services for the last decade have revolved around data acquisition and delivery. We want to move beyond that by partnering with different players along the data value chain.
Ultimately, our goal is to provide value to our customers. When people from divergent backgrounds come together, in this case with expertise around Big Data analytics, data visualization, etc., we are confident we can deliver end-to-end data solutions to our mutual customers.
We've already begun partnerships with various companies from different backgrounds. Grepsr recently joined the Datarade's Data Commerce Cloud (DCC) to create industry-specific data products.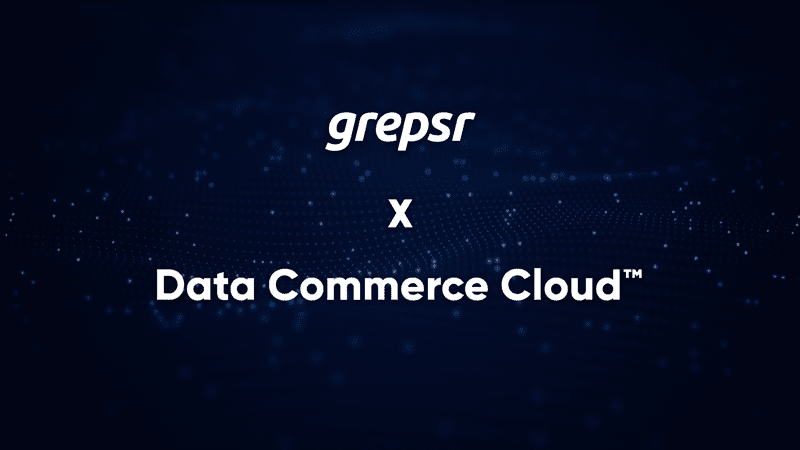 Press Release: Grepsr joins Data Commerce Cloud (DCC) to meet global need for actionable, on-demand DaaS solutions
Grepsr collaborates with Datarade to meet the global need for actionable, on-demand DaaS solutions.
If you want to partner with us, please visit this page.
4. Become a peerless custom data provider
After working with their competitors, I am convinced that Grepsr by far provides the best value for concierge data mining! Their customer service and turnaround times are stellar. They work with you to customize data in the format you need. I have already recommended them to other businesses.

Lisa S, Founder
Some might say we already are a peerless custom data provider!
We were one of the very first movers in the data extraction space. Our managed data acquisition service is characterized by superior quality, quick turnaround time, and responsive customer service.
Moving forward, we will be increasing our bandwidth to take on more web scraping projects, as we've done every year. Since we emphasize on quality more than quantity, our focus will be directed towards getting top talent at scale, and augmenting our technology to meet the growing demand in data.
Tag along for the ride
This is a call to arms for potential data partners and an expression of confidence in the hopes and dreams of our customers. We want to make a certain kind of impact on the world that not only uplifts the lifestyle of our team, but also helps the wider community derive better results and drive innovation with data.
Just out of a decade riding bewildering rapids, we have decided to look at the universe squarely in the eye once again, and demand a round two.
After all, aren't we all trying to grapple with the torrent lunging at us, and get better at holding our footing?
Happy New Year 2023!