Data (Extraction)-as-a-Service: Where Data Meets Dependability
If you're looking to offload your custom data extraction needs, you have come to the right place. Grepsr stands as a trailblazer in the Data (extraction)-as-a-service model, with a track record of more than ten years crafting tailored data solutions for diverse brands and applications. This expertise comes from analyzing countless examples, giving us a nuanced, probabilistic understanding of the web data you need, where it is, and where it could be. For all practical purposes, consider your search for a reliable external data provider, ended.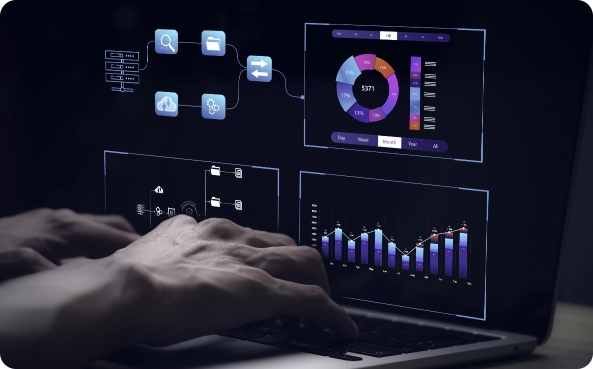 500

M+

Records processed per day
10

K+

Web sources parsed per day
ONBOARDING YOUR EXTERNAL DATA PROVIDER
Get started with Grepsr in a few easy steps
What you will find in Grepsr is a battle-hardened team of web scraping veterans skilled in the tricks of the trade. We've earned trust from our clientele, some of whom are the biggest brands in the world. Give us a chance to prove our data extraction expertise to you.
Share your data requirements
Discuss your data needs and define Key Performance Indicators (KPIs) crucial for project success. This step initiates the comprehensive onboarding process, covering project specifications, workflow definition, feasibility testing, and use case analysis.
Payment and initial run
After all parties decide on the way forward, you will receive a transparent quote. Upon payment confirmation, we initiate development. An initial data run ensures quality standards are met.
Account manager assignment
After payment, a dedicated account manager oversees your project. Easily onboard team members using our platform, facilitating real-time communication through Messaging and Teams feature.
Data sample approval
Your account manager provides a sample. Upon approval, we proceed with a complete run, addressing discrepancies promptly to ensure seamless data delivery.
Full-fledged data collection
After sample approval, we scale up operations and conduct a comprehensive run. Rigorous quality checks, including automated processes and manual scrutiny, maintain high standards. Our QA processes, guided by statistical and logistical analyses, enhance accuracy.
Tailored data delivery
Customize your data delivery method (Email, DropBox, FTP, Webhooks, Slack, etc.) according to your preferences. Stay updated with email alerts and enjoy unlimited amounts of data storage.
OUR EXPERTISE
Data collection infrastructure & capabilities
A modern-day data platform that provides a single, secure visualization layer to automate your data acquisition and integration workflows, and monitor data quality on-the-fly.
Guaranteed top quality
From understanding our customers' requirements to the final delivery, we take extra precautions to serve nothing but the most accurate and reliable data.
Web extraction veterans
In addition to the driven, innovative and creative engineers, our talent pool is highly adept in extracting web data from the farthest reaches of the internet.
Easy fix for complex use-cases
For the last decade, we've accumulated the process, tech infrastructure, and many use-cases to render some of the most difficult web scraping jobs a walk in the park.
Overcoming restrictions
Web scraping isn't straightforward — websites regularly block crawlers for a myriad reasons. We overcome all restrictions to ensure your data flow is seamless.
Easily scaled and customized
We understand your data needs may change halfway, and that's okay. Our team is flexible enough to incorporate change requests even after setting up your crawlers.
Responsible web scraping
We are fully aware of the responsibilities that come with the job. We design our crawlers in a way that does not disrupt our data sources, and affect their performance.
TESTIMONIALS
Here's what our customers say about us
The tech team is very responsive and the in-account messaging service is very convenient. Turnaround times are​ world-class! I would not hesitate to recommend their services.
Had a positive experience working with their team. They were able to tailor some of the data templates and delivery for our business, at a small cost. Although it involved multiple iterations with some QC errors and back-and-forth, we were satisfied with the end results.
I worked with Grepsr to undertake a one-time extraction of data through web scraping for references made to keywords across four websites of Multilateral Development Banks. Grepsr scraped vast volumes of data over 65,000 PDF documents and provided final files of scraped data in the format I desired. This data scraped by Grepsr will have a profound impact on my research.

Data to make or break your business
Get high-priority web data for your business, when you want it.
CUSTOMER STORIES
Shaping a prosperous future with data-driven decisions