Chrome Extension, APIs, Better Support & Much More
---
This post highlights some of the biggest changes made to Grepsr, so that you can see how we've made it easier and faster than ever to source data reliably from the web.
Since we started Grepsr, we wanted to make data collection easier for the good of all small businesses, everywhere. An important part of that,  for us, was to think beyond offering pure DIY tools for technology-savvy people to more fully-realized (and more accessible) "solutions" for their teams and customers. Part of this is simple math — there are many fewer potential customers for products that require advanced technical skills to use — but we've also come to realize that this same thinking can also unlock huge value even among highly technical audiences.
Today, hundreds of tech and non-tech professionals use Grepsr to automate the messy process of web data collection and follow through simple steps to get what they really want — complete, clean and organised data. Every week, we learn about new companies using Grepsr to bring best B2B data into their system for sales and business development, market and competitive research, and other pieces of vital information for their business.
Now we're taking things to the next level.
When we first launched Grepsr, we were just 2 people. Since then, our team has grown to 15 full time staff. Simplifying the messy process of web data collection was our first step. But we know an easier and faster way to get these data at your fingertips significantly improves the work everyone's doing. Both are big steps forward in our mission to create a place where everyone can access more, better data in less time— and through our own experiences with growth, as well as conversations with our customers, we realized we needed to rethink some key things about the product to scale well. Instead of trying to tack on a bunch of features, we decided to do a complete rethink.
After almost a year in the works, we couldn't be more excited to share it with the world.
Re-engineered from the ground up, it sports a whole new look and feel, the ability to invite your colleagues/clients to share and access the data from anywhere, and a brand new Chrome app. Best of all, it comes with a better services-oriented architecture. We now also offer an API-enabled solution so the data gear-heads can plug it into their own systems to grind and mash with their other data. We think you're going to love it!
Don't worry, it's still the same Grepsr you know and love, just all grown up. If you already have a Grepsr account, simply login and you'll be guided through a quick tour of the changes. If you're new to Grepsr, we hope you'll give it a shot. Click here to sign up for a free account.
---

Flexible pricing models that suit your enterprise needs
---
Introducing Grepsr for Chrome

Until today, we did not offer a consumer-facing product. However, we realized there was room in the market for one after Palantir's acquisition of Kimono Labs, and its subsequent closure of the popular Chrome extension — especially since we already had the tools that made tagging any website's data possible.
We were big fans of Kimono Labs back in the day and we were pretty disappointed when they discontinued their cloud service along with the Chrome bookmarklet, which has left their ~123k users scrambling for an alternative.

— Amit Chaudhary, CEO, Grepsr
Today, we're excited to announce that we've launched Grepsr for Chrome, a self-service web scraping tool that allows you to start tagging data element right from any website, and instantly access it in your desired format. This means no more just-in-time data collection, no more installing and running complex software or chasing overseas programmers to build simple scrapers.
In addition, we wanted you to have a better and faster experience of getting things done with Grepsr. So our Chrome app will also let you connect your existing projects in Grepsr, to blend multiple sources and augment your current data. Behind the scenes the Chrome app runs on the powerful Grepsr platform, which means you will benefit from robust scheduling, on-demand scaling and monitoring for QA, APIs, and built-in third party integration such as Box, Google Drive, Amazon S3, Dropbox, etc. for faster data delivery.
Check out the video below to see how Grepsr for Chrome works and head to this page to download it for free.
As Kimono Labs Bookmarklet and Grepsr for Chrome are set up very similarly, getting started is going to be a breeze for experienced users. For others, let's walk you through step by step:
Step 1: On your chrome browser, navigate to the web page where you want the data to be extracted from, then just hit that blue Grepsr logo for the extension to initialize.
Step 2: Choose the data you want to extract from the web page via simple point-and-click.
Step 3: Give a name for the data element you tagged in step 2, then click "Save Field".
Step 4: Repeat steps 2 & 3 until you've tagged all the data elements you need, then click "Export".
Step 5: Name your project, and then your report. Then click "Process to crawl".
That's it!
---

Data to make or break your business
Get high-priority web data for your business, when you want it.
---
Once you click "Process to crawl", Grepsr will save your project and you'll be able to instantly see the data being fetched inside your account. You can download a simple CSV (or JSON/XML/YAML) file that contains all your new, aggregated and organised data. Check it out.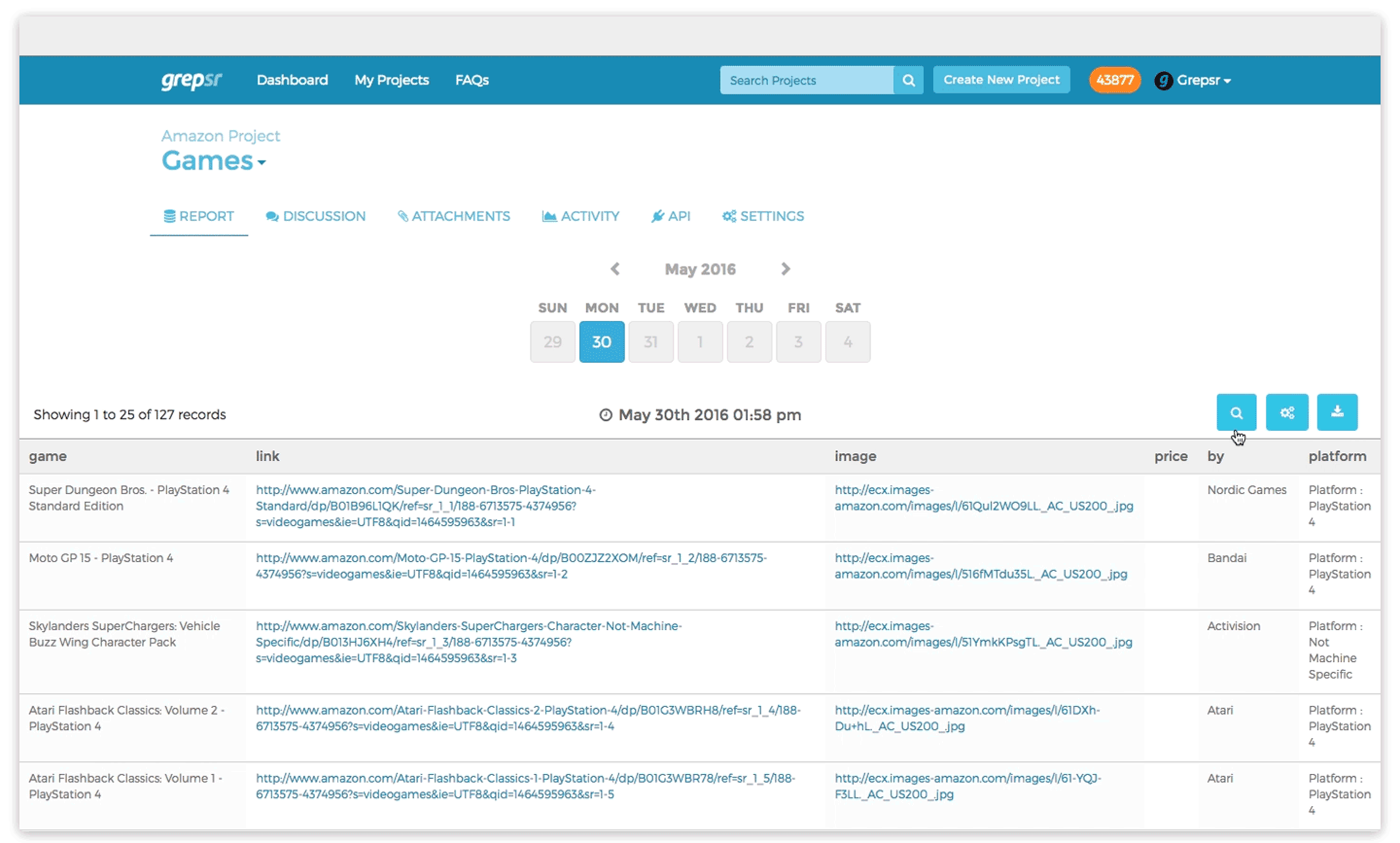 Alternatively, you can choose the option to send extracted data to your favorite BI, CRM or analytics tool using simple REST API.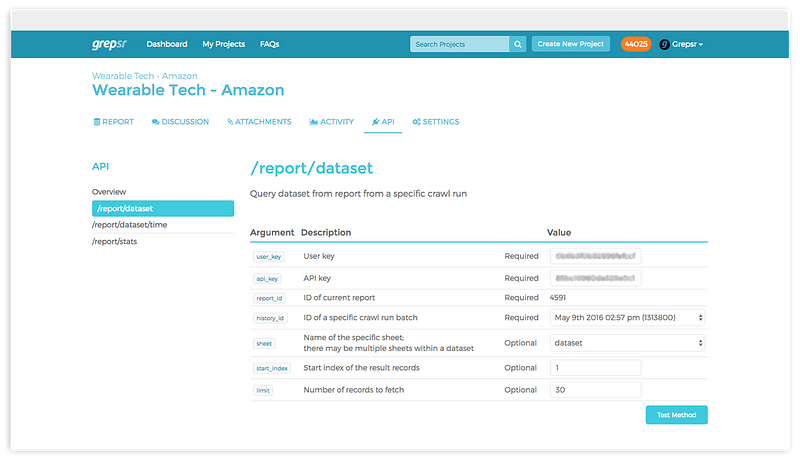 After you receive your first sets of data and you're happy with it, you can schedule the crawling frequency to collect fresh and incremental streams of data from the same source over and over again. Or you can immediately start a discussion with the Grepsr team to resolve any issue or expand the scope of work. All you need to do is head over to the project discussion room and drop a message, and you'll hear back from us within 24–48 hours.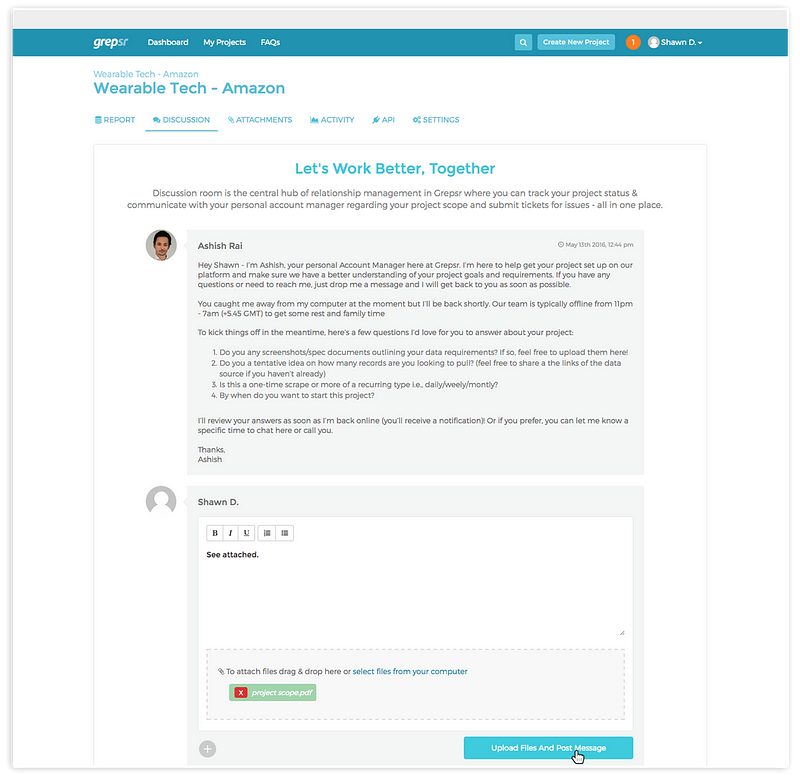 And naturally, our discussion room has become the launchpad for all things Grepsr: nearly every project we create comes out of a post we're having in this discussion room with our clients.
---
Better Support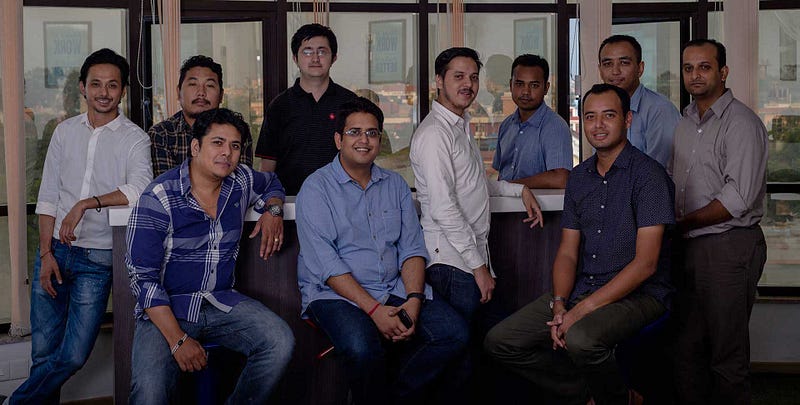 In addition to simplifying a messy process at the beginning of the data extraction process, we're pleased to announce that our enterprise clients can enjoy dedicated service from a team of Grepsr experts supporting you every step of the way:
To get you up and running quickly, take advantage of our customized solution for complex and bulk extraction requirements.
Count on our data analysts to review and verify the data — so you can run analysis on it with conviction.
We help on-board new talent, migrate existing data processing staff onto Grepsr, and drive better collaboration.
Finally, we partner with you to configure Grepsr Enterprise for your needs, integrate your existing software systems, and streamline and automate the entire extract-transform-load processes.
This means you and your team won't need to worry about collecting, organizing and transforming data ever again.
More from Grepsr very soon.
---
P.S. If you're new to Grepsr, we hope you'll give it a shot. Click here to sign up for a free account or head to this page to download Grepsr for Chrome.
---

Flexible pricing models that suit your enterprise needs