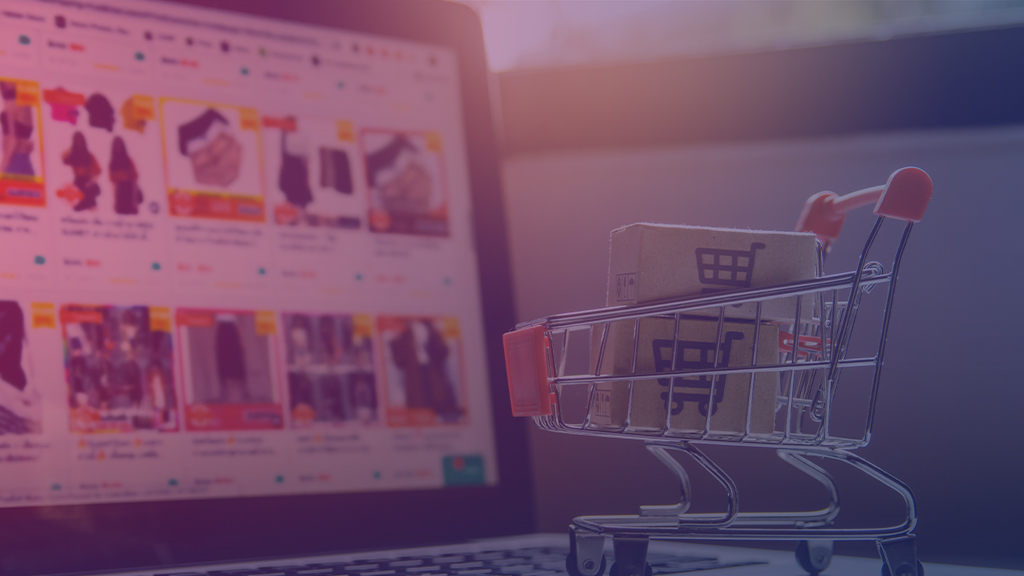 Inflationary pressures, rising prices, and the looming possibility of an impending recession have dealt an unwarranted blow to e-commerce sales over the last three quarters.
From the final quarter of 2009 to the second quarter of 2021, US e-commerce sales experienced steady growth for 46 consecutive quarters. However, in the quarters leading up to the 2023 finale, the growth of e-commerce sales has been lukewarm at best, especially when compared to the industry's phenomenal performance in previous years.
As the holiday season approaches, the pressure intensifies on retailers to meet consumer demand. Q4 encompasses the holiday shopping season, featuring major events such as Black Friday and Cyber Monday.
This period holds immense significance for e-commerce giants like Amazon and Target, as consumers purchase gifts for Thanksgiving, Christmas, Hanukkah, and New Year's. Traditionally, this time of the year contributes significantly to their annual revenue.
This year, online brands and retailers face a multifaceted competition, not only from their digital counterparts but also from physical stores. Consumers seek convenient and timely solutions for their holiday needs, compelling retailers to ensure supply chain efficiency and streamline operations.
As a data extraction company with a proven track record of collecting e-commerce data for brands to leverage it effectively, we embarked on a project centered around a few Amazon datasets. Over the last three months, we consistently scraped this dataset to explore whether a few randomized datasets, without crucial complementary data, could still provide valuable insights for E-commerce Q4.
Read on to discover our findings and gain deeper insights into the challenges and strategies shaping the e-commerce landscape this Q4.
Actionable E-Commerce Insights
If you're looking to ingest e-commerce insights on the fly, here are the key takeaways from our Amazon data analysis:
Boost your Inventory: High reviews for Gift Cards, Clothing, Shoes, and Jewelry point to skyrocketing sales. With the holiday season on the horizon, retailers, it's time to stock up and soar!
Amplify your strengths: Skechers lead Fashion Sneakers on Amazon with the highest Share of Search. For the holiday rush, leverage your strengths for maximum impact.
Benchmark against the best: What are the first names that come to your mind when you hear diapers? Chances are it is Pampers and Huggies. Learn from Amazon: study your competitors, and understand the game.
Apple Reigns Supreme: Apple Dominates Traditional Laptops with an unshakable first BSR position. Even in second place, Apple continues to command the majority – Unrivaled leadership in the digital realm.
A chink in Apple's armor: Between 23 July and 6 August, the ratings of one of Apple's products dropped drastically, never reaching its pre-July levels. It could be the opening the barbarians at the gates are looking for.

Data to make or break your business
Get high-priority web data for your business, when you want it.
Amazon Dataset Overview
We collected the following data points from Amazon for a period of three months. To maintain a real-time relevance, we updated the data weekly. In total, the records reached approximately 13.1 million.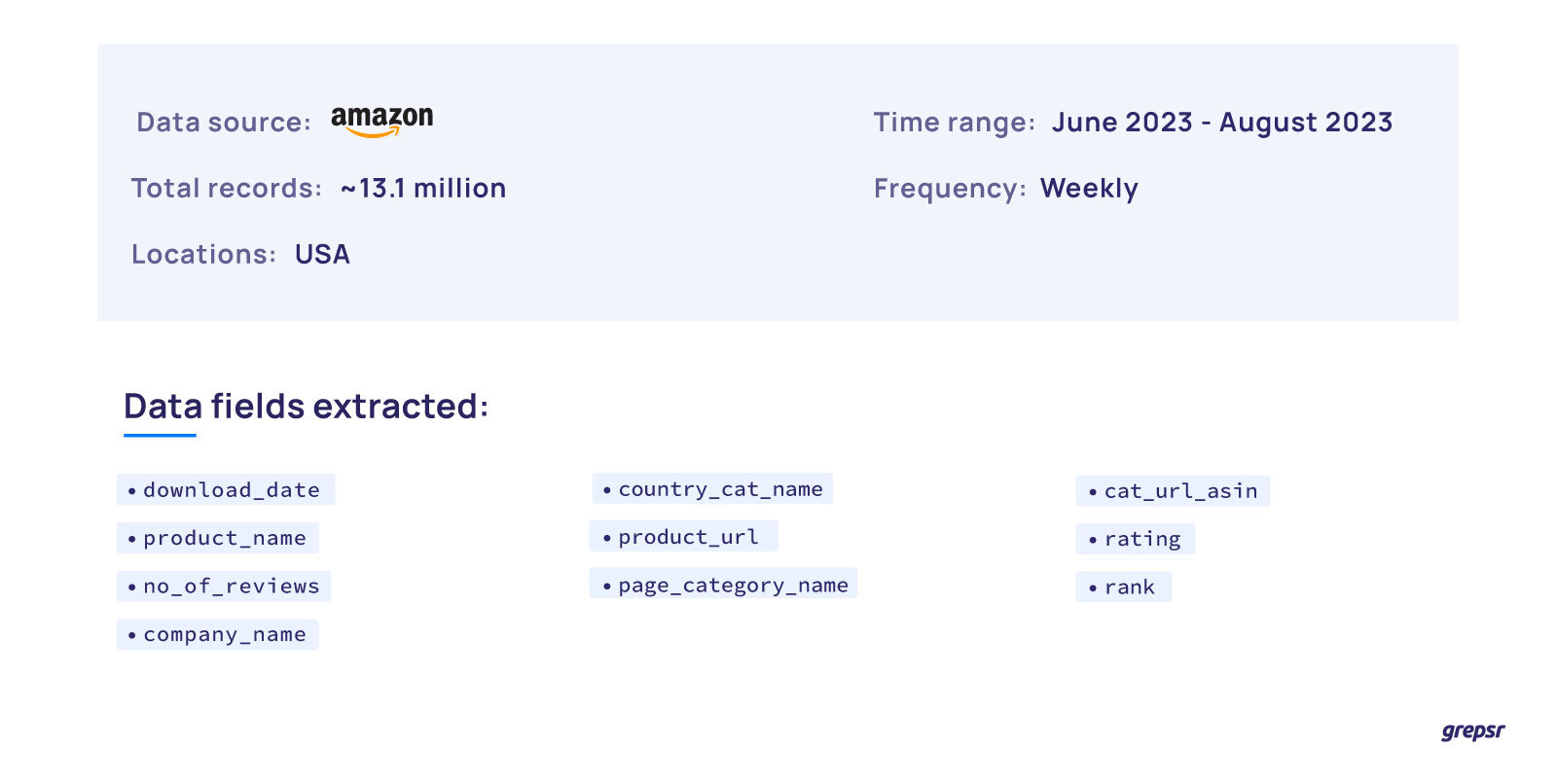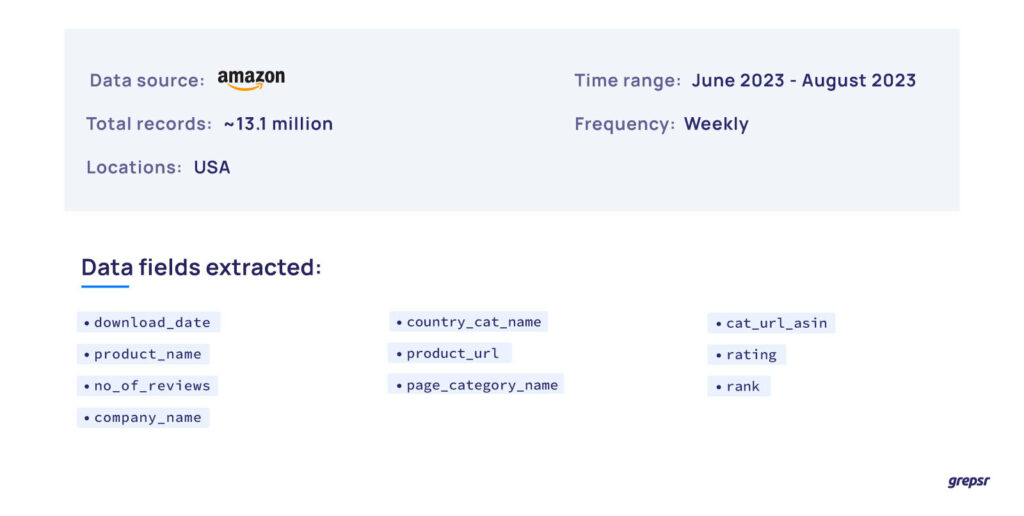 E-commerce Data Analysis
Disclaimer: The analyses presented here are based on a sample dataset from one of our data extraction projects, and do not reflect the entire market. This is only a hypothetical use-case of potential insights that could be gathered for better decision-making.
Boost your Inventory: High reviews for Gift Cards, Clothing, shoes & Jewelry point to Skyrocketing sales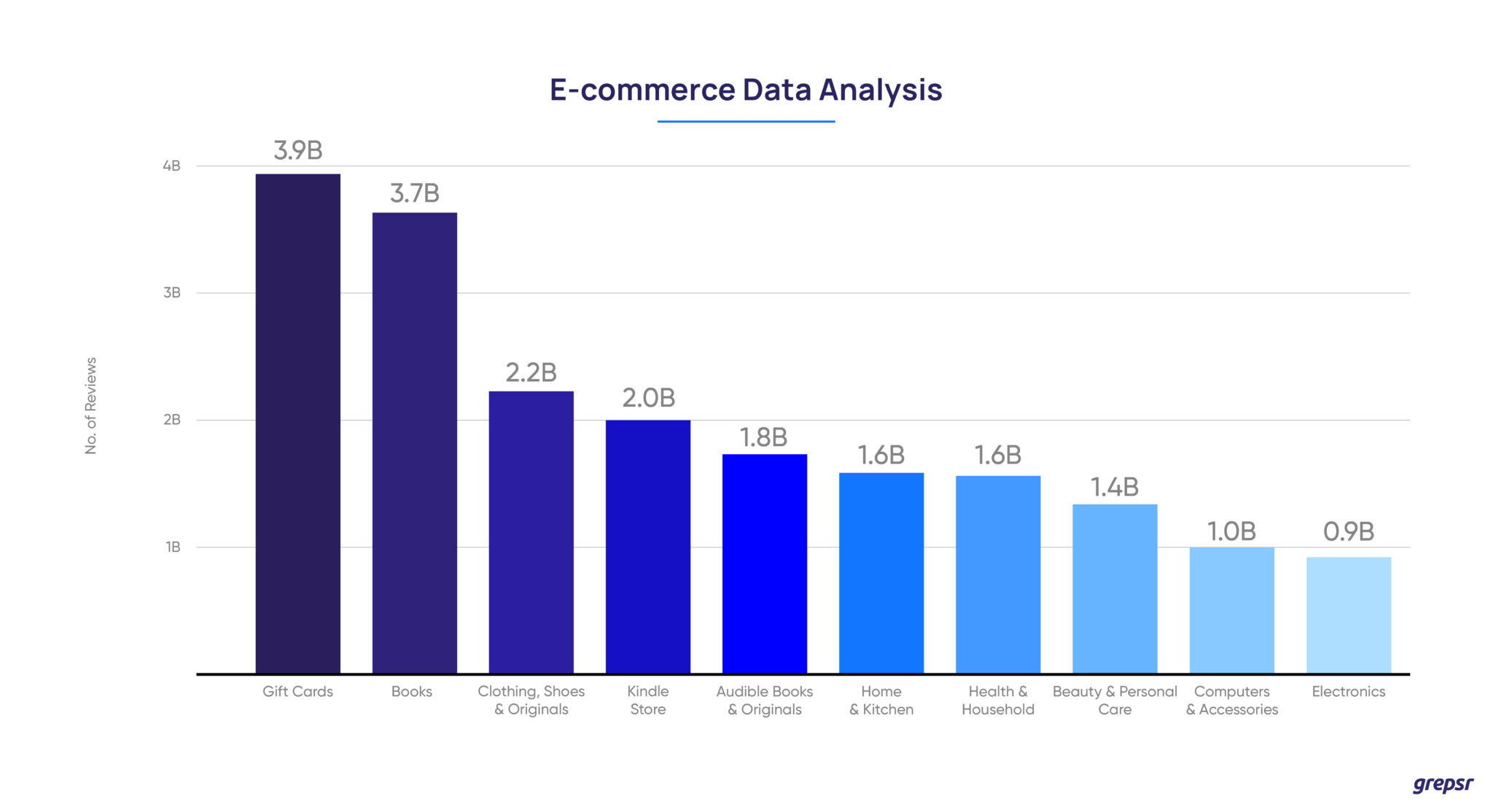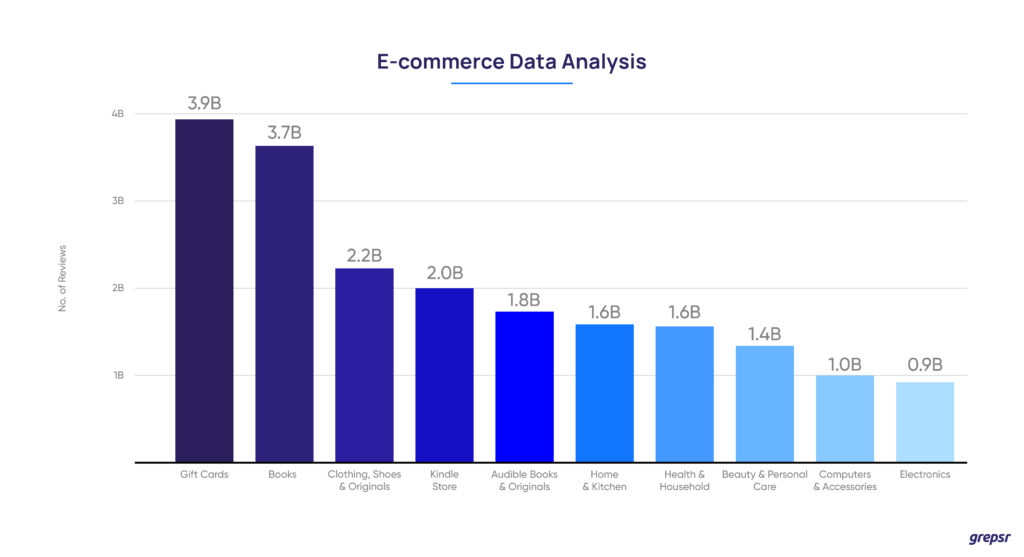 We examined the number of reviews across various product categories on Amazon. The products with the highest number of reviews included gift cards, books, clothing, shoes, and jewelry, among others.
The total number of reviews for gift cards has gone upwards of 3.5 billion, followed by books, clothing, shoes & jewelry, and so on.
In the months leading up to the final quarter, buyers have demonstrated significant engagement with these products.
This has two important implications: first, the sales of these products have consistently remained high over the last three months, and it appears these trends will continue into the holiday season as people purchase last-minute items to surprise their loved ones.
Amplify your strengths: For the holiday season, leverage your strengths for maximum impact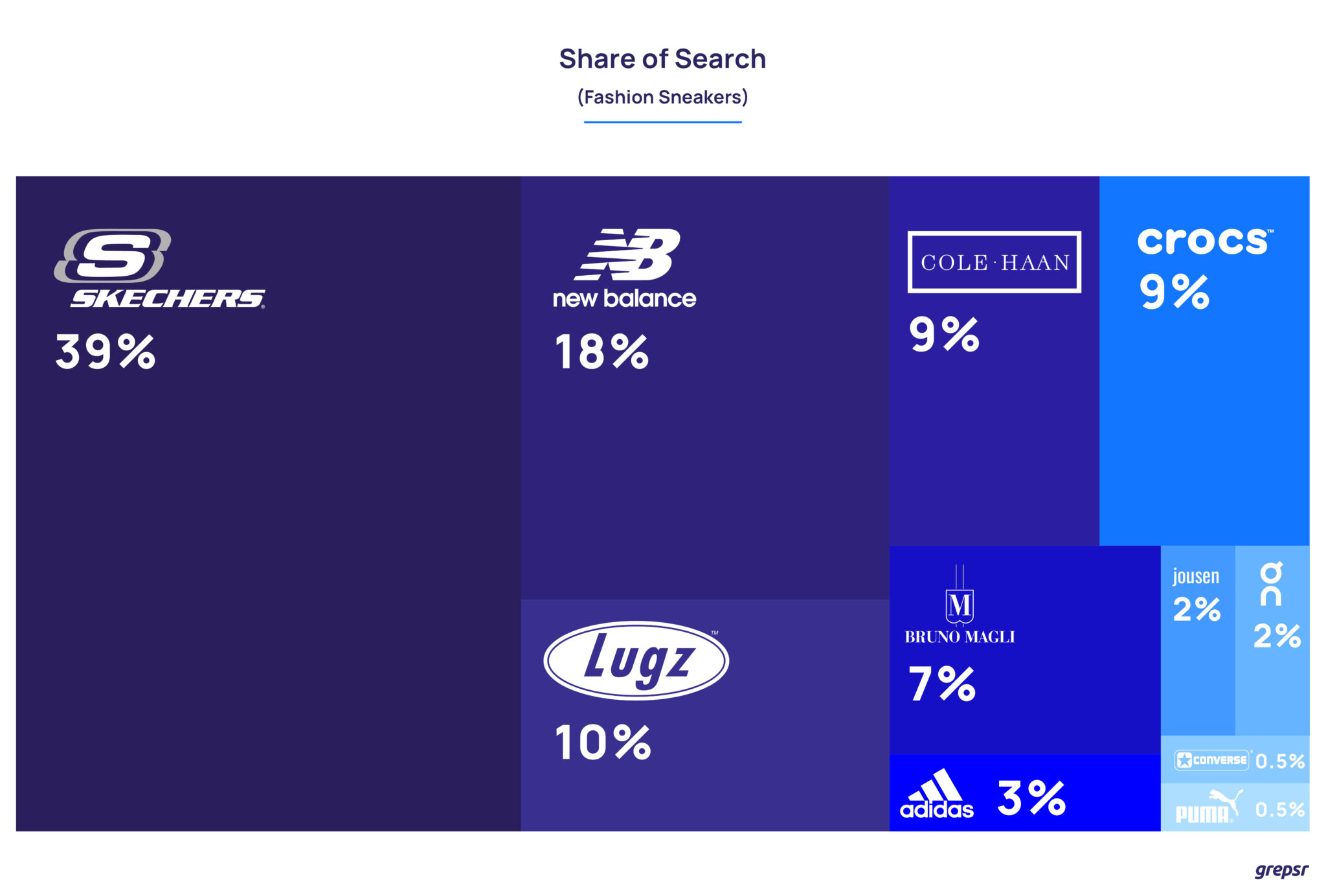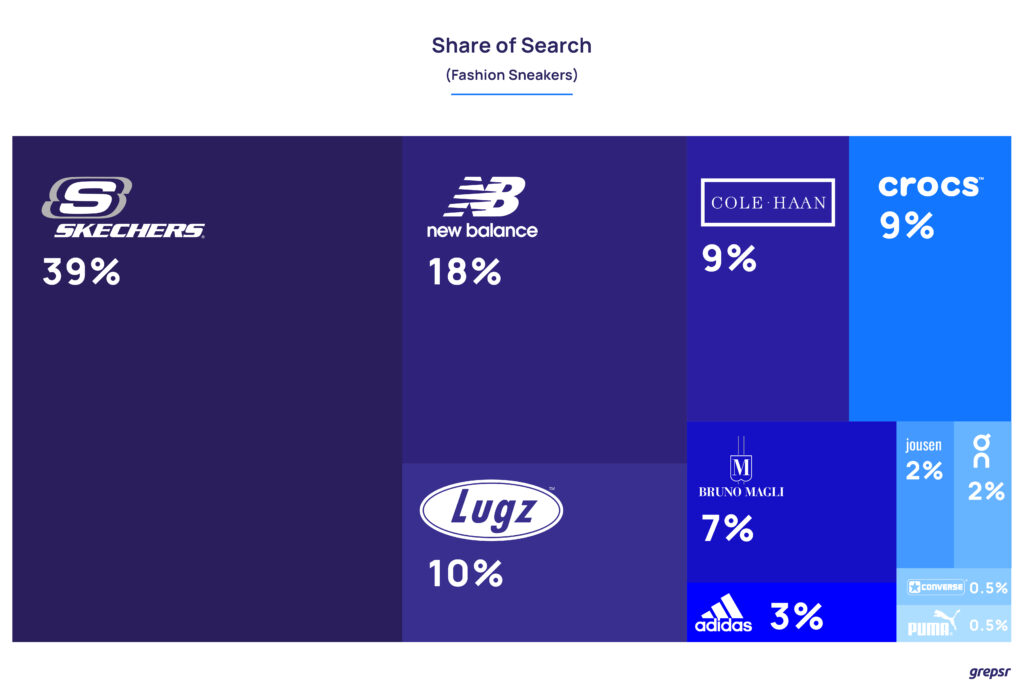 In the Fashion sneakers subcategory, Skechers have the highest Share of Search at 39%. New Balance is the closest competitor with an SOS of 18%. As you can see, other positions are taken up by a hotchpotch assortment of brands whose primary focus on sneakers is a combination of 'form' and 'function'.
There is high anticipation in the market for the fast-approaching fire sales on Black Friday and Cyber Monday. If the historical data is to be believed, the sales of Sketchers should rise. To compete with Skechers on Q4 in terms of SOS, they might want to see what Skechers are doing right on Amazon.
First things first, we analyzed data present only in the 'Fashion Sneakers' category. Skechers are known primarily for being Fashion Sneakers but brands like New Balance are known to be 'performance sneakers'. We haven't analyzed New Balance, Adidas, and Puma's data on their own turf.
At Grepsr, we have always maintained that data analysis is quite a creative endeavor. It's about discovering patterns between disparate datasets and finding insights when seemingly there are none.
Nevertheless, one major insight to take away from this finding is that, it might do New Balance and Adidas good, to compete with Sketchers in a category where they have the upper hand.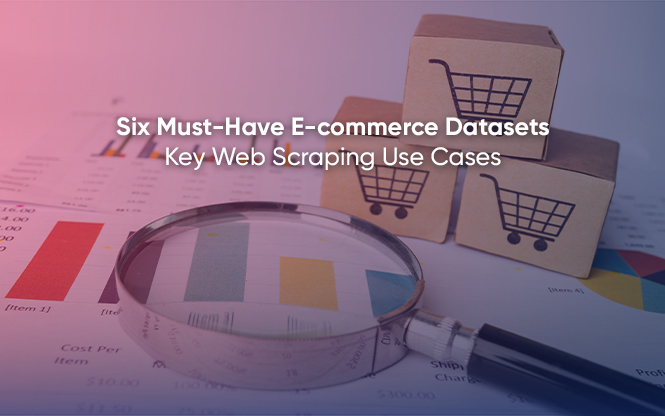 Top Six E-commerce Datasets: Web Scraping Use Cases  
Web scraping is a valuable arsenal for e-commerce and retail analytics providers. It gives access to actionable e-comm datasets.
Benchmark against the Best: Brand name does matter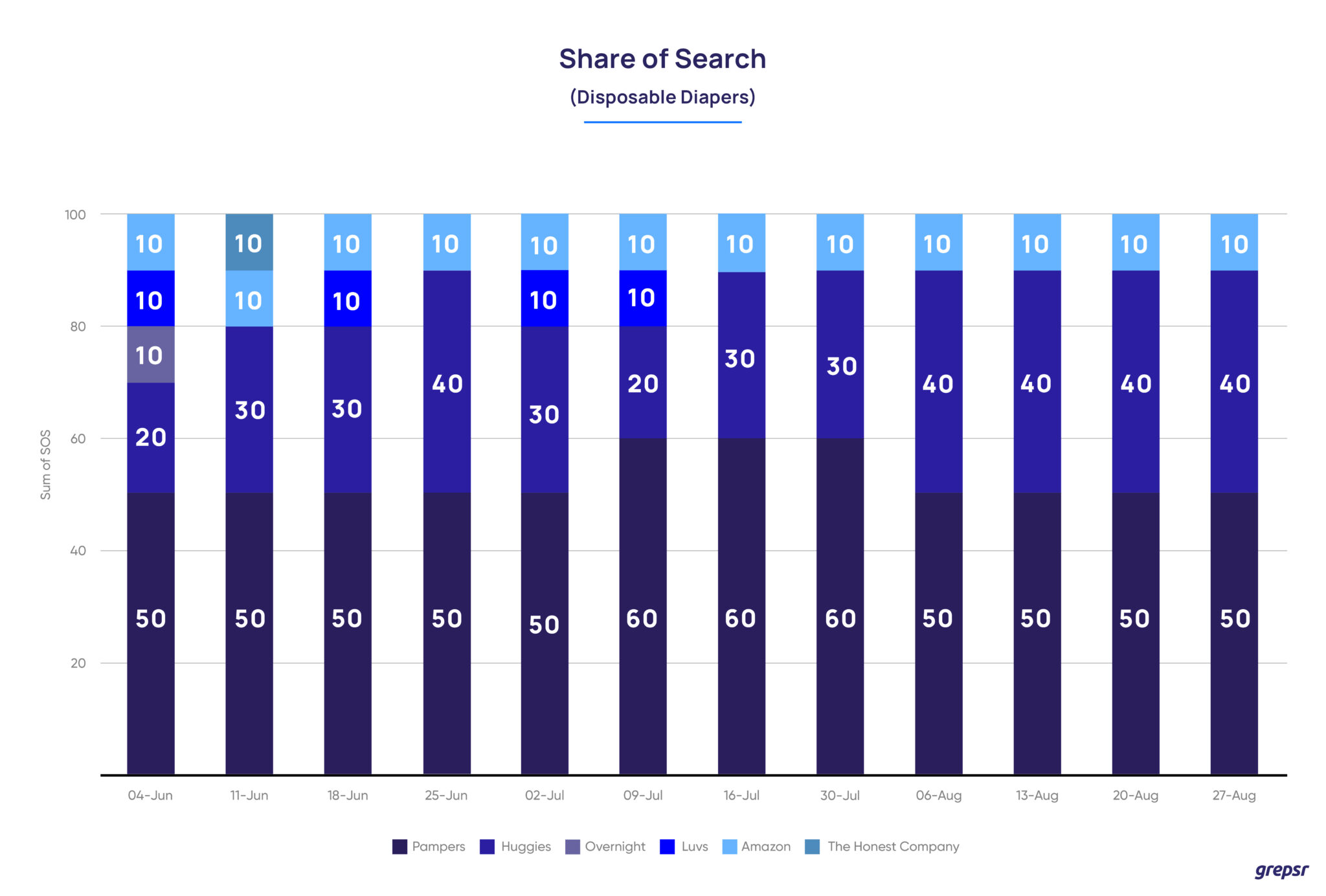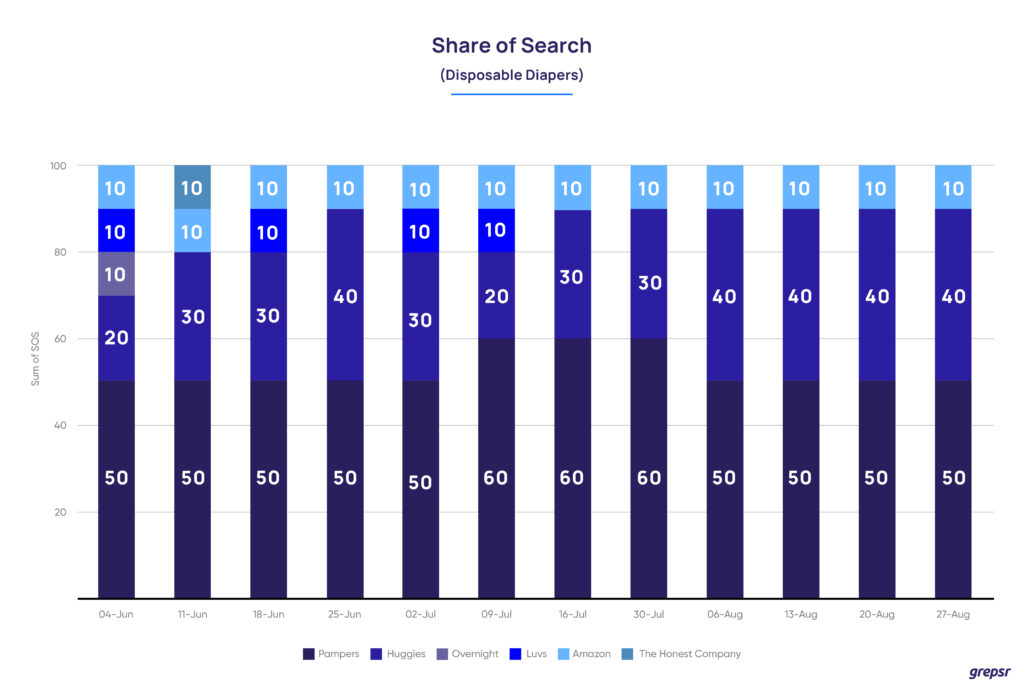 What are the first names that come to your mind when you think of diapers? Most likely, Pampers and Huggies. If that's what you thought of, Amazon's data supports your intuition.
In the past three months, anyone visiting Amazon and browsing the 'Disposable Diapers' subcategory would have encountered Pampers and Huggies more frequently than any other brand.
This analysis focused on the fluctuation in Share of Searches on a weekly basis, indicating how often diaper products appeared on the first Search Engine Results Page (SERP). Pamper consistently held the majority of the SERP, with a dominance ranging from 50% to 60%, while Huggies led between 20% and 40% of the time.
This clear trend underscores the significance of brand reputation. Pampers, founded in 1961, and Huggies, established in 1968, have long-standing reputations that precede them. However, this doesn't mean other competitors are left with no option but to exit Amazon.
Amazon is a dynamic e-commerce platform, constantly refining its A9 algorithm to provide the best product suggestions based on consumer demands. While catching up might seem daunting, the first step towards success is benchmarking against the best.
Analyzing what your competitors are doing right – the categories they rank in, the content they post, the quality of their reviews, and more – is essential. By adapting to Amazon's algorithm and understanding market trends, even newer or less established brands can carve out their space in the competitive landscape.
Apple's legacy is a tough act to follow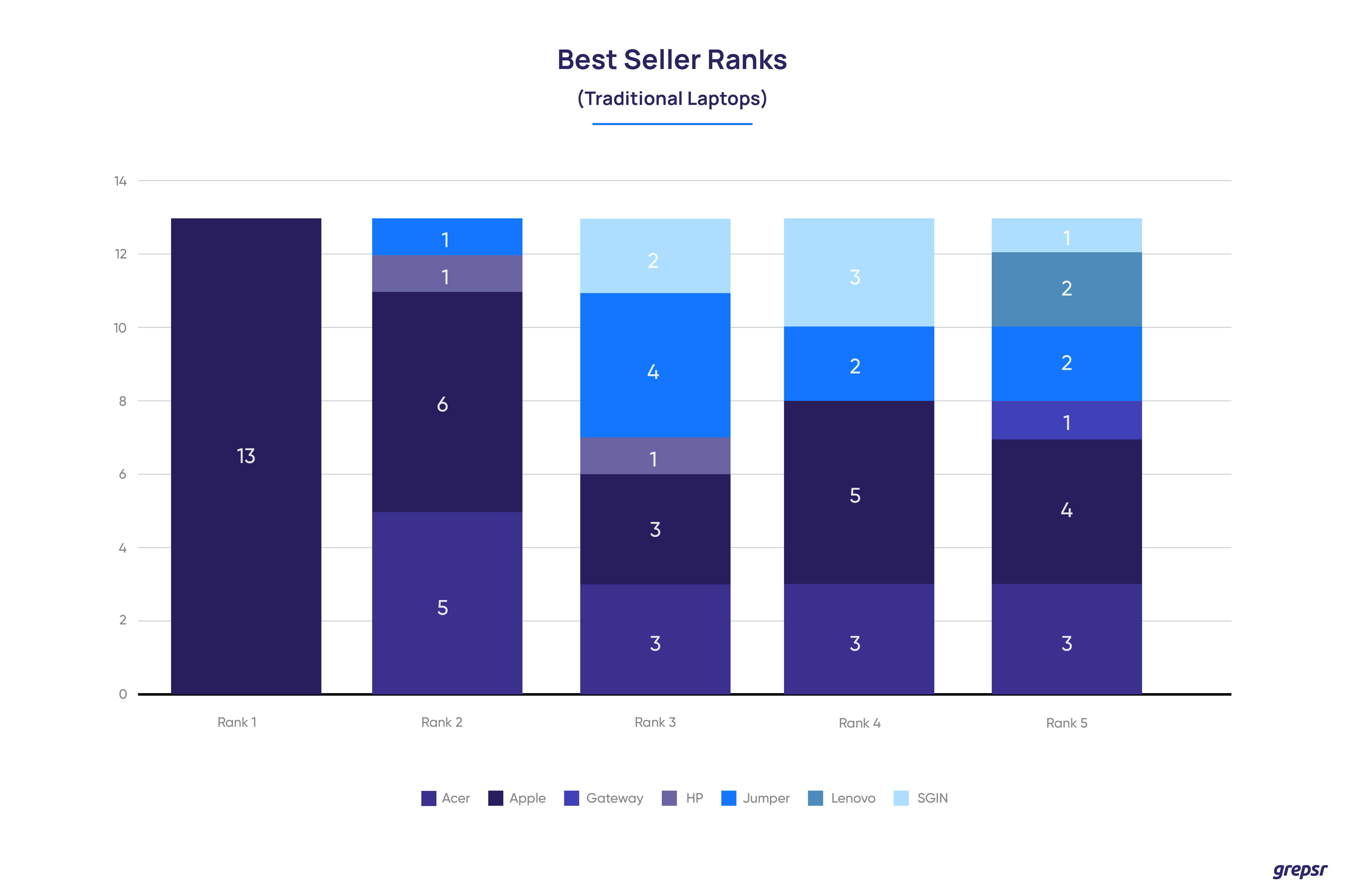 We looked at the Best Seller Ranks of different products in the Traditional Laptops subcategory, and found an insight not really that surprising.
In the entire duration of three months, not even once did Apple's leading position at BSR number one change. Not an easy feat, when you consider that the BSR numbers on Amazon change on an hourly basis.
The BSR is a metric that shows how a product is selling on Amazon. As the name suggests, if you sell more products, you get the number one Best Selling Rank.
BSR is calculated by analyzing sales data over time. To add to that, recent sales data takes precedence over relatively older sales data. Meaning, you cannot rest on your laurels. The data clearly indicates that Apple is selling more products than any of its competitors and that the brand positioning of Apple still resonates very well with the consumers.
It is from the Best Selling Rank two that we see other brands raising their fists to compete. Acer won the Best Selling Rank two a total of 5 times, followed by Jumper and HP which won the second Best Seller Rank one time each. Even in the second best seller rank, Apple has won most of the time, six in total.
A chink in Apple's armor?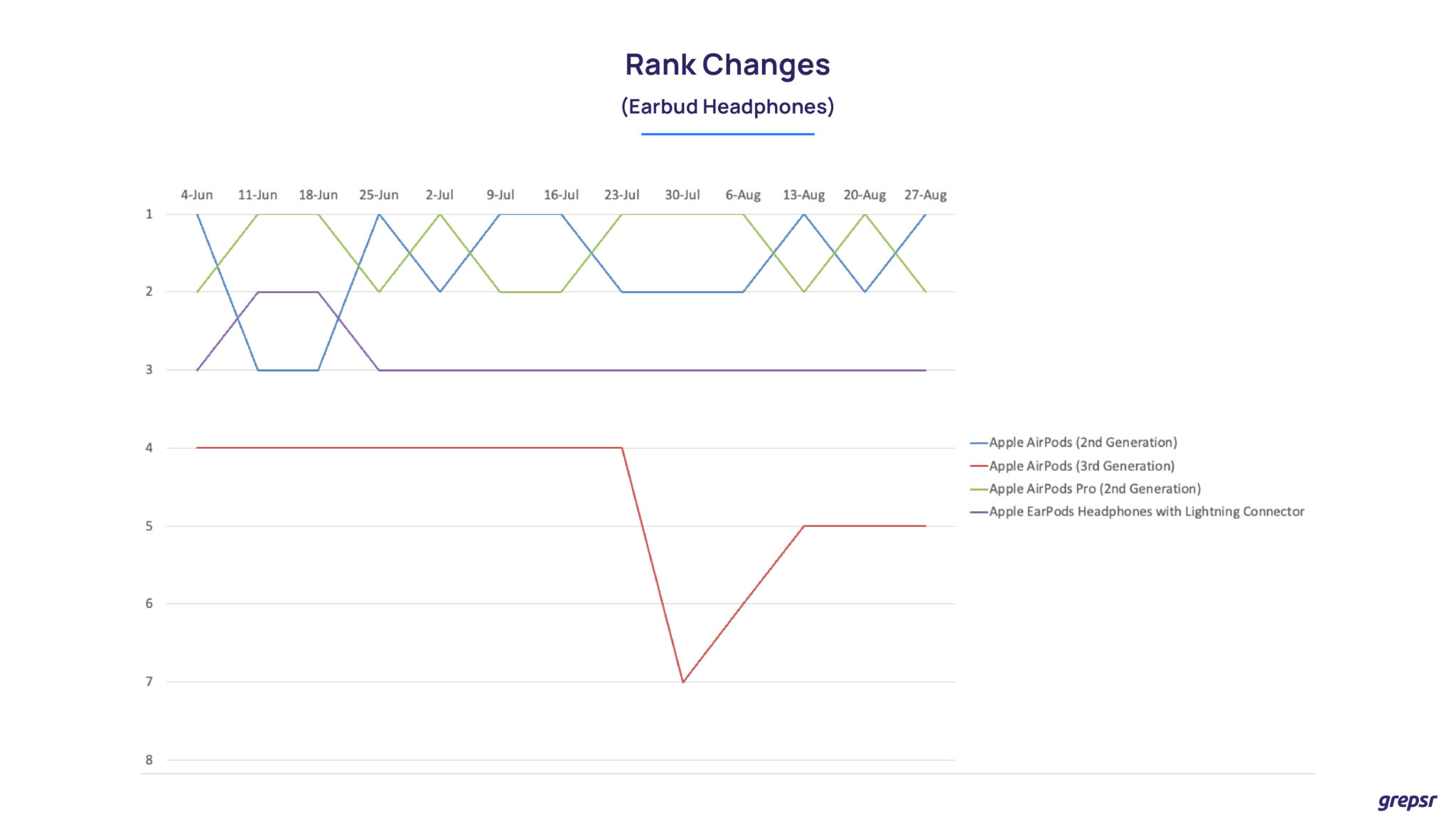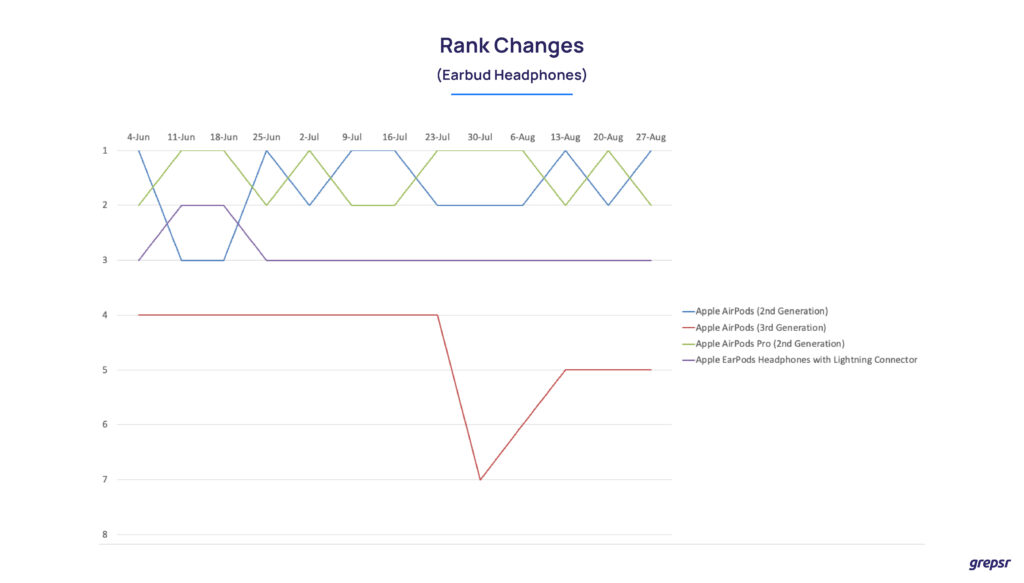 Apple's impressive performance in the Traditional Laptops subcategory raises a vital question: Is Apple truly infallible?
Now, don't get us wrong. We are fervent Apple enthusiasts. Most of our developers are deeply rooted in the Apple ecosystem. However, we couldn't help but wonder if it was even possible for a high-flying executive with a glint in his eye to pose a serious challenge to Apple's dominance.
Our curiosity led us to analyze the average ratings of the top ten products in the 'Cell Phones & Accessories' subcategory, focusing exclusively on Apple products. Between July 23 and August 6, a significant event caught our attention.
The ratings of 'Apple Earpods Headphones with Lightning Connectors' drastically plummeted, never quite recovering their pre-July positions. The reasons behind this decline warrant a separate data analysis project, but it certainly caught our eye, and Amazon should have taken notice.
Could this be the opportunity that competitors have been waiting for, a chink in Apple's armour? We leave that question to you.
Final words
Doing data analysis is like going down a rabbit hole of infinite patterns, paradoxical findings, and actionable insights. It takes a certain number of datasets and data analysis capabilities to distill the insights you are really after.
This data analysis exercise was only the result produced by a set number of datasets. To compliment these findings, and gain richer insights, one must delve deeper into the world of e-commerce data scraping.
As the holiday season kicks in, there'll be brands who will dominate the market, and those who will fight for scraps. But, one thing remains as clear as daylight: Every e-comm player will up their game. It'll be interesting to see what the aftermath will look like.
At Grepsr, we understand the need for real-time e-comm data at scale.
E-commerce is our major area of expertise and over a period of more than 10 years, we have developed a keen eye for data by working with the most influential brands in this space.
If you are interested in mining e-comm data to discover your areas of strengths, feel free to contact us. We are only a call away.

Web data made accessible. At scale.
Tell us what you need. Let us ease your data sourcing pains!