Paving the way from Chaos to Clicks: The Black Friday Breakthrough in E-commerce.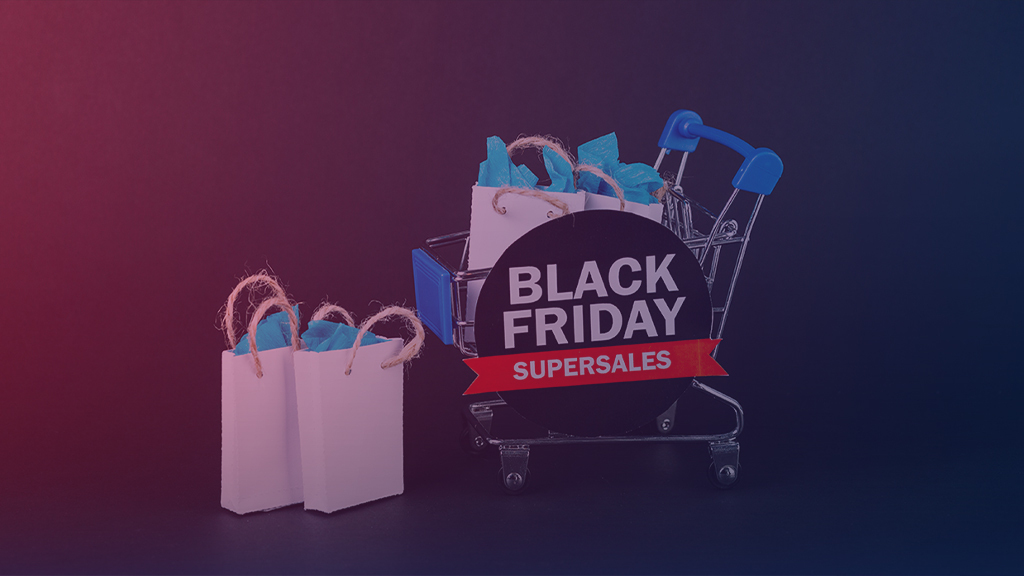 As the holiday season draws near, there's a day particularly special for shoppers and e-commerce brands — Black Friday.
This annual shopping extravaganza is more than just a date on the calendar; it's a pivotal moment that kickstarts the festive shopping frenzy.
Retailers and consumers eagerly await the incredible deals it brings.
Yet, the significance of Black Friday goes beyond crowded stores and overflowing shopping carts.
In the digital age, this phenomenon has transformed into a remarkable opportunity for e-commerce brands.
The online world buzzes with activity, and data becomes a precious asset.
In this blog, we'll dive deeper into the leverage of Black Friday for e-commerce brands and how data-driven strategies can help you make the most of this remarkable day.
So join us on a journey through the e-commerce landscape on Black Friday, where chaos turns into opportunity, and data is the secret to triumph.
What happens on Black Friday
In the US, after Thanksgiving on November 23, Black Friday is on November 24 of this year 2023.
On this day, thousands of stores, big-box general merchandise retailers such as Target, Walmart, and even e-businesses plan to accomplish their goal of gaining profit for the year.
They plan money-saving specials on a variety of overstock inventory to lure shoppers.
The items up for sale start from kitchen appliances, toys, dresses, beauty products; and self-care sets to higher-margin electronics like TVs, washing machines, and smart home devices.
Furthermore, these deals are highly promoted at exciting discount rates.
Imagine you see a 40% off sign on a vacuum cleaner that you were not expecting to see while shopping for a broomstick, you get lured into buying it seeing the value it offers for an adjustable price.
This is Black Friday's potential of converting regular buyers into big-time shoppers.
History & Evolution of Black Friday
Before its popularity, people used to think that 'Black Friday' got its name from a bookkeeping practice.
It used to be represented as the sections marked in red (indicating losses), turning black (indicating profit) during the holiday shopping that begins after Thanksgiving.
Nonetheless, this is untrue.
In reality, the term 'Black Friday' was coined in the early 1960s by Philadelphia police officers.
It originated from the chaos they had to manage at the major store sales causing a suburban tourist holiday shopping rush. It also coincided with the city hosting the Army-Navy football game on the same weekend.
The term took a life of its own from the crowded city of Philadelphia to crowded stores all over the US.
Similarly, other countries like the UK, Australia, and Canada have also joined the bandwagon.
Black Friday was officially established as the biggest shopping day of the year in the 2000s.
Stepping into the digital era, the Black Friday shopping spree has made its way into fueling e-commerce.
There is another term that is equivalent to Black Friday, which is Cyber Monday.
Thus, Cyber Monday is also there especially for online retailers to raise their sales throughout the Christmas season.
The Monday sequentially after the Thanksgiving weekend encourages people to buy things from the internet.
This is the purpose of Cyber Monday which falls on November 27, 2023. 
It is the second biggest shopping day after Black Friday saving consumers the time of staying away from home around the holiday season just for a bargain at your local store.
Subsequently, for the busier population, online shopping becomes an advantage while saving them time and tussle in the physical store.
As a result, a vast amount of customers are expected to shop for deals online again this year amid the Thanksgiving weekend.
Black Friday for E-commerce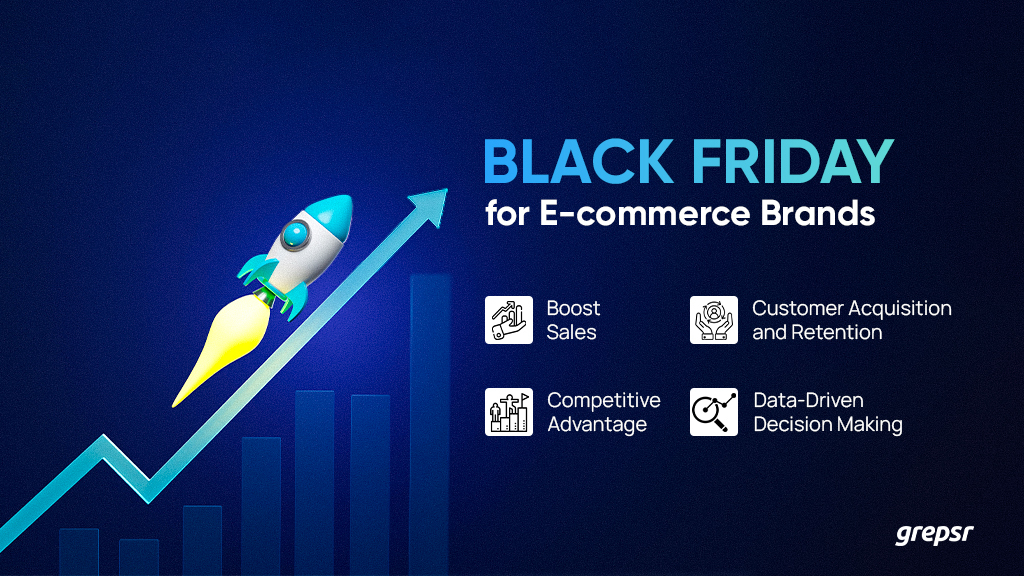 Let's take a look back at the YoY online transactions from 2021 to 2022.
The Global web unit transactions from the survey of Criteo Data state that online purchases in the US grew throughout the Black Friday weekend.
From Friday to Cyber Monday, the growth in online sales rose by +13% over the same period last year.
Observing sales preceding the big shopping day, online retail sales on Black Friday increased by +374% when analyzed alongside the monthly average in October.
You can witness the living proof of Black Friday paving its way towards being an online event with the showcased data.
Along with the growing market in the e-commerce industry, Black Friday is the pinnacle.
Boost in Sales
The primary goal for companies is to surpass their sales targets.
Fortunately, Black Friday is the perfect opportunity for retailers to do so.
Along with bigger enterprises, smaller companies can also check out the out-of-season inventory to point-of-sale displays.
The whole-year plan for retailers is all about putting profitable price tags that seem tempting to their customers.
Hence, if their sales tactics work, a year-end revenue surge is definitely in the cards.
Customer Acquisition & Retention
Black Friday is all about gaining customers.
Since the percentage of new buyers, and consumers designated as new clients tends to grow at the start of November.
Consecutively, it peaks on Black Friday, the recurring customers are more loyal at this time as the deals are profitable.
Additionally, prospective customers also turn toward your brands offering greater deals.
Thus, this period of the year is critical for gaining a fresh clientele.
Competitive Advantage
Many e-commerce platforms offer big discounts on their products.
Around this shopping season, to stand out among other brands and have bigger chances of growth, you should have a competitive advantage.
What makes your brand different from others? Why should customers buy from your site?
These questions must be answered with deep analysis.
It could be high-end quality products, excellent customer service, early delivery, best price range, etc.
Data-Driven Decision-Making
Decisions rooted in data – boost your chances of succeeding.
From making predictions about the day to reaching the target customer segment, the use of data is inescapable.
Employing Big Data, you can forecast the number of buyers or traffic that will visit your website.
Moreover, this contributes to your stock management.
You can evaluate products in high demand and retain them sufficiently in the inventory.
This will enormously lower the chances of customers leaving disappointed and empty-handed.
Thus enhancing your operational efficiency.

Data to make or break your business
Get high-priority web data for your business, when you want it.
Role of Data in E-commerce Success This Black Friday
As it is stated above, data is needed for a variety of fortes.
Customer behavior, satisfaction, and pain points can be analyzed with the data scraped from social media, websites, online discussion forums, and engagement platforms.
You can further gain in-depth details regarding your swiftness in business growth by evaluating your sales and product performance.
Let's start with the types.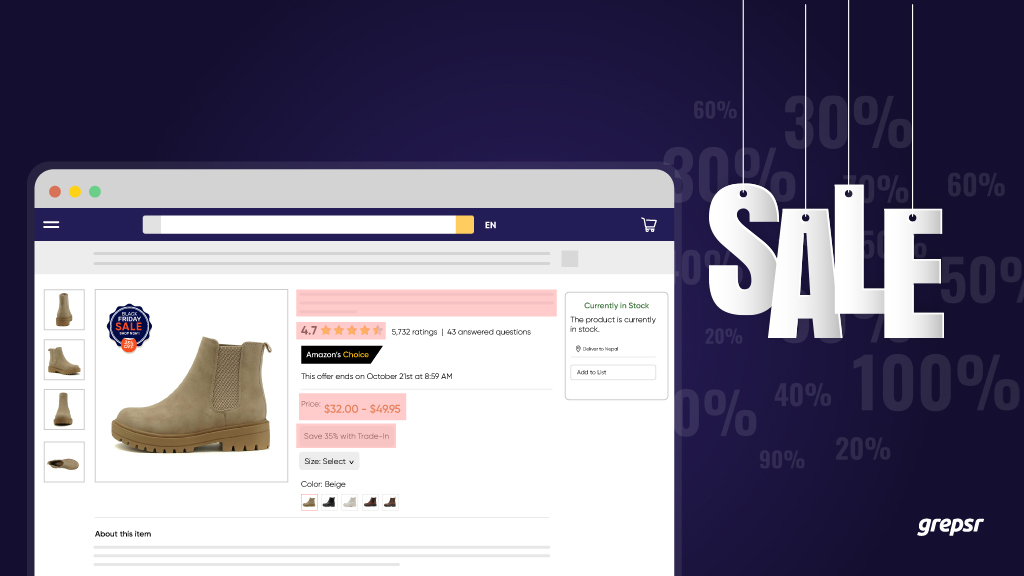 Product, Sales, Customer data
Data analysis can be done in the specific categories.
You can collect the item's manufacturing and supplier details along with the brand information.
The data from the product reviews can help you in understanding the customer sentiments.
Employing web scraping service providers, you can have data on real-time sales trends and correspondingly optimize your website, and product portfolio, restructure your value proposition, and improve your SERP ranking for retail based on the projection.
Organized sets of databases from external data partners give you comprehensive insights into the major competitor's performance in the e-commerce industry.
Additionally, you can even gain insights into the items people frequently look for, and purchase, and identify areas where you can improve.
Leverage this data to list the favorable products in your business.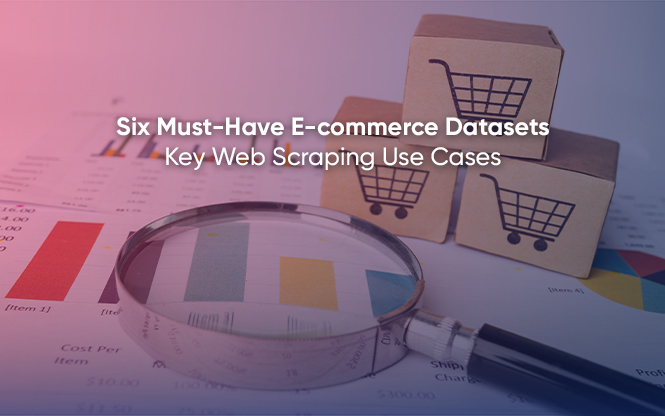 Top Six E-commerce Datasets: Web Scraping Use Cases  
Web scraping is a valuable arsenal for e-commerce and retail analytics providers. It gives access to actionable e-comm datasets.
Challenges
The final quarter for 2023 calls for your e-commerce brand to compete not only against other online businesses from the web but also with retailers of physical stores.
The holiday season may be a letdown for frantic shoppers unwilling to wait for their preferred online retailers to load.
Running a slow website also jeopardizes customer retention and tarnishes the brand's reputation among users.
During Covid-19, it was a tough time for consumers. They had no choice but to turn to the online retailer for supplies. Nonetheless, now they have the freedom to take charge of their purchasing decisions.
To win the customers back, you have to intensify your strengths.
You have to make sure that all systems like the e-commerce interface, customer support help desk, backend systems, and social networks are fully integrated and can easily pass information between one another.
The absolute necessity is to employ a swift and immediate delivery process depending on the urgency of the customer's situation.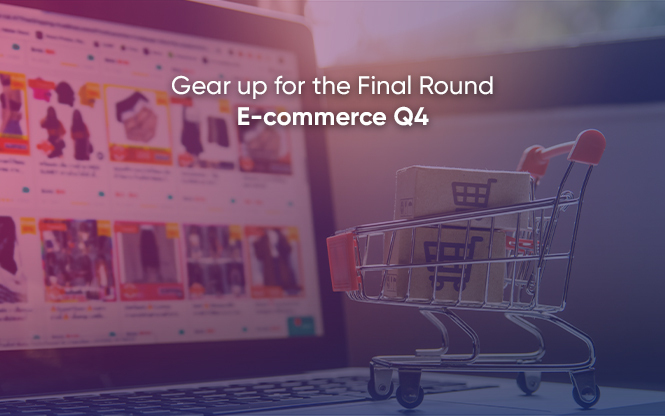 Revving Up for E-commerce Success in Q4: Leverage Web Scraping
Navigate the E-commerce Landscape: Uncover Insights Amidst Challenges. Explore our findings from rigorous analysis of Amazon datasets.
Remedies
Now that you understand the wonders data can do for you, the next step to consider is knowing where the data comes from in the first place.
With a simple search on Google, you can find out that there are many tools and software that can help you with data analysis.
However, to extract the data, you can either manually copy every single data point which is definitely going to take you forever.
IP Blocks will get in your way to accumulate quality data at scale from hundreds of websites.
Well, lucky for you, you can simply partner with an external data provider to automate your prolonged web data extraction process.
Web scraping services will help your e-commerce business grow by utilizing the data.
Moving forward, now is the right time for you to prepare appropriate data-driven strategies for your business to leave a mark, especially this Black Friday.
By the grace of Big Data from external data providers, you can mold the insights into your strategy.
Final Words
To summarize the article:
The holiday season kicks off with this yearly shopping frenzy that begins after Thanksgiving.
From here on, the competition among both physical and online retailers to provide the best deal will intensify. The customers will scramble for the best deals.
The e-commerce sector is no different, with a rise in website traffic and data usage.
Black Friday's success depends substantially on data.
It allows for a greater understanding of consumer behavior, managing inventory, and predictions.
Accordingly, online retailers can enhance their business strategies through an analysis of product, sales, and client data.
Black Friday presents the right opportunity to use e-comm data for continued success.
As an e-tailer, you can certainly boost your revenue and make well-informed decisions.
More importantly, data needs during the holiday season see a significant jump, in turn, demanding a robust data extraction infrastructure to keep up with the surge.
That's where external data providers like Grepsr come into the picture.
E-commerce has been one of our strongest fortes, and over the past decade, we've dealt with the Black Friday and Cyber Monday escalation over and over again.
If you want to begin preparation for the holiday season, please give us a shout-out. The sooner you start analyzing the data, the better it is.

Web data made accessible. At scale.
Tell us what you need. Let us ease your data sourcing pains!