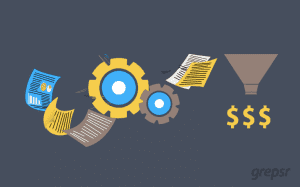 Have you ever been overwhelmed or even inundated by a sheer amount of data you have to handle every day?
Handling too much of data can be a painstaking job in the age that has seen an enormous surge in digitization, quantification, and datafication of information. Today, you have to be equipped with data no matter what you are doing or planning to do, but data have its pitfalls too.
No doubt, data is your valuable asset—just as important as your capital asset—for gaining a firm ground in today's competitive market and for recalibrating your business strategies and improving your company's functionality with business intelligence. But the complexity that comes with data management can also be a cause of your headache and your company's performance impairment.
This is precisely why 'data management' or informatics has become more than a hype in information technology, and many of the prominent business companies have begun mining and managing their data or the 'data exhaust'—a byproduct of digital information—through independent data centers like Grepsr.
According to The Economist the business of data management is one of the rapidly growing areas in the IT industries. In 2010, it was "estimated to be worth more than $100 billion and growing at almost 10% a year, roughly twice as fast as the software business as a whole."
Areas of Involvement
As one of the innovative startups in South Asia, Grepsr is planning to emerge as one of the well-known data management hubs in its area. It has been providing on-demand data solutions to many of the world-class business companies in Europe, America, and Australia as well as to the emerging national and multinational companies in the Asia Pacific, Middle East and Africa.
Grepsr does almost everything that has to do with digital data and its management. Our major services can be enumerated as following:
1. Data Extraction
Data remains dispersed and unstructured in various sources that use internet. Grepsr uses web crawling—also known as web scraping or web harvesting—services to identify and extract the raw data from websites and compile it in the required structures and forms. If extracted and analyzed correctly and credibly, such data can provide important insights to identify valuable facts and patterns, previously unknown. In the recent years, data extraction has become a key for business intelligence.
2. Data Conversion
Different business organizations keep records of their data and database in different formats and operating systems. Grepsr often receives requests for services to convert one set of data into another or to transform relevant values into a standard data format. Conversion of data into elegant, coherent, and logical structures is one of the important aspects in which Grepsr has been making an important progress.
3. Data Management
Data management covers a wide range of services, from transforming digital information into data to organizing specific data from the data pool for both macro and micro data analysis. Based on the needs and priorities of our clients, we collect, compile, and process data for the outlined goals. Use of higher bandwidth and adaptation of cloud data management and SaaS has made our services instantly accessible to our clients.
4. Automated Reporting
One of the important features of our services is automated reporting. Many of our business clients have now opted for our Recurring Data Collection service option. With this service, our clients receive automated data reports on scheduled basis. Automated price comparison is one of the most popular features among our reporting services.
Guiding Principles
Grepsr believes in the constant evolution of a company with the changing trends, technologies, and needs of the market. We are committed to upgrade and optimize our services for the best satisfaction of our customers in their efforts of turning data into an asset.
Moreover, we are equally sensitive about the importance of confidentiality in our services and apply the foolproof methods and technologies in handling our clients' data to ensure a long-term and mutually-dependable business relation with our business partners.

Web data made accessible. At scale.
Tell us what you need. Let us ease your data sourcing pains!