Actionable insights from one of Grepsr's POI data projects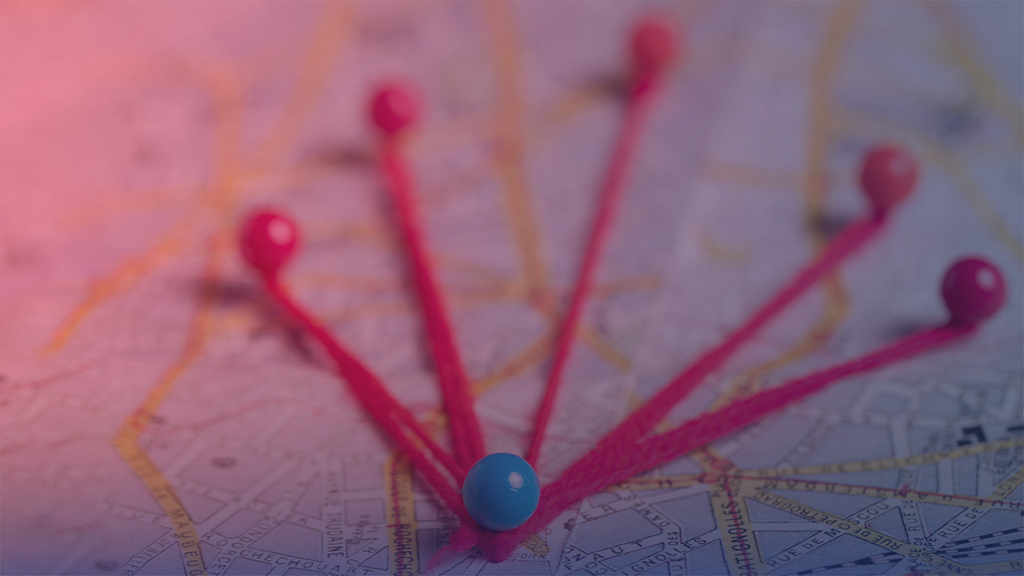 Points of Interest (POIs) are more than just points on a map. They are filled to the brim with actionable data like addresses, names, contact details, and working hours. POI data also includes images, which add a visual component to the data. With web scraping, you can get the advantage you need to harness POI insights.
Be it ambitious private companies, urban planners, or NGOs & INGOs, POI data has enough insights to go around for everybody.
To understand the applications of POI data better, we took a sample of 831K POIs of Bengaluru listed in Google Maps, and crunched the data to see where it would lead us.
In the end, we hope you will discover a web scraping advantage for your business, as we did.
---
POI Data Actionable Insights
If you are short on time, here are the insights we gleaned from the POI data we collected:
Concentration of Fast-Food Chains: Fast-food chains are clustered in Bengaluru's central region, indicating higher footfall and demand in this area.
Domino's Pizza Leads the Pack: With an impressive market share of 33%, Domino's Pizza leads the fast-food market in Bengaluru. A testament to its strong presence and popularity among consumers.
Clustering Still Holds Water: Domino's Pizza and Pizza Hut have outlets in close proximity to each other. Similarly, jewelry and hardware shops also cluster in specific areas conducive to attracting the most customers.
Hotel Advertising is easier with POI: Concentrated hotel areas like Gandhinagar and Ranasingpete have high traffic of tourists. Consequently, travel agencies can target these areas with targeted adverts.
Efficient Resource Allocation: Essential services like healthcare facilities can often be spread unequally through urban areas. POI Data empowers government entities to locate high-density areas faster, in need of such developments, so they can plan better.
Bird's-Eye View of Potential Investments: Real estate companies can analyze amenities and businesses near popular apartments, like hospitals, hypermarkets, and schools, to make informed investment, pricing and marketing decisions.
Efficient B2B Lead Generation: Utilize POI data to initiate tailored outreach efforts, especially for businesses with phone numbers and website listings, such as corporate and government offices.
Empower Inclusivity and Diversity: POI data can help NGOs and INGOs identify women-owned and LGBTQ-friendly businesses to foster inclusivity initiatives and campaigns.
---
How POI Insights Shape Hotspots for Businesses
Picture this. You're in the market for housing supplies. Where do you go? A specific spot probably comes to mind instantly—a place renowned for its construction and real estate hubs.
We know that large home improvement chains, such as Home Depot and Lowe's, have numerous locations around the country. Consequently, these tend to cluster around urban and suburban areas.
But have you ever wondered how businesses decide on these hotspots? How does urban planning accommodate our buying needs? Let's dive in.
POI data serves diverse industries—businesses, governments, retails, restaurants, real estate agencies, and more. Yet, its potential often remains underrepresented among many business sectors.
To gain a deeper insight into the applications of POIs across diverse industries, we looked at POI data sourced from Bengaluru, India. This case study delves into the exploration of untapped possibilities within vast POI datasets, unveiling opportunities that might otherwise go unnoticed.
Web scraping is a powerful tool you can use to extract POI data at scale and garner actionable insights to make data-driven decisions. Grepsr is a well-known managed data extraction service provider with the infrastructure and know-how to extract POI Data.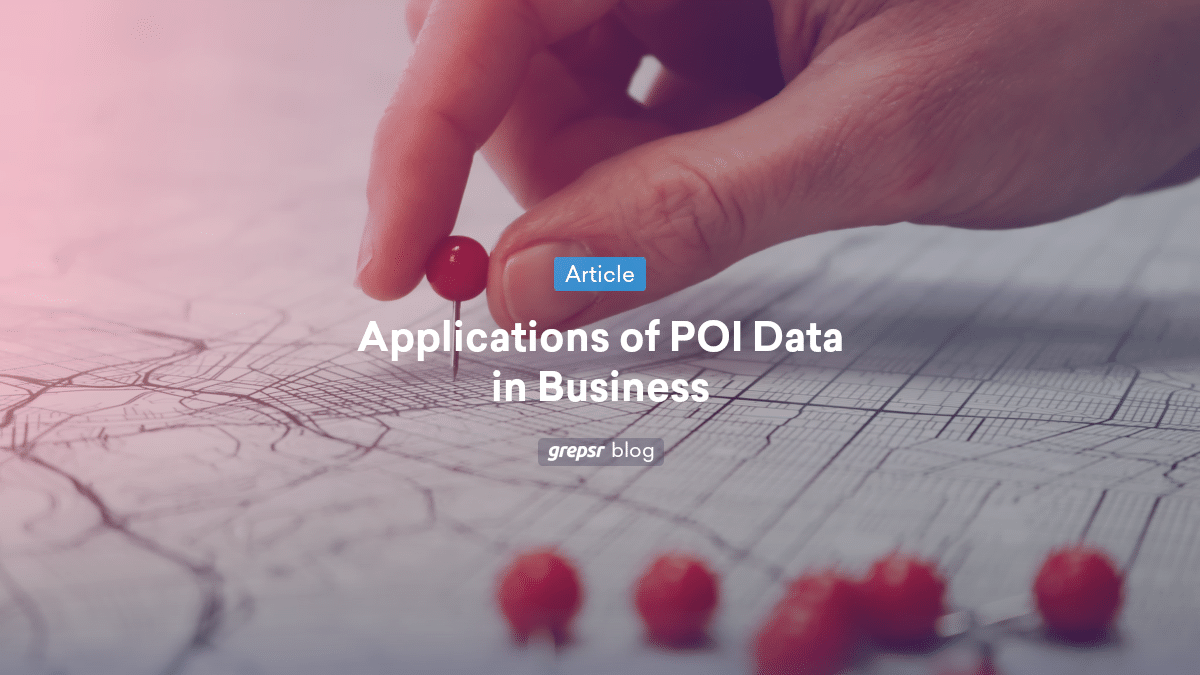 Applications of POI (Point of Interest) Data in Business
Point of Interest (POI) data, or geographic data, is often overlooked by most businesses. In this article, we explore the myriad applications of Point Of Interest Data and explain why it is, in every sense of the word, a sleeping giant.
Dataset Overview
Our sample dataset contains 831K POIs of Bengaluru listed in Google Maps. The datasets cover a wide range of categories, including retail, restaurants, hospitality, attractions, transportation, government, business, utilities, and more.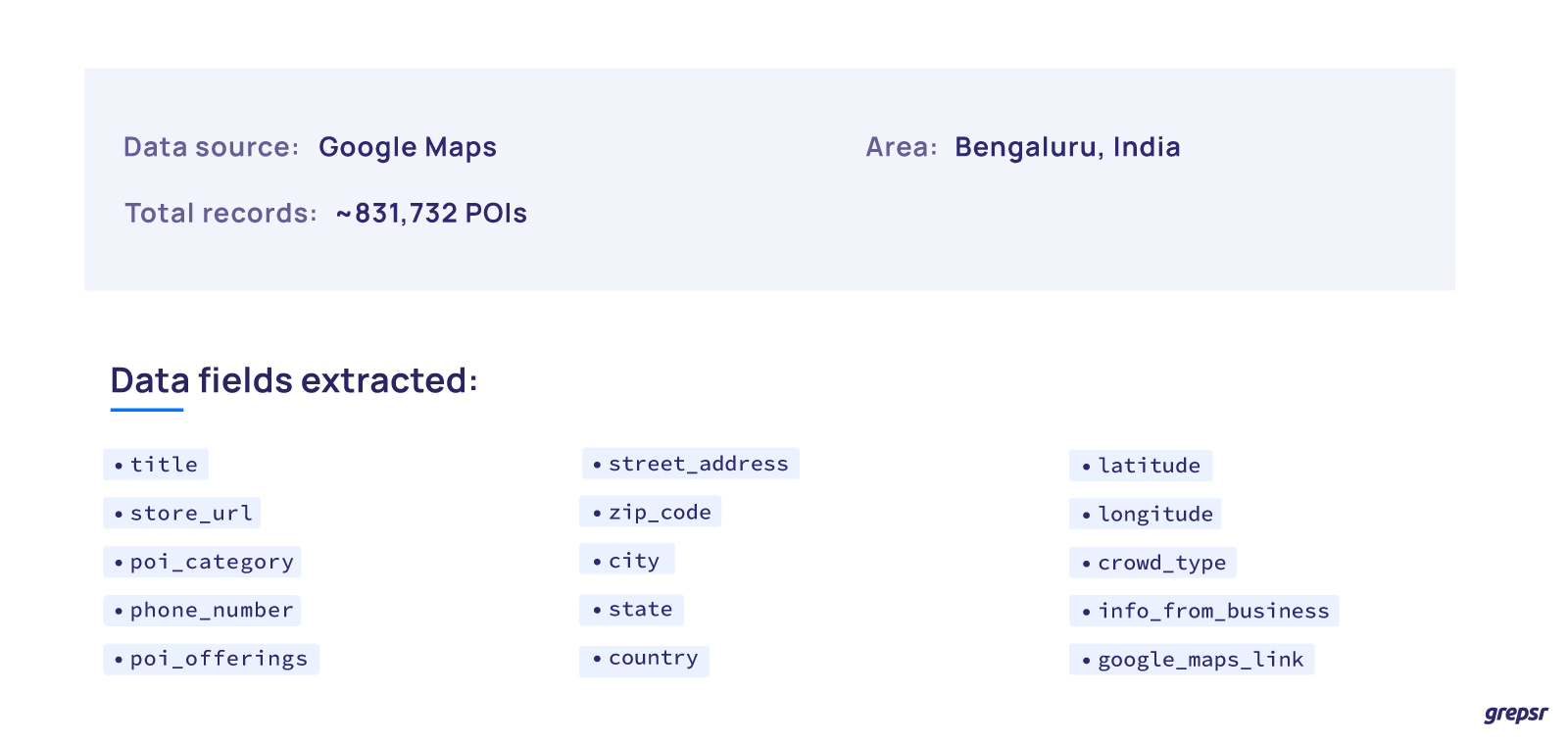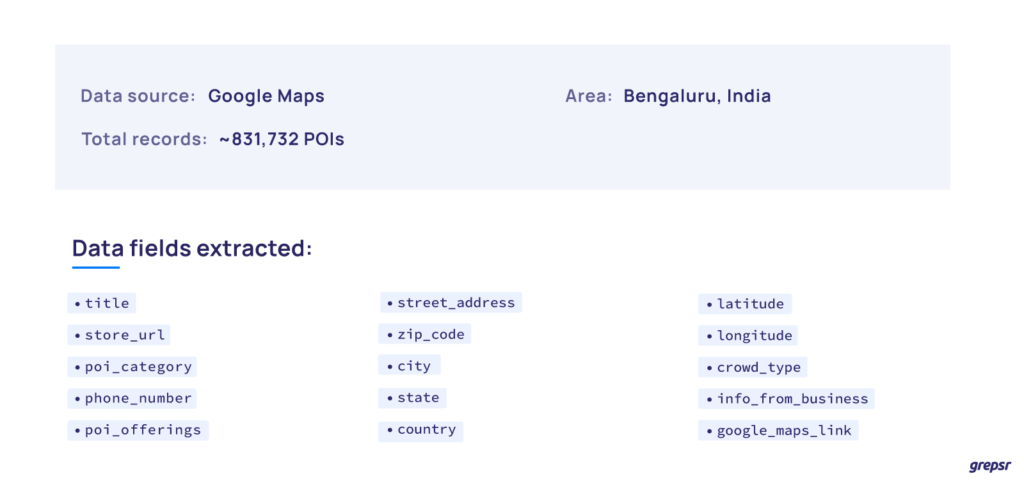 Disclaimer: All analyses presented here are based on a sample dataset from one of our data extraction projects, and do not reflect the entire market. This is only a hypothetical use-case of potential insights that could be gathered for better decision-making.

Data to make or break your business
Get high-priority web data for your business, when you want it.
Retail Chain Expansion with POI Insights: Analyzing the Fast-Food Chain Market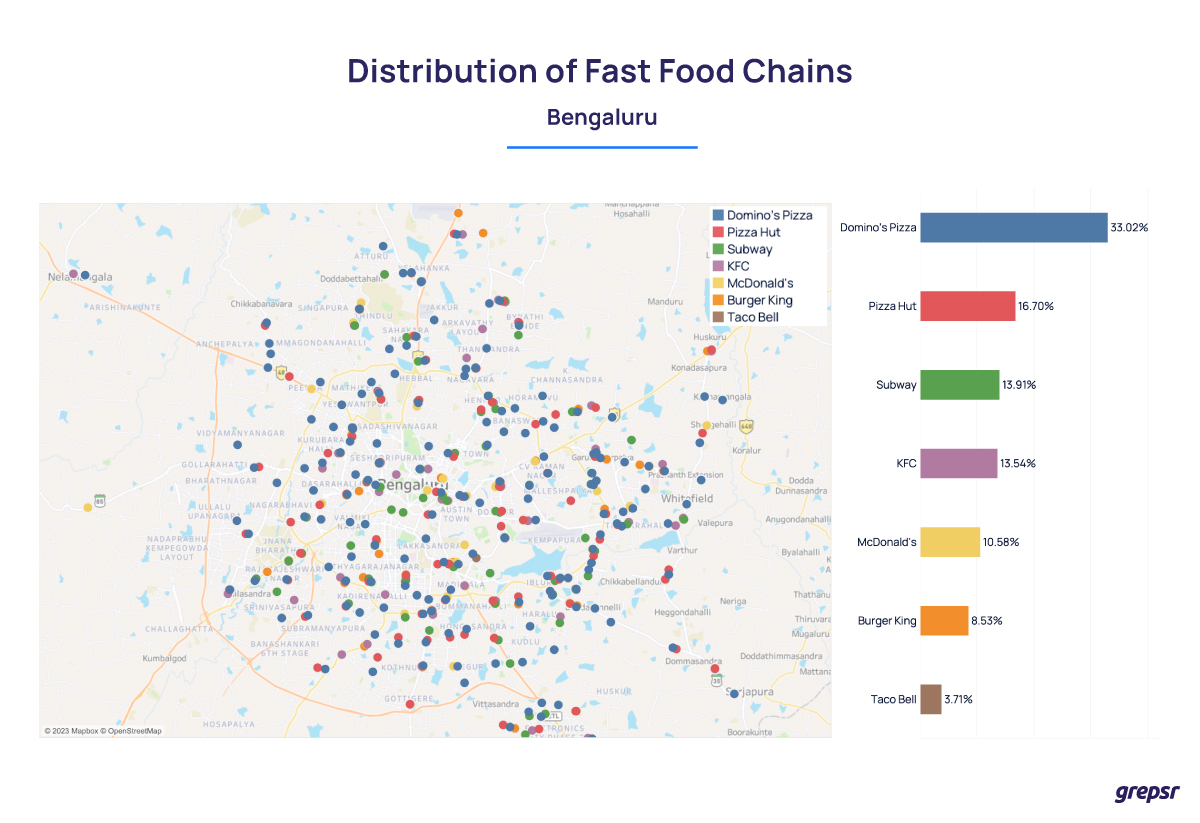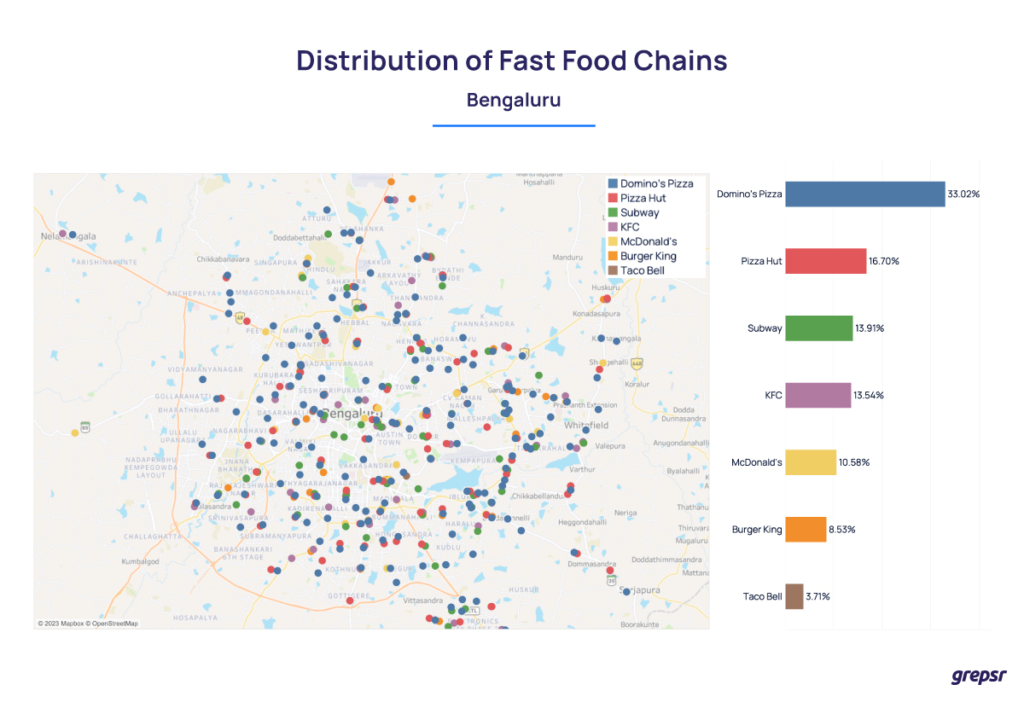 From our analysis, we notice that Bengaluru's fast-food chains are mostly concentrated in the city's central region.
Domino's Pizza leads the pack with a 33% market share, which is almost twice as much as Pizza Hut's share at 17%. Subway (14%), KFC (13%), McDonald's (11%), Burger King (8%), and Taco Bell (4%) are other notable players in Bengaluru's fast-food game.
The clustering of fast-food chains in the central area suggests that Bengaluru has a lot of footfall in the central region, alongside numerous amenities that are attractive to fast-food chains — malls, office complexes, and residential areas.
Additionally, Bengaluru does not have strict zoning regulations, which means that fast food chains can be located in various areas. It makes it easier for them to cluster together in areas with high footfall and pedestrian markets.
With this information, a new fast-food chain planning to enter the Bengaluru market can gain valuable insights into its competitors and the market. Furthermore, this information can help them make better decisions about where to open restaurants, expand operations, and launch new products and services.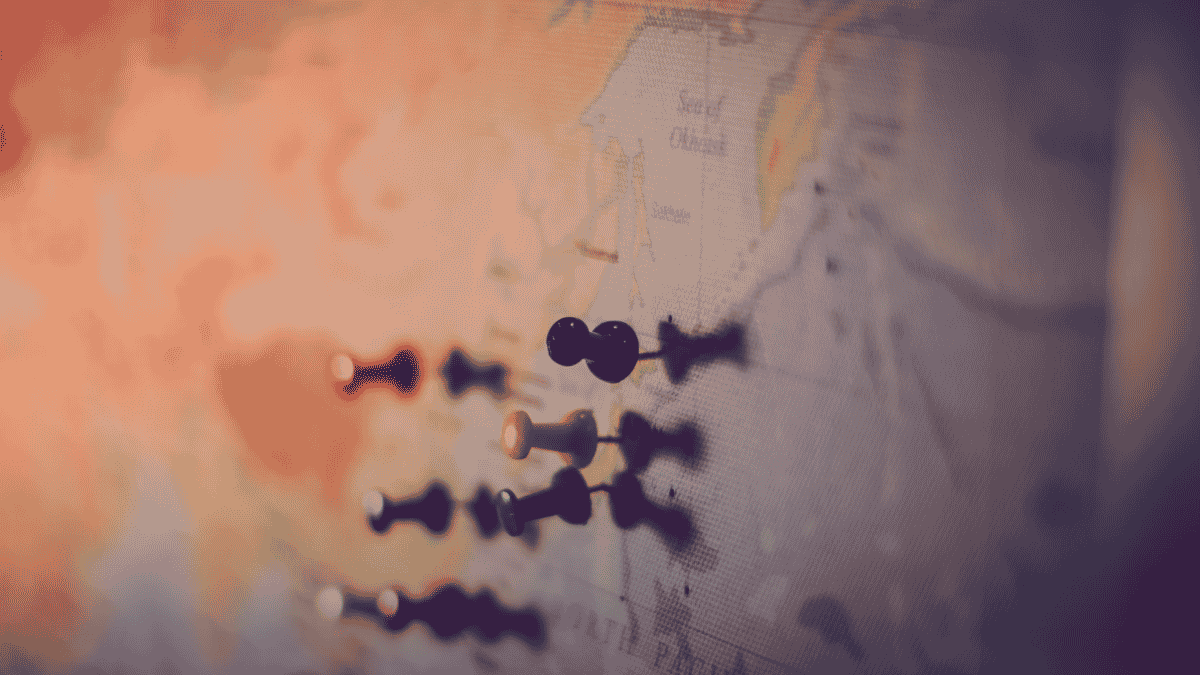 Enabling Market Expansion: Data Refinement at Grepsr
Learn how Grepsr helps brands expand into new markets by providing them with clean data using effective data refinement techniques.
Location Strategy: Proximity to Competitors Beneficial or Detrimental?
By locating their stores close to each other, businesses can increase their chances of being chosen by customers who are undecided about which store to go to. Hence, POI data can be used to identify the best locations for these stores, as well as to identify the locations of competitors.
Case I: Domino's Pizza vs Pizza Hut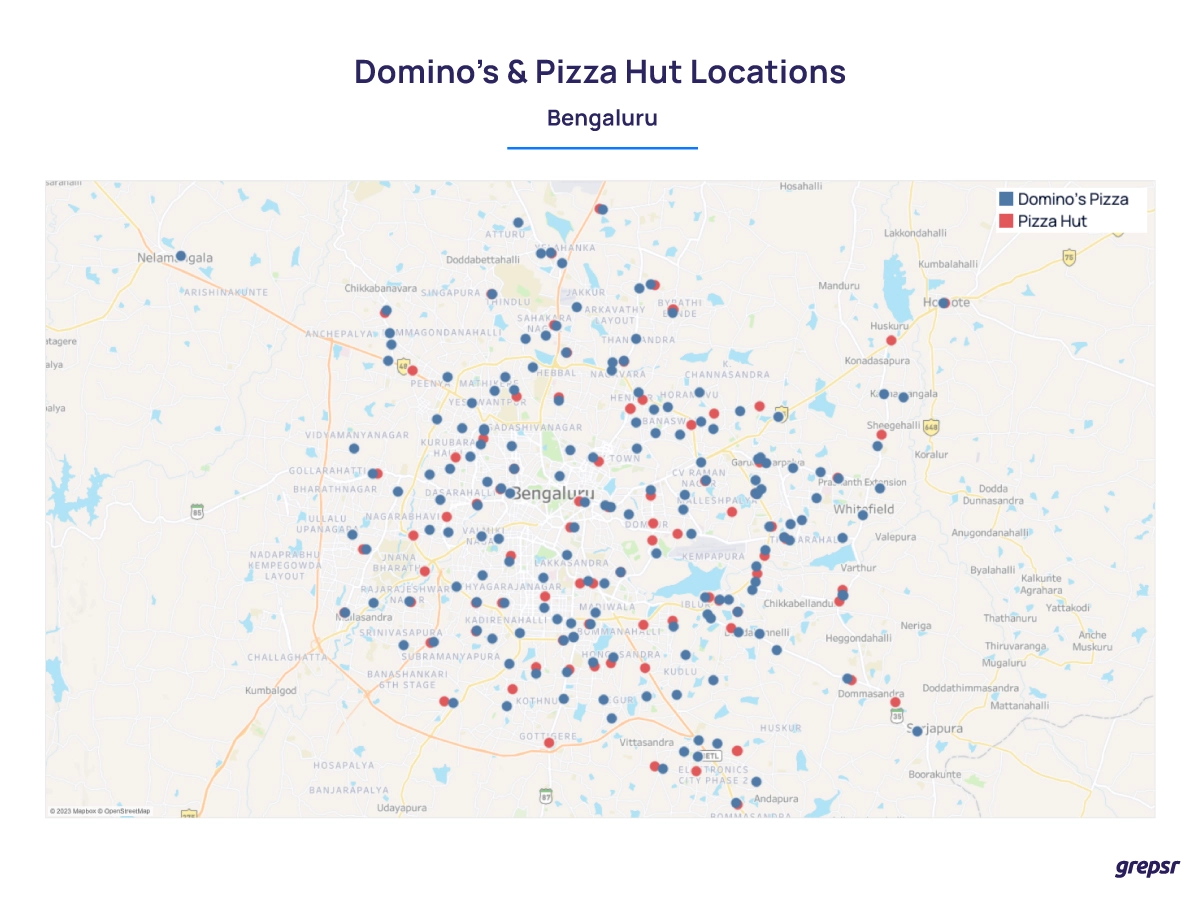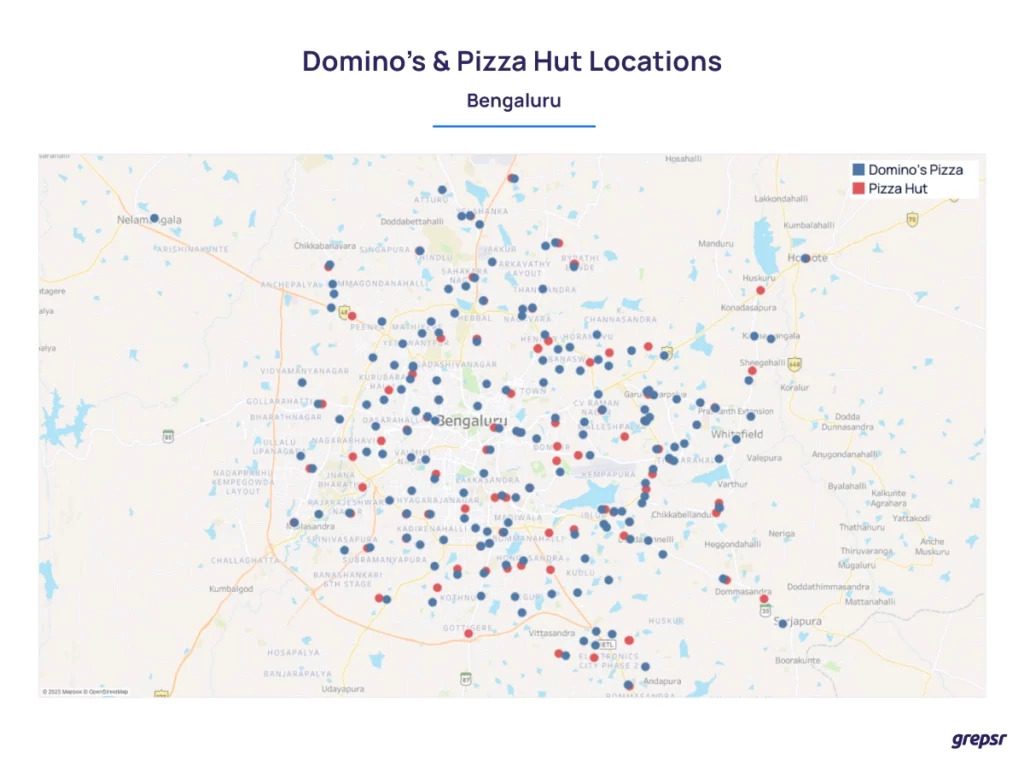 We narrowed our focus to understanding the competition between two major direct competitors in the fast-food chain — Domino's Pizza and Pizza Hut. As shown in the figure, for every alternate Pizza Hut outlet, Domino has an outlet in close proximity.
By setting up outlets close to one another, Domino's Pizza and Pizza Hut are able to compete for the same customers, and try to win them over with superior offerings whilst keeping close tabs on each other.
Case II: Jewelry Shops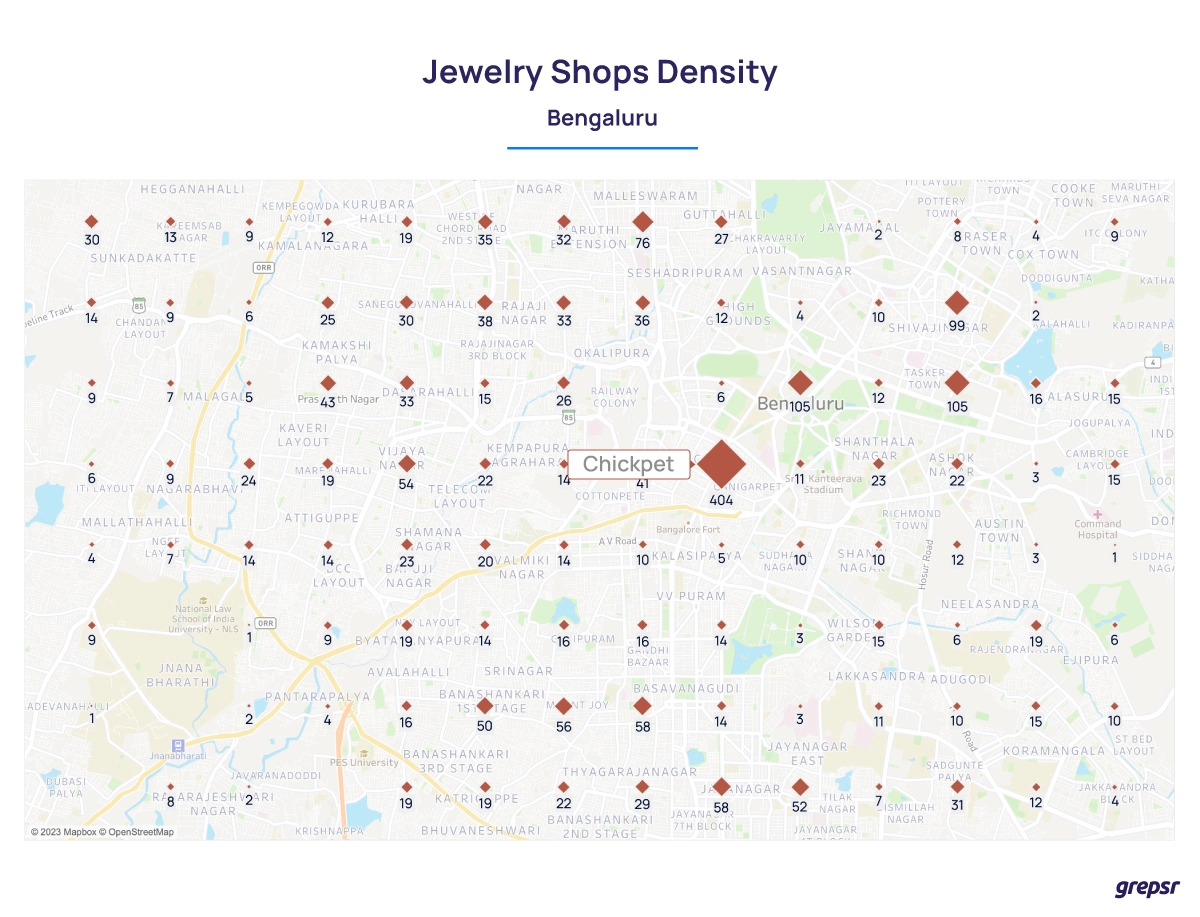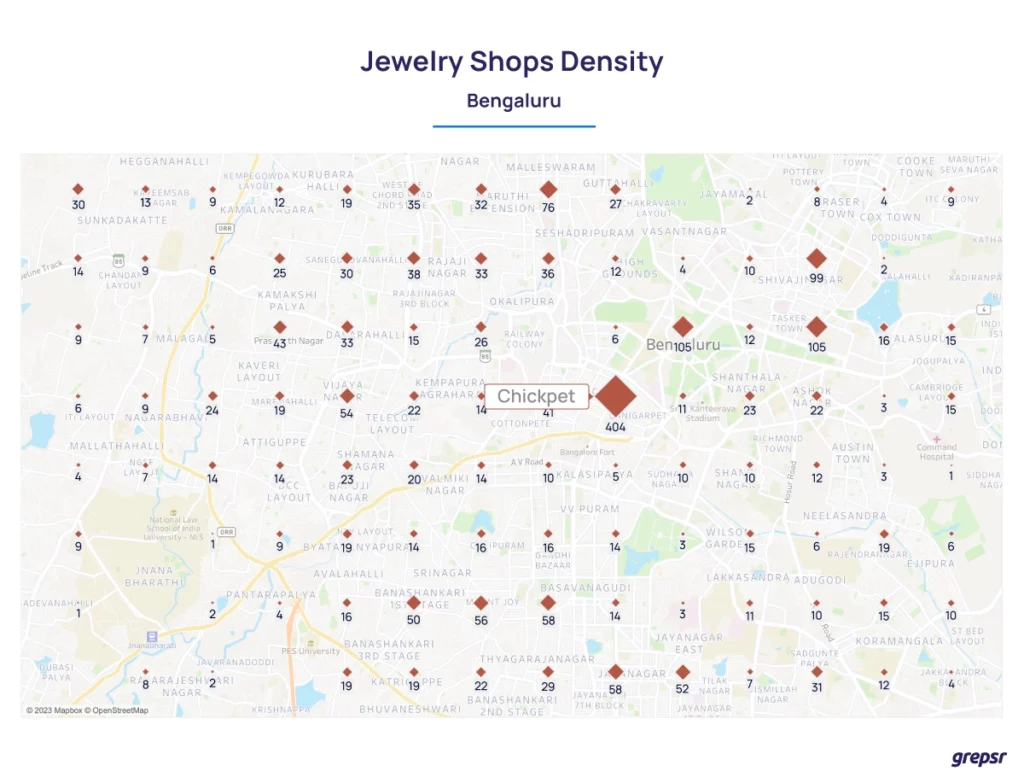 Let's take a look at the jewelry shops in Bengaluru.
Out of 5,000+ jewelry shops, around 404 are in the Chickpet area, which is almost 8% of the total jewelry shops. A customer planning to buy jewelry is more likely to visit Chickpet than any other area, resulting in high footfall.
Case III: Hardware Shops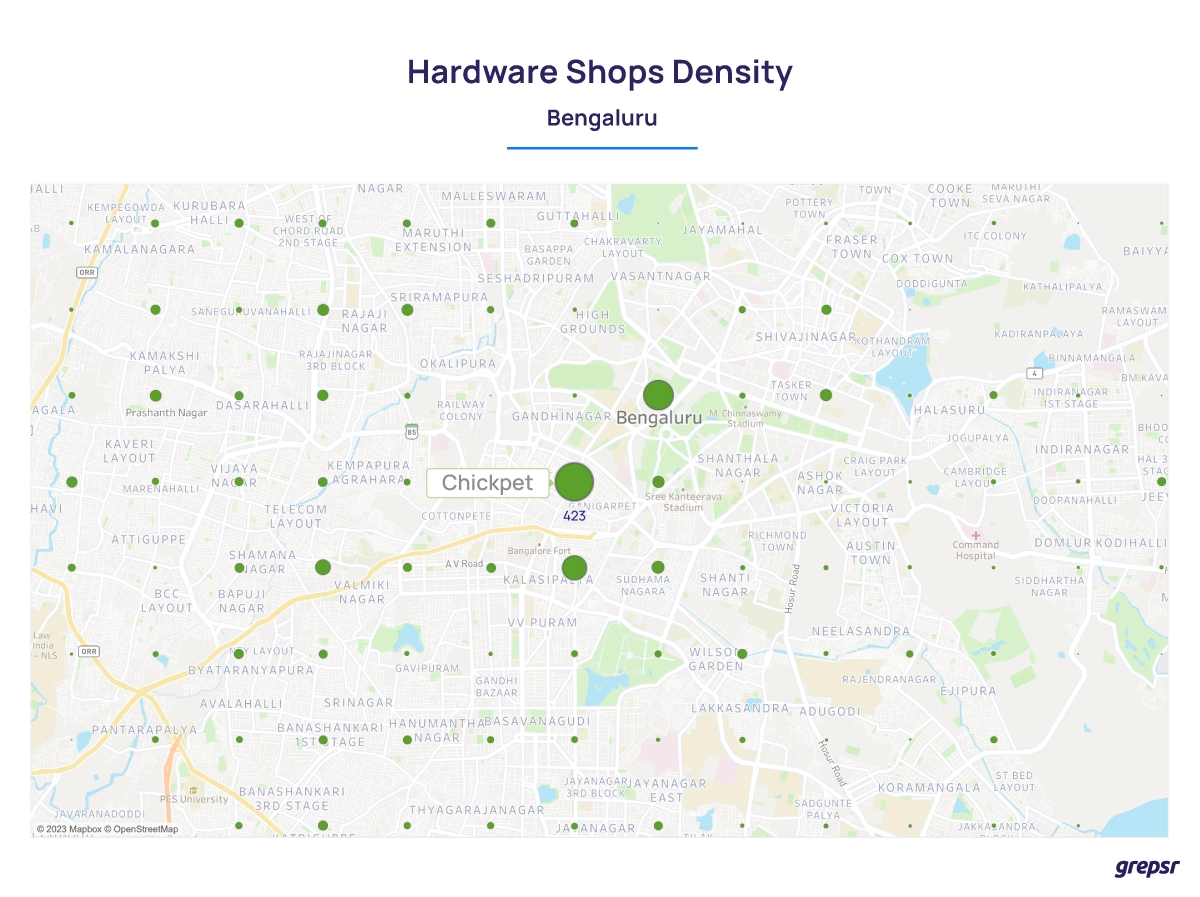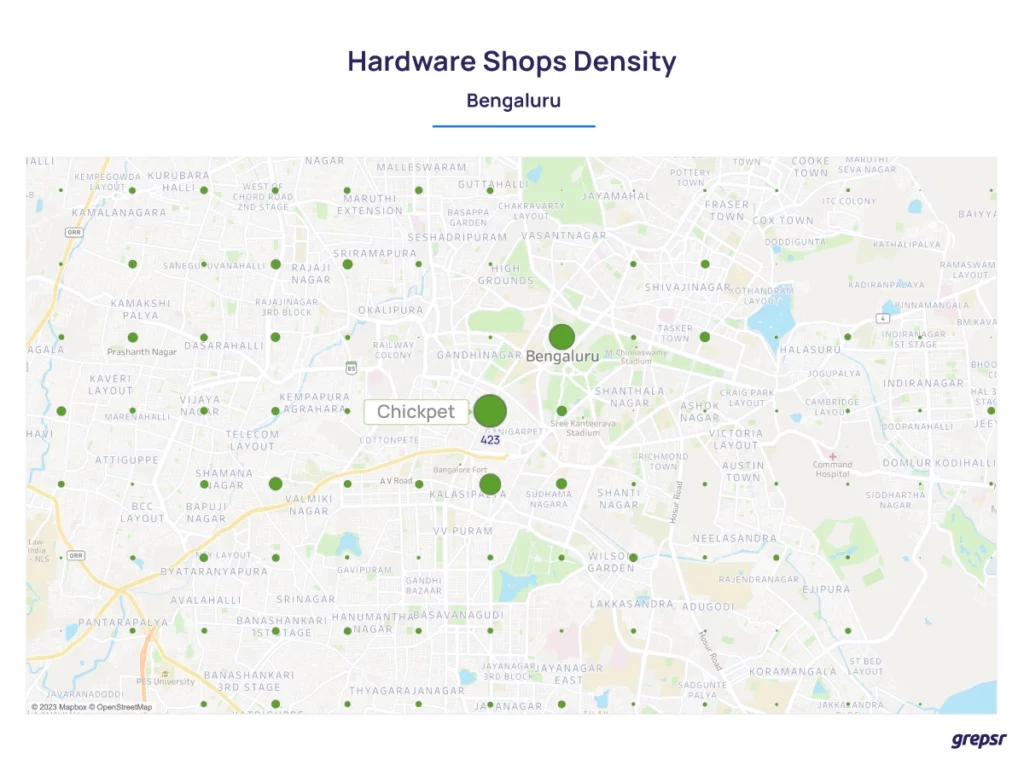 The figure above shows the location of hardware shops in Bengaluru, suggesting similar results. Around 423 out of 8,000+ shops — more than 5% of all hardware shops — are in the Chickpet area.
Cases II & III draw the same conclusions. Businesses (jewelry and hardware shops, in our case) planning to start their venture in Bengaluru should consider locating their stores in the Chickpet area mainly to coalesce in an area with the highest service providers of their niche. What's more, being close to competitors increases the visibility of these businesses, making them more likely to be considered by potential customers.
Targeted Advertising
One interesting application of the POI dataset is to target advertising and promotional messages to the target audience.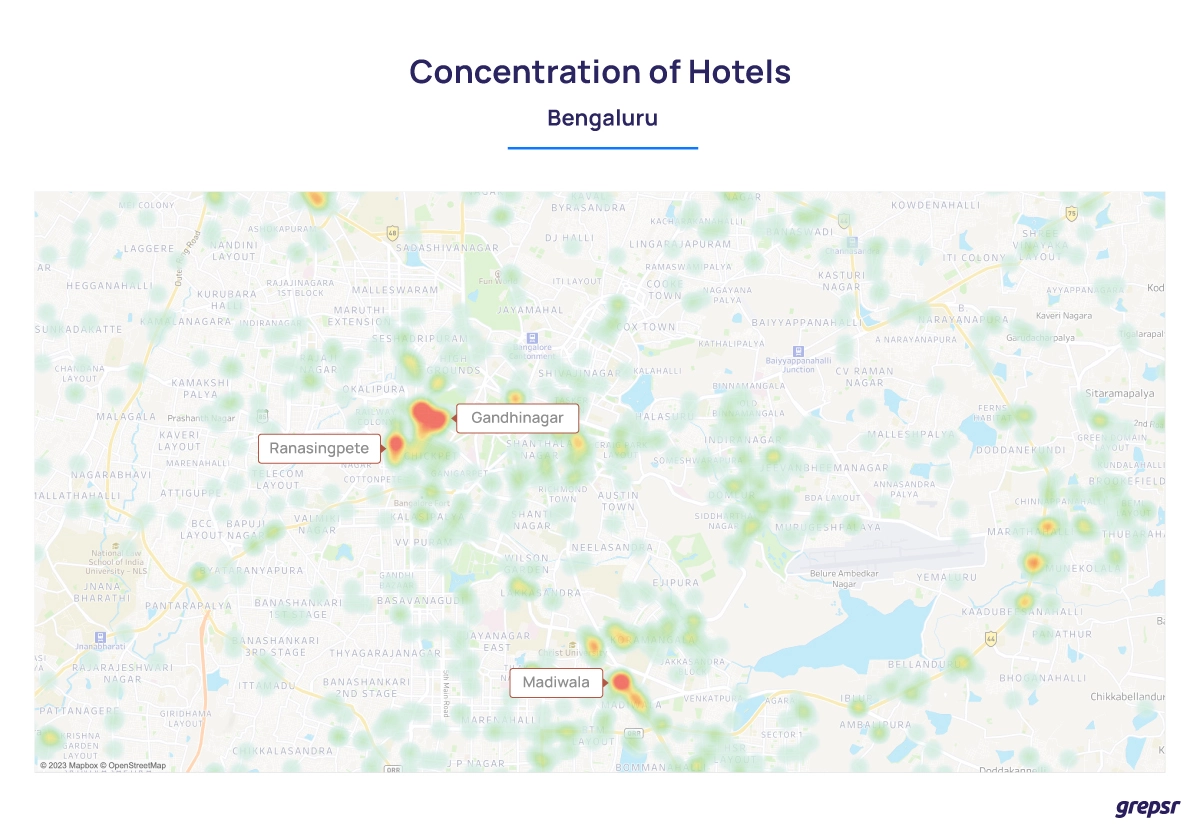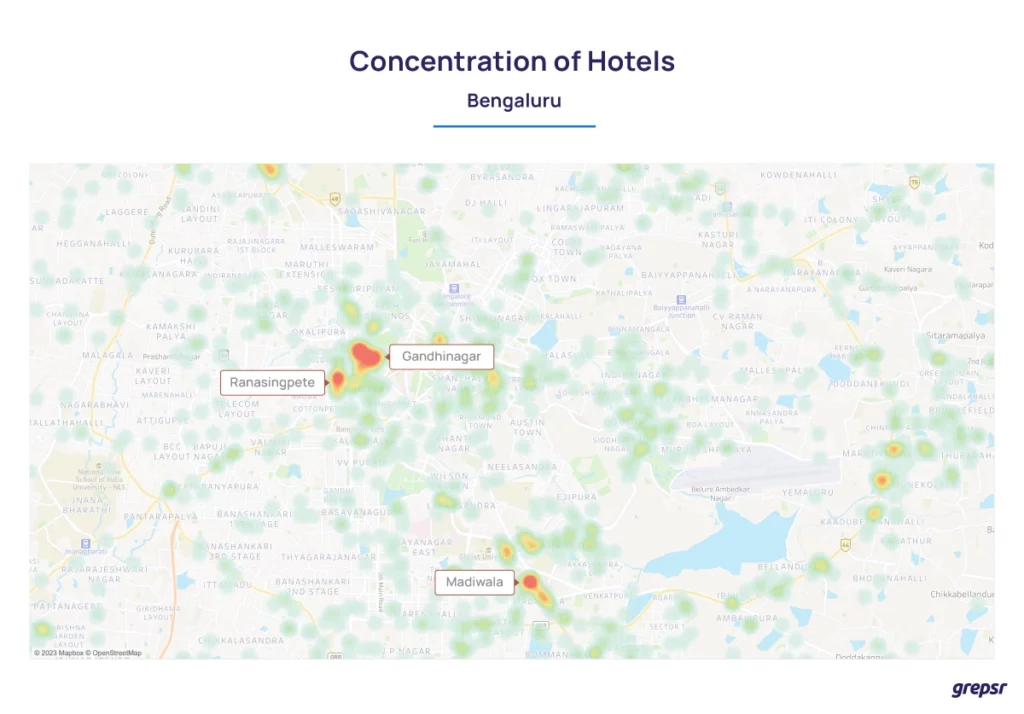 To illustrate this, we analyzed the dataset of hotels across Bengaluru.
The dataset suggests that Gandhinagar (93) has the highest concentration of hotels, followed by Ranasingpete (41) and Madiwala (39). Equally important, a higher number of hotels means that there is a large amount of tourism traffic in this area. Also, these areas could be great places for travel agencies to advertise, for example, by placing hoarding boards.
Efficient B2B Lead Generation
POI data holds significant potential for generating B2B leads due to its rich repository of valuable information, including essential details, such as phone numbers and website listings. Additionally, this data is particularly invaluable for businesses seeking to establish meaningful connections with potential partners and clients.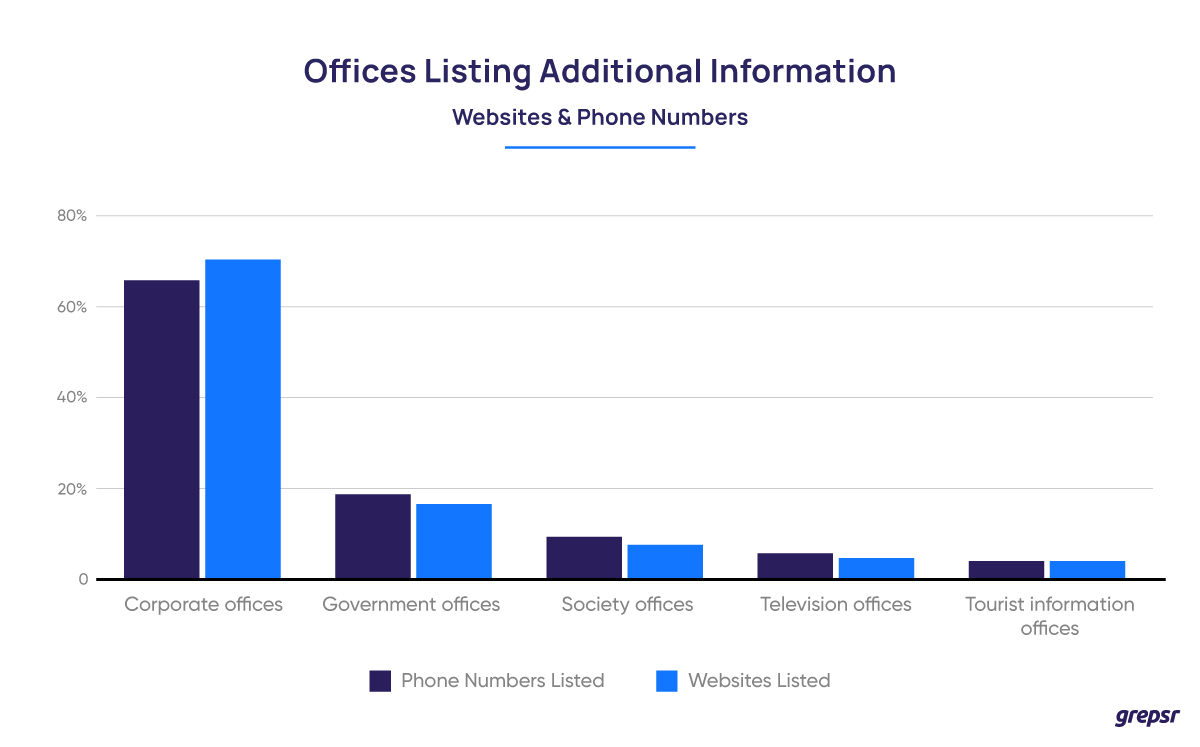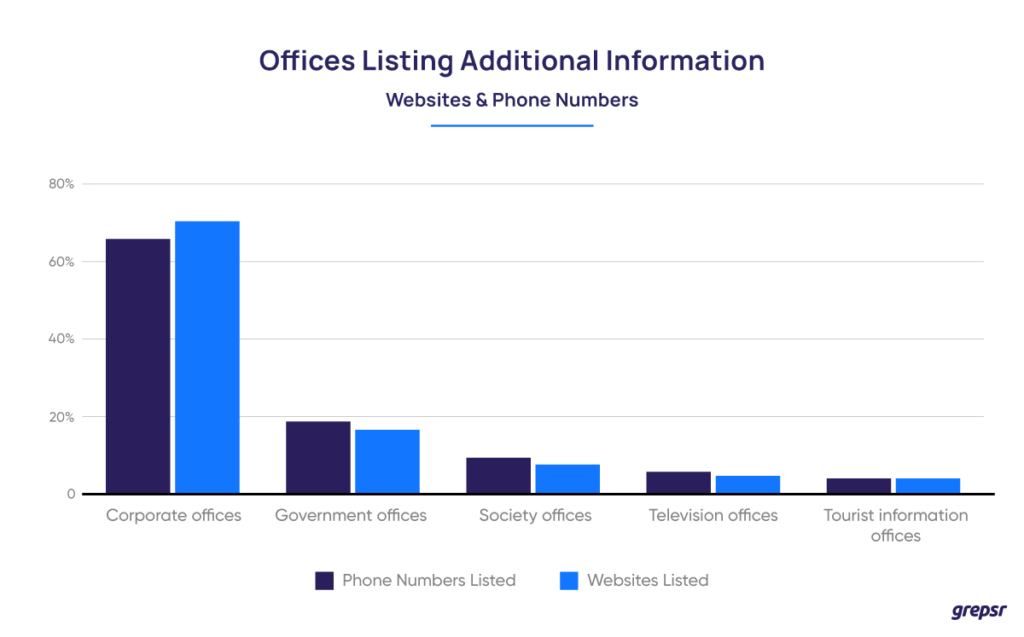 In Bengaluru, most offices and organizations openly share their websites and phone numbers. From our sample of 12K+ offices, around 41% display phone numbers, and 34% feature website links. Out of these, corporate offices dominate, accounting for 66% and 70% respectively, followed by government offices.
For example, if your business deals in office supplies, this insight provides a direct avenue for initiating tailored outreach efforts, enhancing the precision and effectiveness of B2B engagement strategies, and ultimately driving more sales.
Maximize Real Estate Potential: Leveraging POI Data Insights
Real estate companies can leverage POI data to understand the changing demographics of an area, and the amenities and businesses that are located in a particular area, and use these insights to analyze return on investment.
These companies can make better decisions about where to invest, how to price their properties, and how to market them.
For this, we took a few popular apartments from the sample for the analysis: Gustov, Prinsa, Kalapatru Classic, & Laxmidevi Apartment. As shown below, these apartments have facilities like hospitals, schools, and hypermarkets located close to each other, which suggests that these are popular residential areas.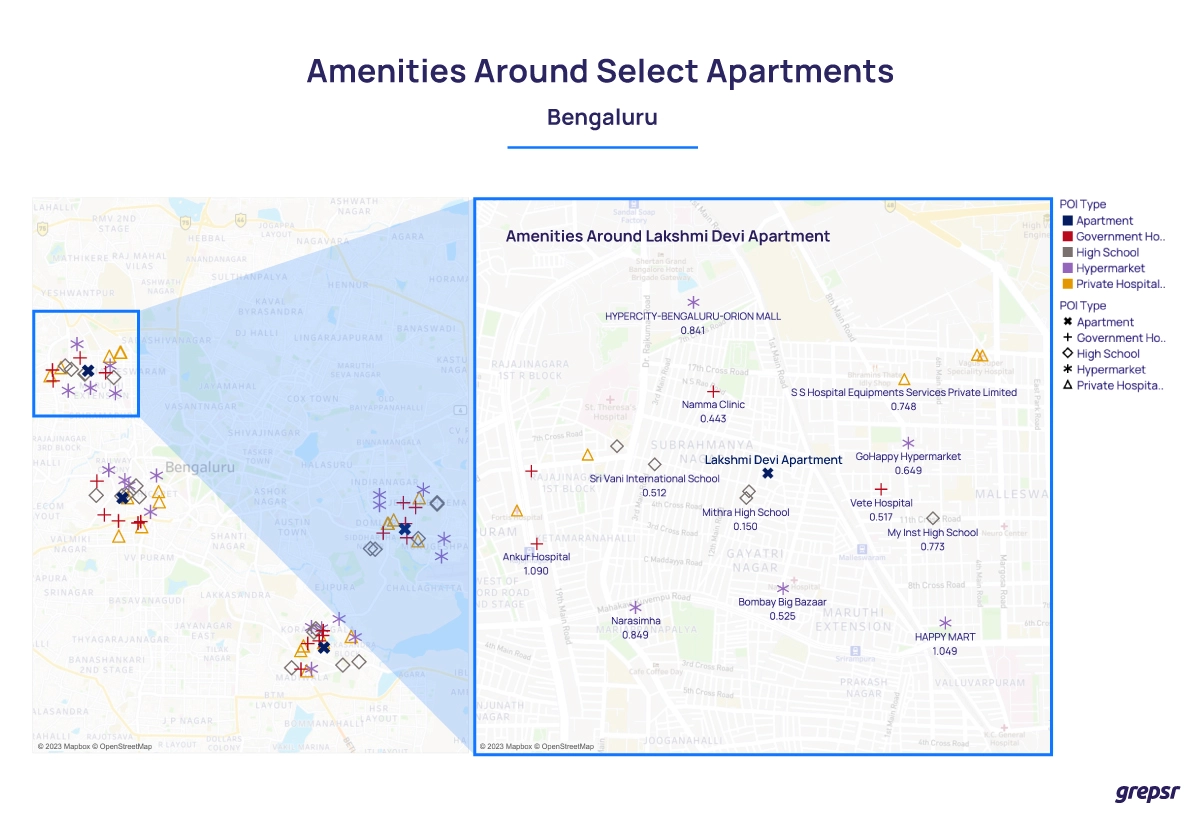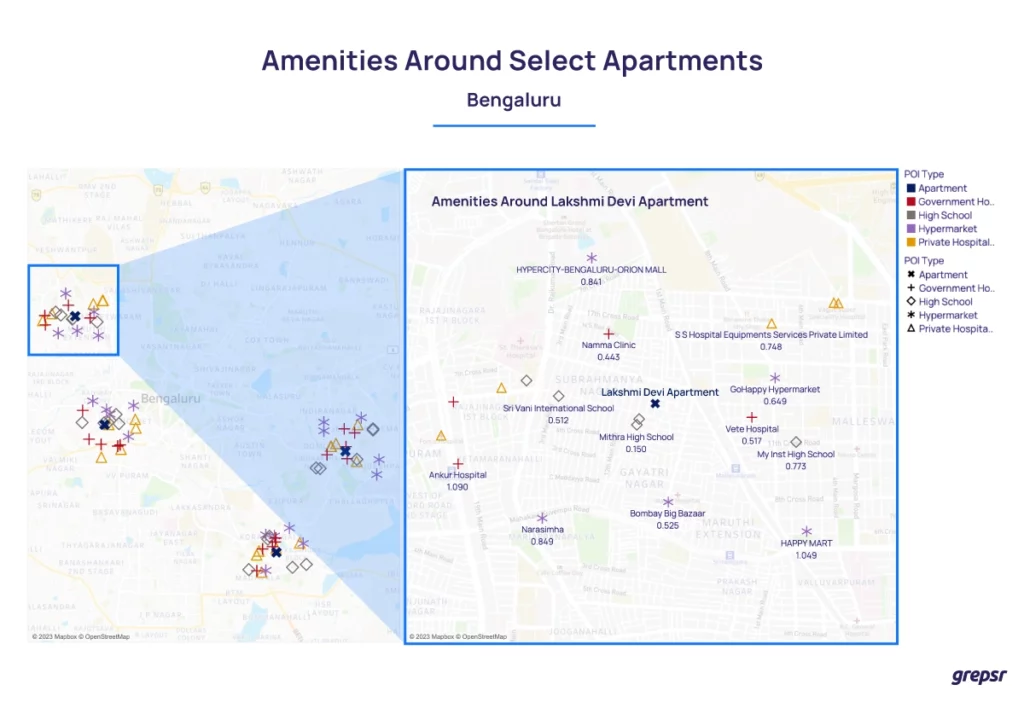 Taking a closer look, we focused on the Laxmidevi Apartment situated on the northwest of Bengaluru. The area features an impressive array of facilities—6 hypermarkets, 5 schools, 5 private hospitals, and 3 government hospitals—all in its immediate vicinity. Moreover, this robust infrastructure paints a clear picture of the surging demand for housing in the region.
Therefore, by understanding the demand for housing in these particular areas of Bengaluru, real estate companies can not only find the right house for their clients, but also justify their pricing strategy, and charge a premium for a property. This insight can help them close deals faster, and bolster their profits.
Strategic Resource Allocation & Urban Planning for Governments
POI data emerges as a crucial asset for governments, facilitating resource allocation, and streamlining urban planning. By grasping residents' locations, required services and urban shifts, governments are able to enhance decision-making for resident well-being.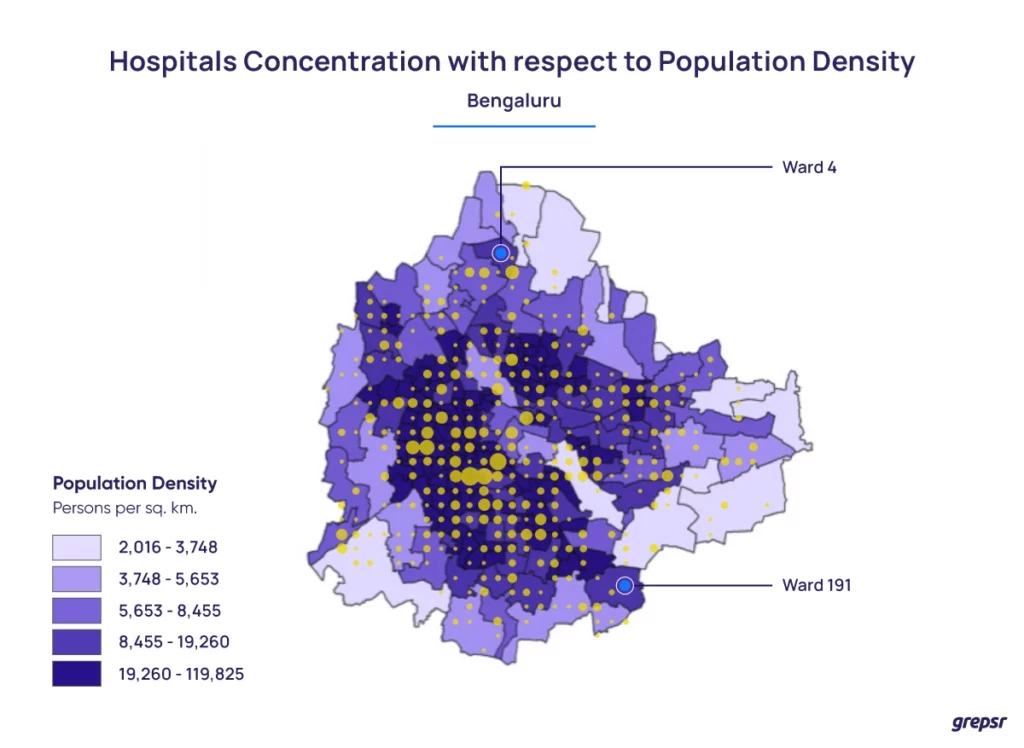 Sticking to Bengaluru, we assessed population density and hospitals. Urban cores feature dense populations and abundant hospitals. Yet, some of the high-density outskirts, like Wards 4 and 191, still lack adequate healthcare access. This revelation could be valuable to authorities in strategizing healthcare expansion in the future.
Socio-Economic Analysis for NGOs and INGOs
Acknowledging the universal significance of POI data, we explored its relevance for NGOs and INGOs. Our goal was to reveal socio-economic insights vital for these groups, magnifying the dataset's far-reaching influence.
Hence, we examined Bengaluru businesses, emphasizing women-owned and LGBTQ-friendly ones. This scrutiny aimed to illuminate the diversity, and inclusivity within local enterprises.
Top Ten Women-Owned Businesses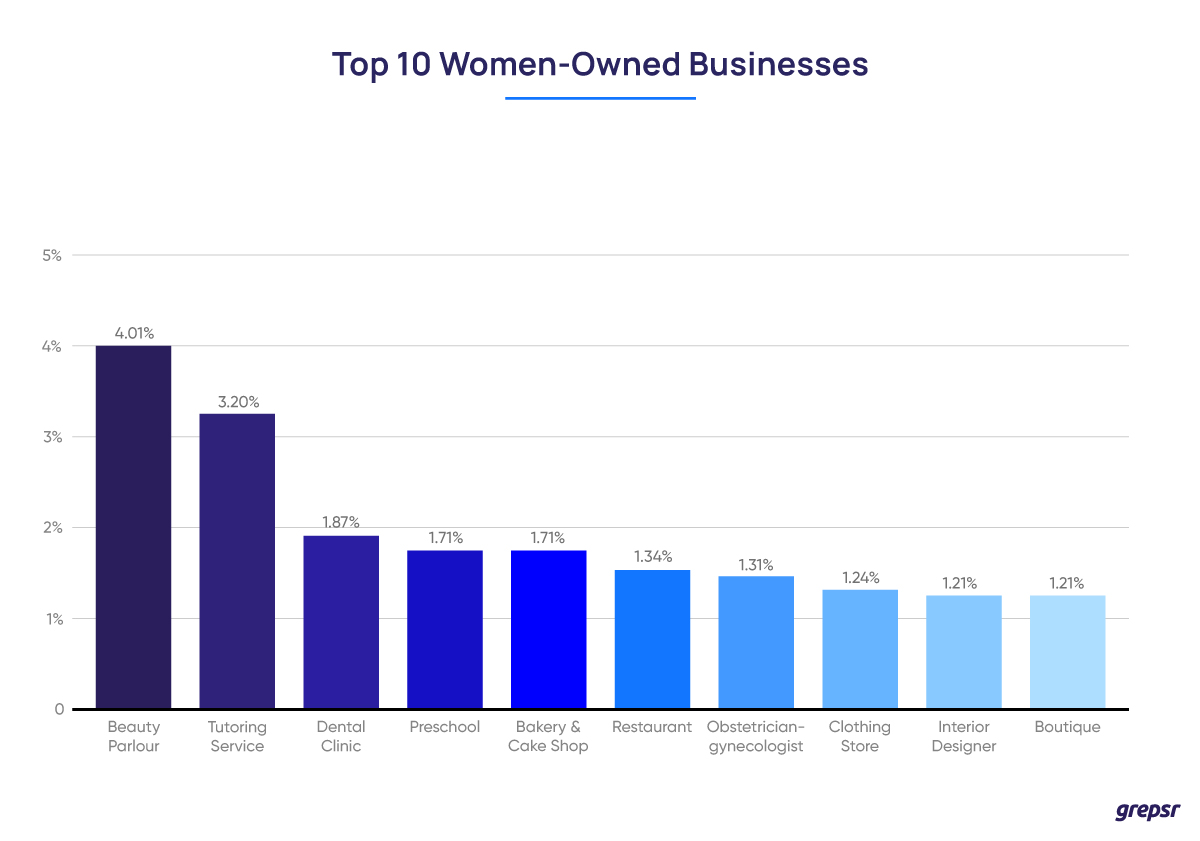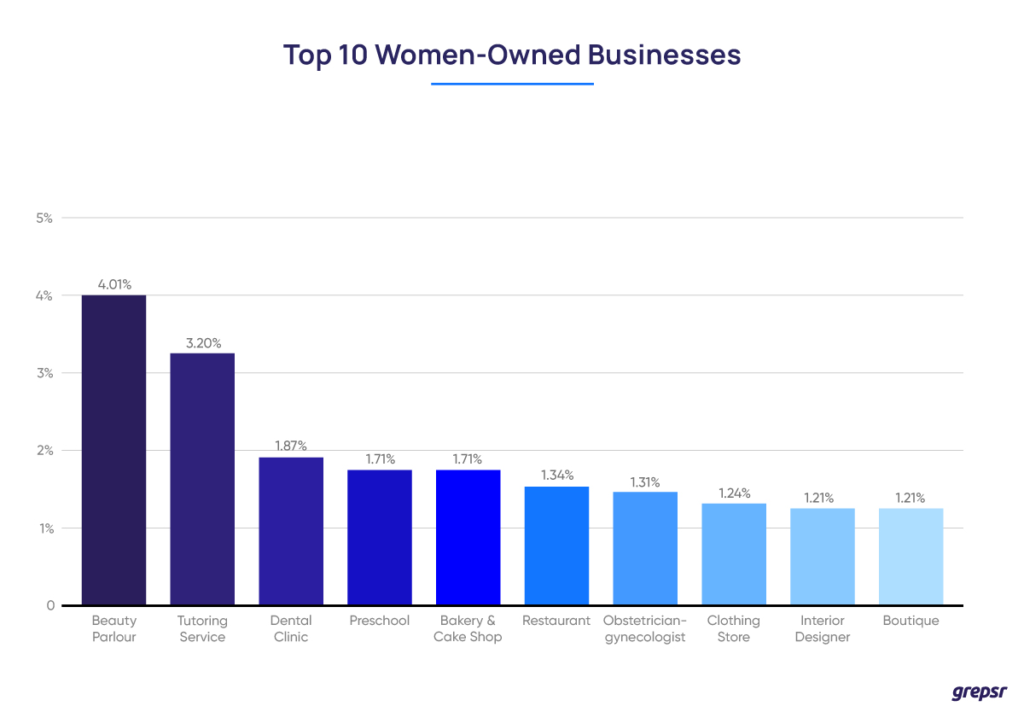 Based on our sample data, the foremost women-owned enterprises in Bengaluru are Beauty Parlours (4%), Tutoring Services (3.2%), Dental Clinics (1.8%), Preschools (1.7%), and Bakery & Cake Shops (1.7%).
Top Ten LGBTQ-Friendly Businesses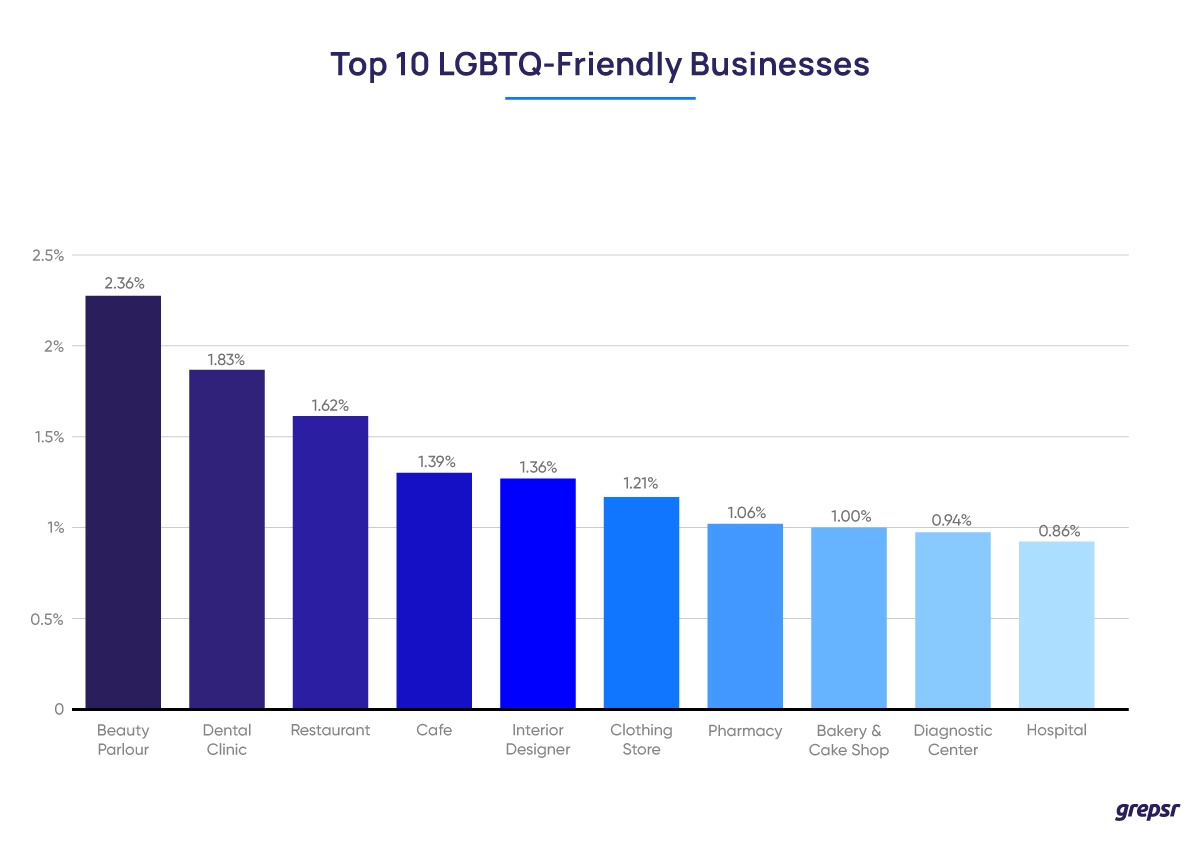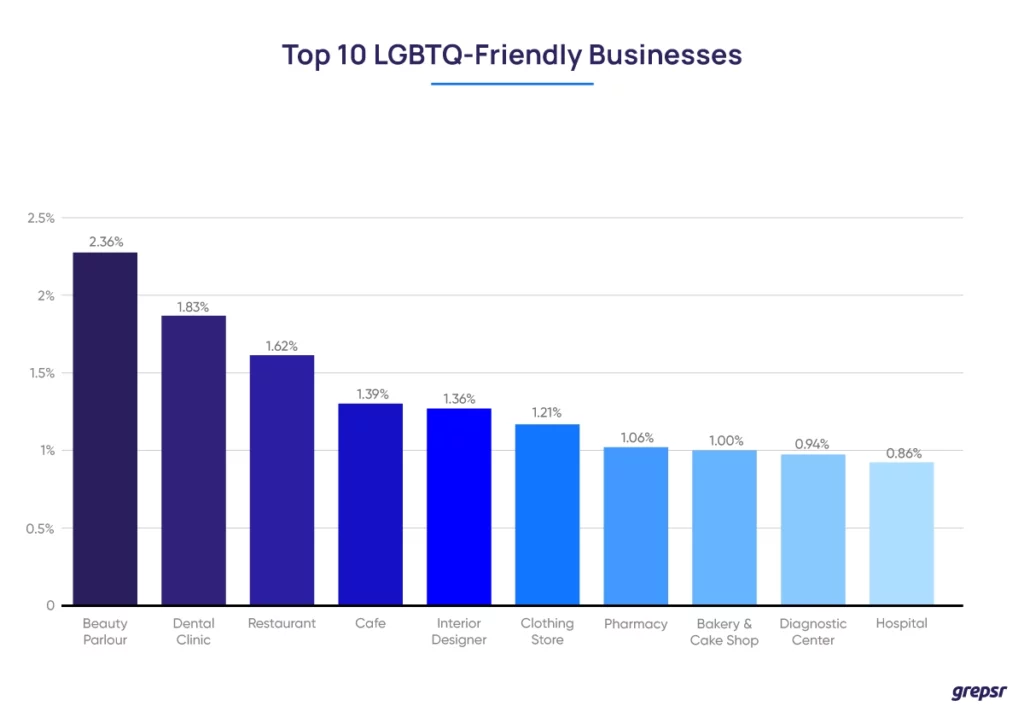 Google's POI dataset incorporates a 'crowd_type' parameter showing LGBTQ-friendliness of businesses. Analyzing the sample data unveils Beauty Parlors (2.3%) as top LGBTQ-friendly listings, trailed by Dental Clinics (2.3%), Restaurants (1.6%), Cafes (1.4%), and Interior Designers (1.4%).
NGOs, INGOs & governments can apply these insights to foster inclusivity and equity in initiatives and campaigns.
Get the POI Advantage with Web Scraping
In summary, the analysis of POI data across diverse industries underscores its universal applicability. From retail expansion to urban planning to investment decisions and beyond, POI data offers insights that benefit everyone.
This case study affirms that POI data is not limited by industry boundaries—it's a shared resource that empowers all to make informed decisions.
At Grepsr, we understand the immense potential and value that POI data holds for businesses, organizations, and governments alike. Our dedication to providing accurate, reliable, and scalable data extraction services makes us the ideal partner for harnessing the full potential of POI data.
In a rapidly evolving business landscape, where data-driven decisions are crucial, Grepsr stands as the best data extraction provider for POI data, offering you competitive edge, and a pathway to growth across industries and sectors.

Web data made accessible. At scale.
Tell us what you need. Let us ease your data sourcing pains!