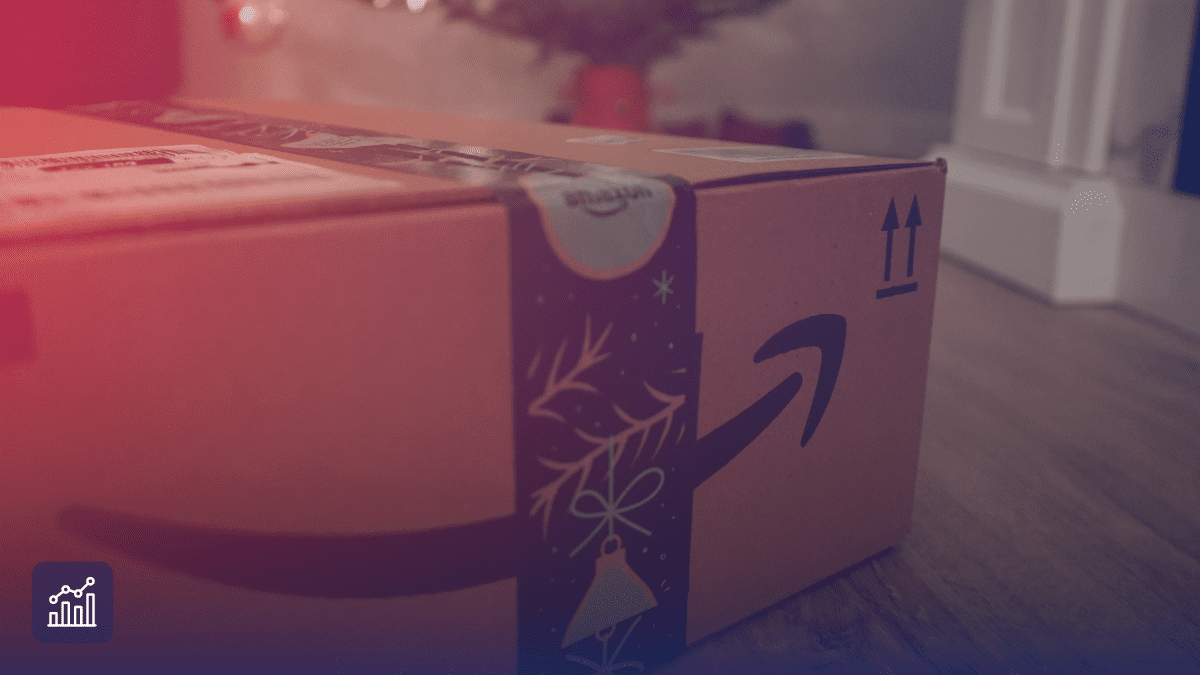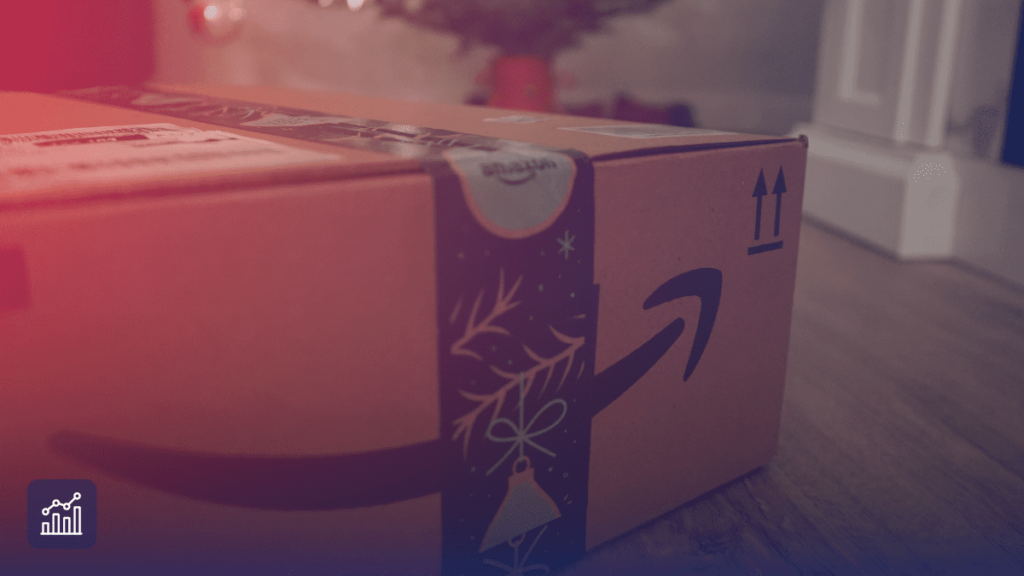 Actionable insights from Amazon reviews for better decision-making
Over the last two decades, the internet has brought about a revolution in our shopping experiences. With almost everything available online, customers can simply open an app, tap a few times and voila, the product is at their doorsteps!
However, with hundreds of options available in any category, it can be a daunting task to browse every option and pick the best one. Product reviews are most often the differential when it's time to make that definitive decision.
On the flip side, user reviews data is equally vital for businesses to monitor and predict trends, analyze consumer attitudes and build targeted action plans.
With over 10 years of experience in collecting product reviews at scale across a wide range of ecommerce platforms and product categories, Grepsr is your go-to solution for all your data acquisition needs.

Web data made accessible. At scale.
Tell us what you need. Let us ease your data sourcing pains!
Motivation
Thanks to their large inventory, better user experience and customer service, Amazon is invariably the number one retailer in many countries. Most of their products are well reviewed, with many in the tens of thousands.
With the help of machine learning and language processing techniques, we've analyzed over six years worth of user reviews on Amazon. Our aim is to understand consumer sentiment and help improve decision making.
Data collection
For our use case, we collected the reviews of external monitors from three leading brands — Dell, HP and LG — across Amazon's US and UK webstores.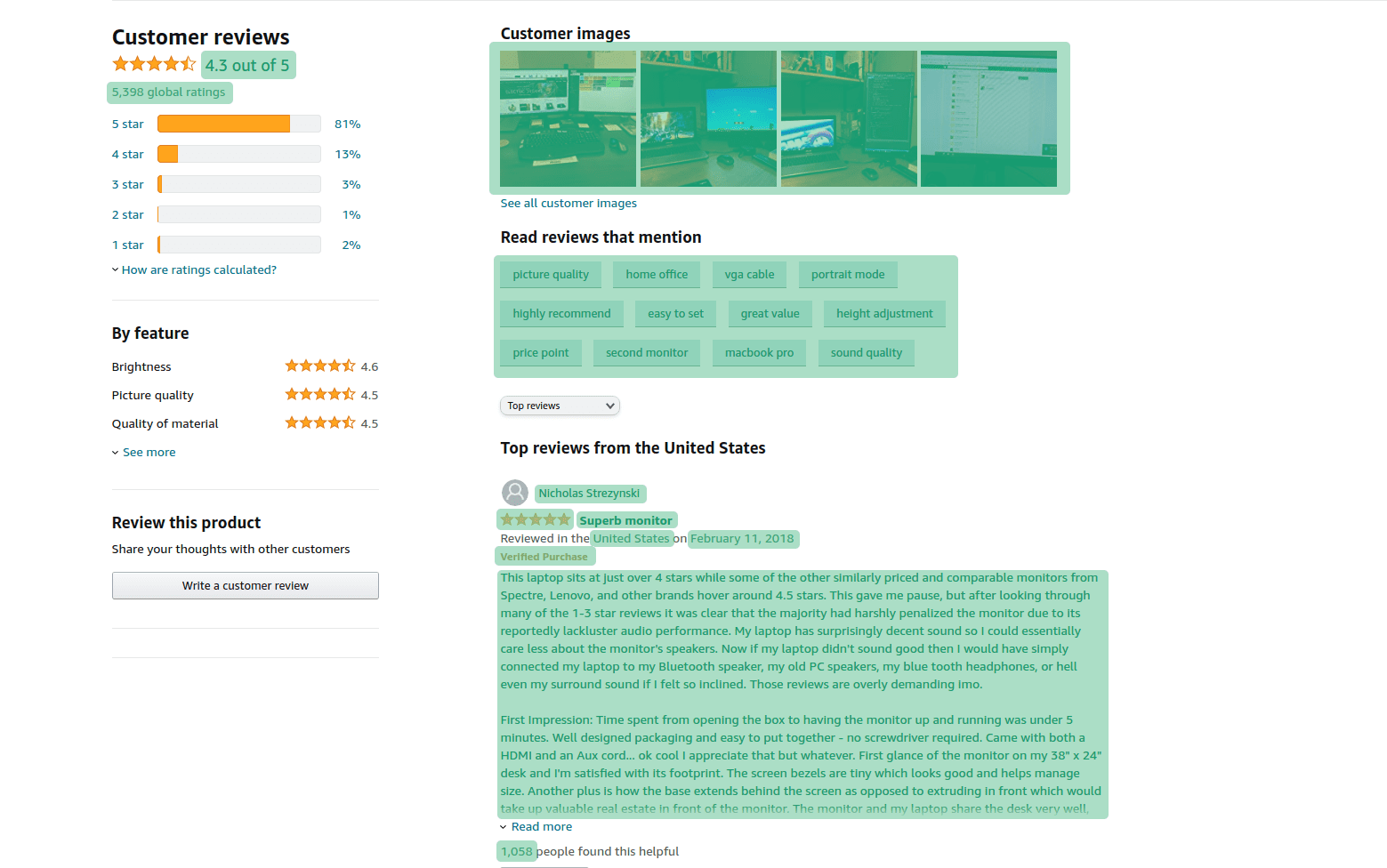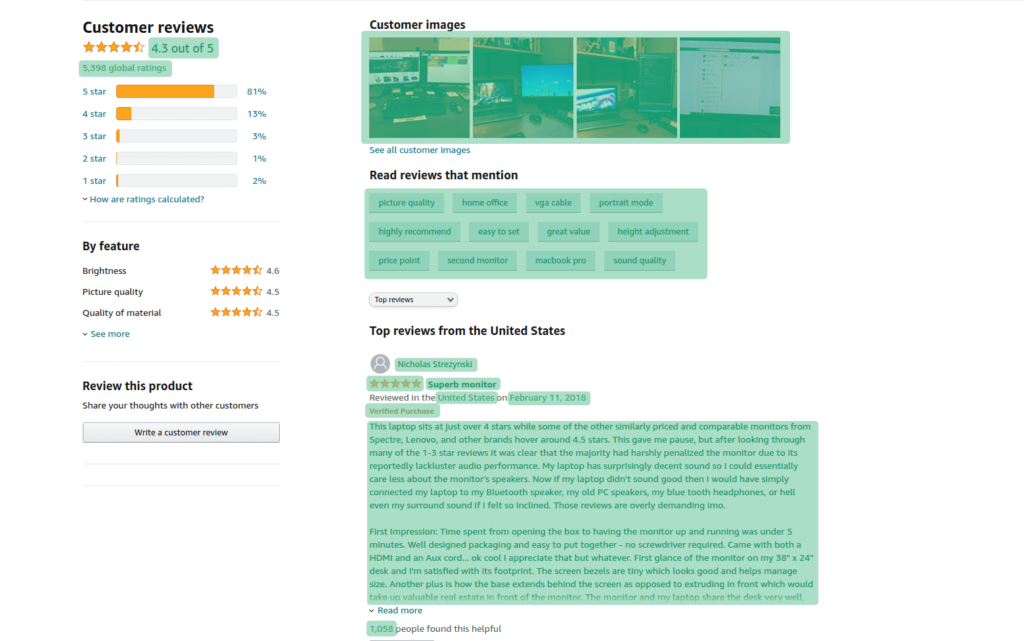 Our dataset included 12 products from these three brands and the following fields:
Product information:

ASIN
Product name
Brand
Price
Seller

Reviews information:

Review title
Full review text
Rating
Reviewer name
Date of review
Helpful
Verified purchase
After a few rounds of QA (removal of null records, deduplication, etc.), our final dataset consisted of 10,786 records, of which the oldest review was posted in December 2014.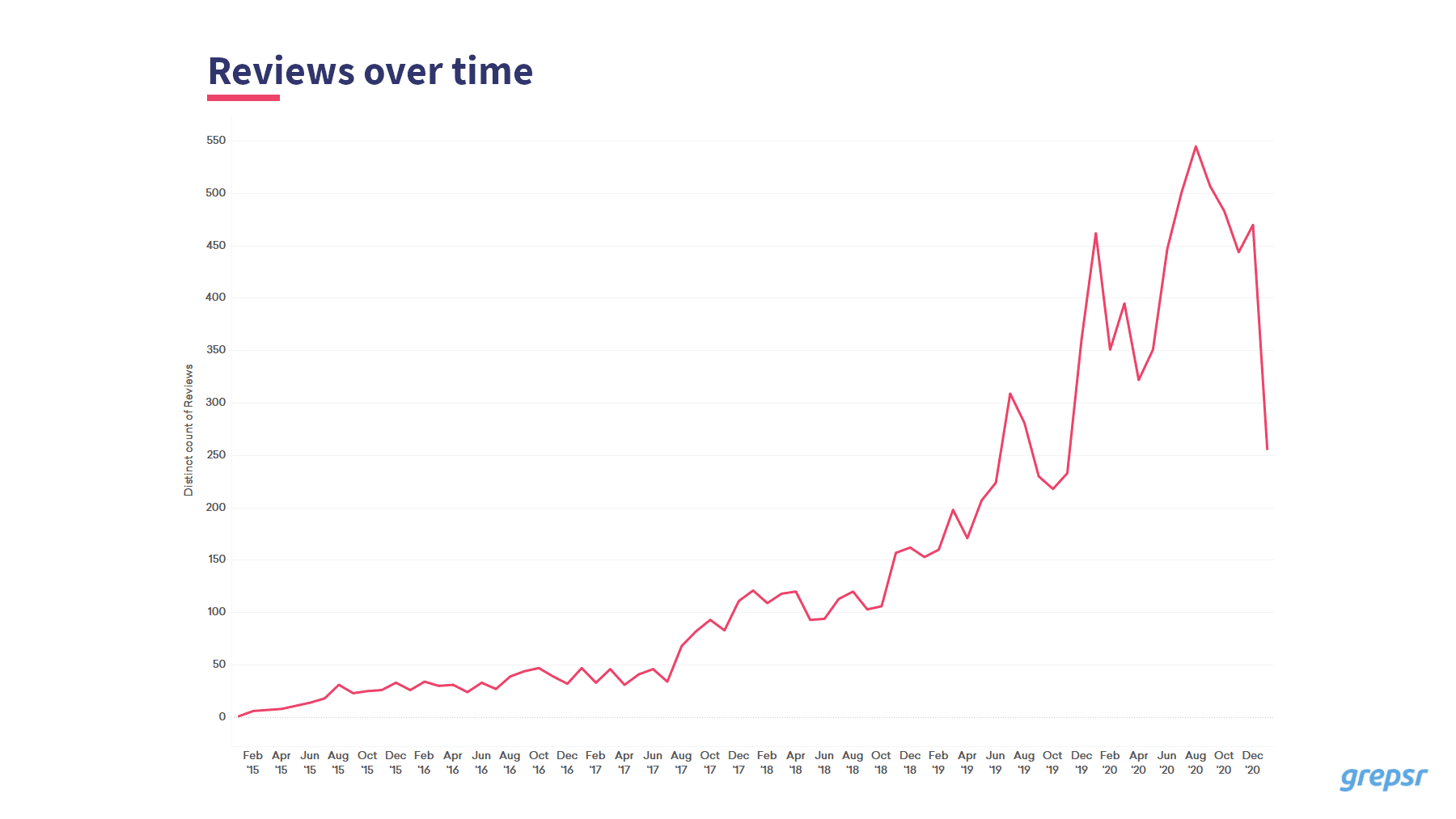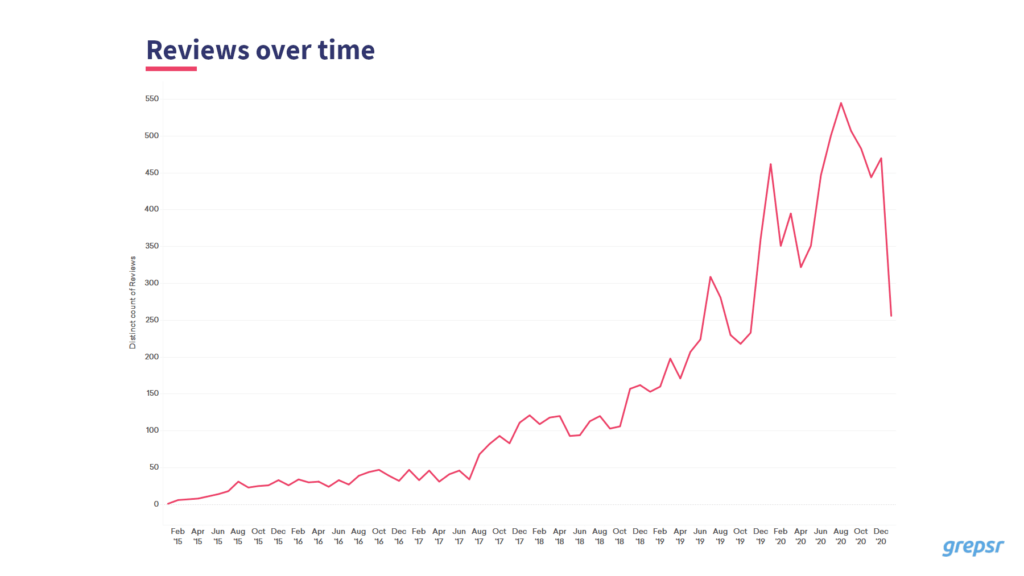 Top brands share similar insights
Dell, HP and LG are three of the most trusted brands in the computers and electronic accessories industry. As is expected with leading brands, the highest rating of 5.0 had the most reviews with 7,168.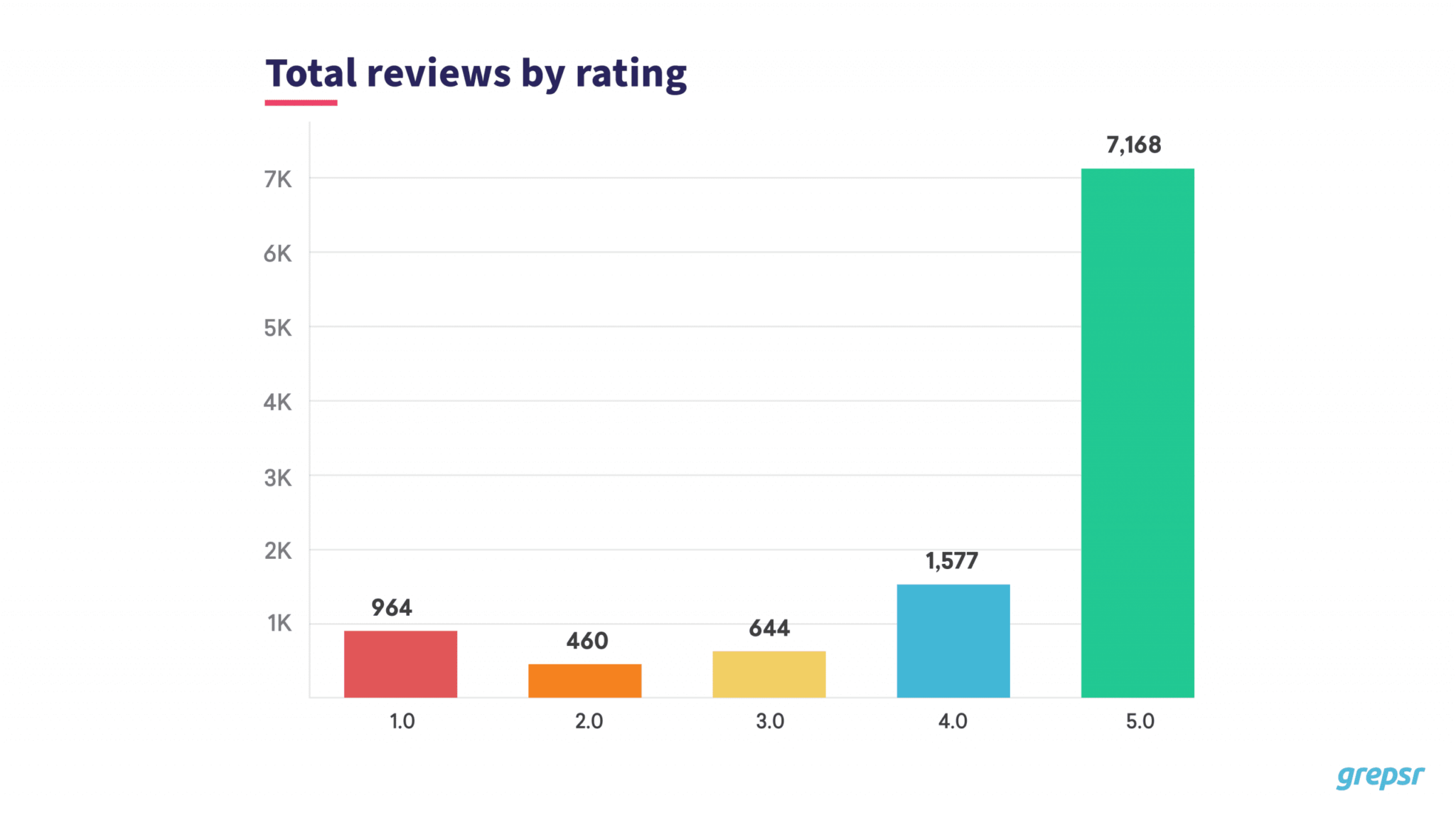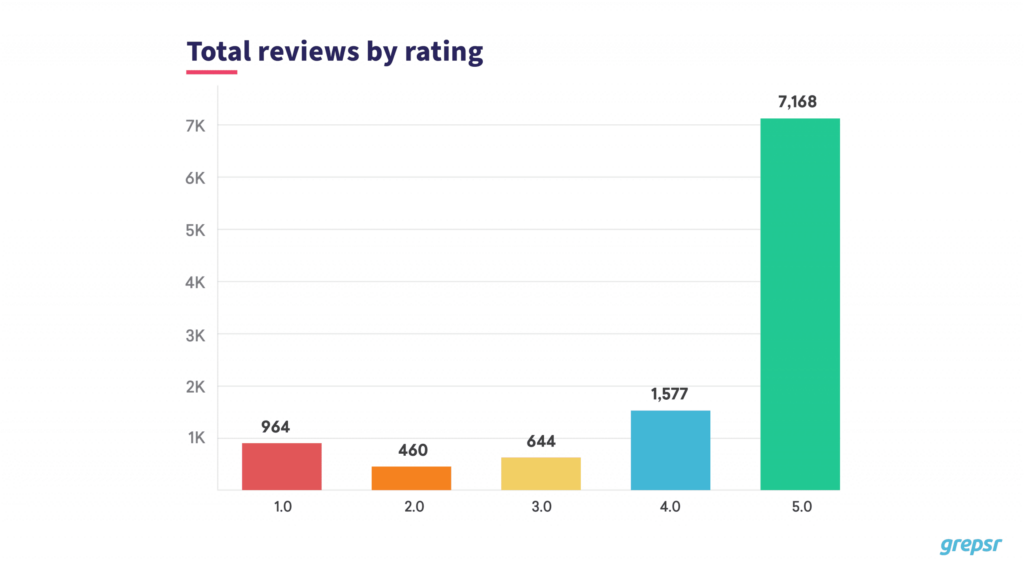 Upon breaking down the above chart we can see that the brands received almost similar number of reviews overall and for each rating.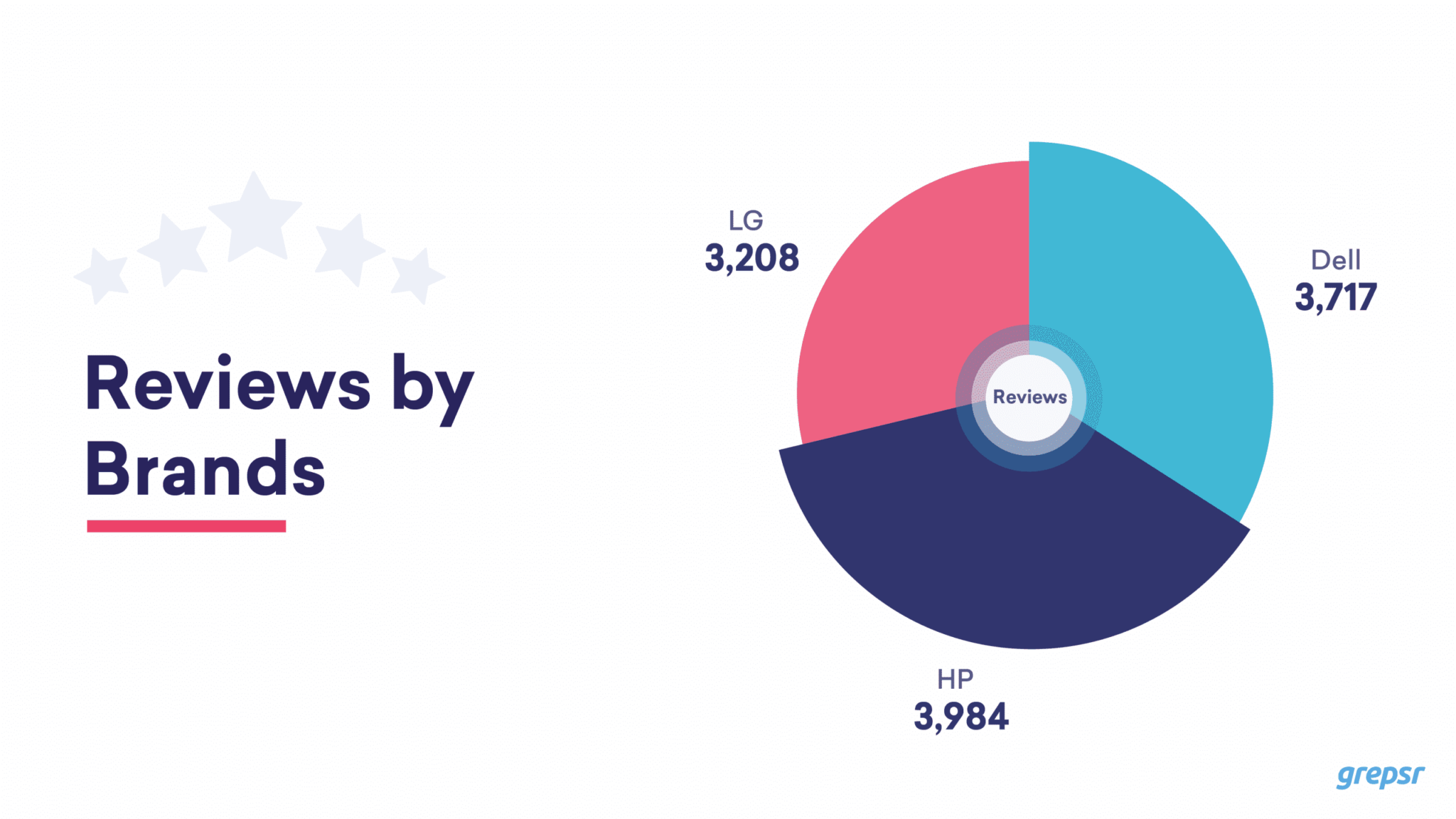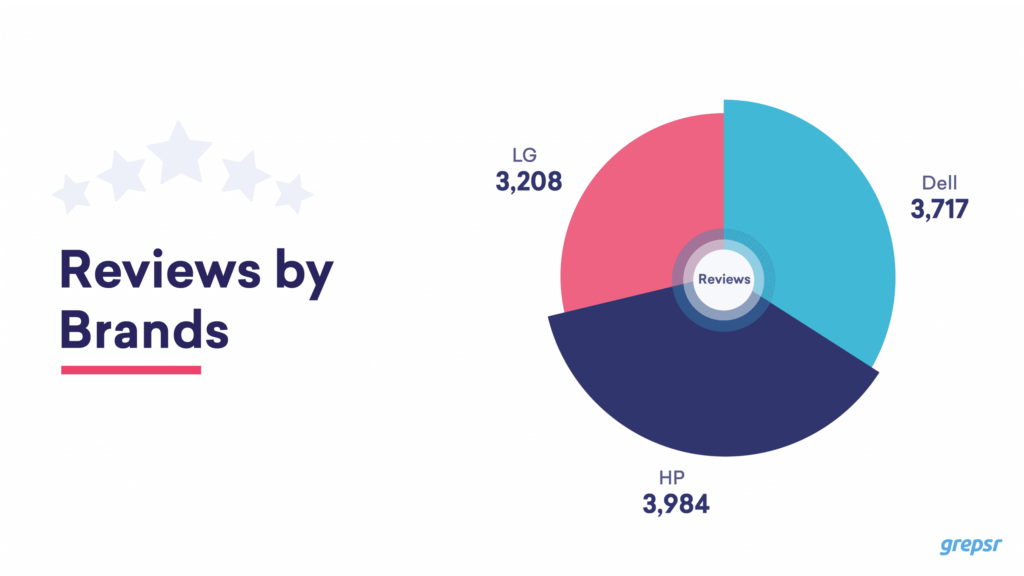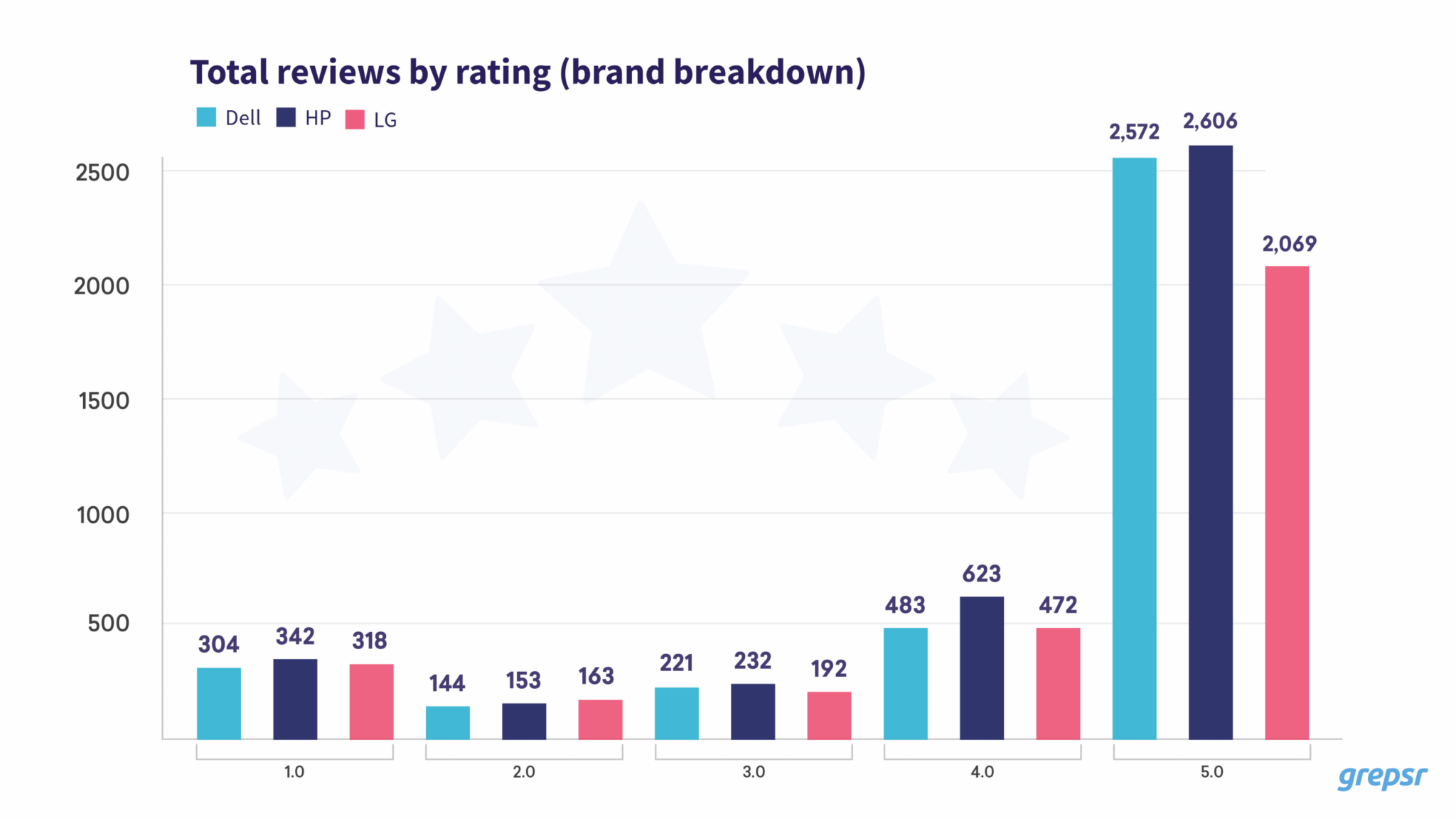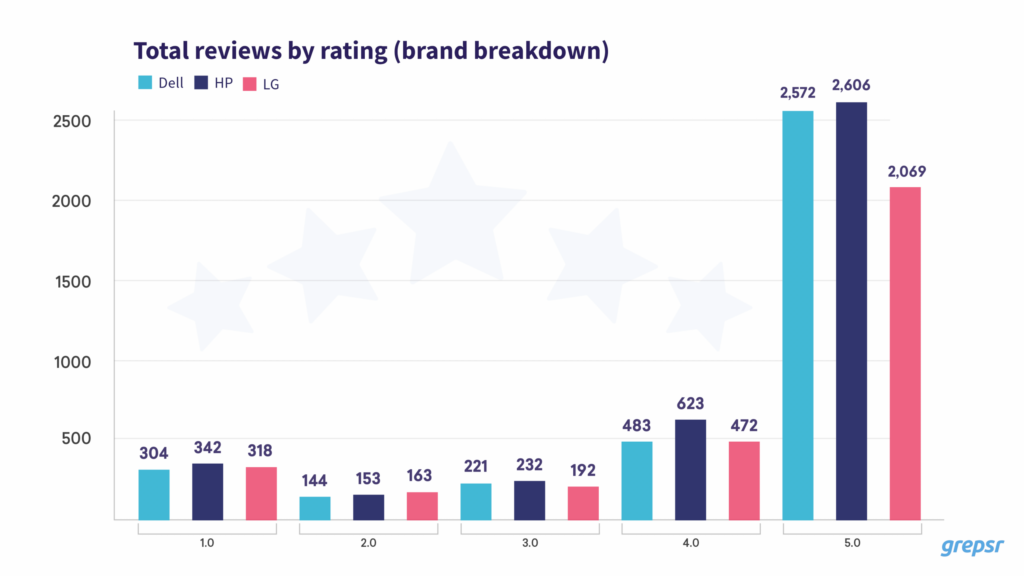 The three brands also had similar average ratings for their monitors on Amazon.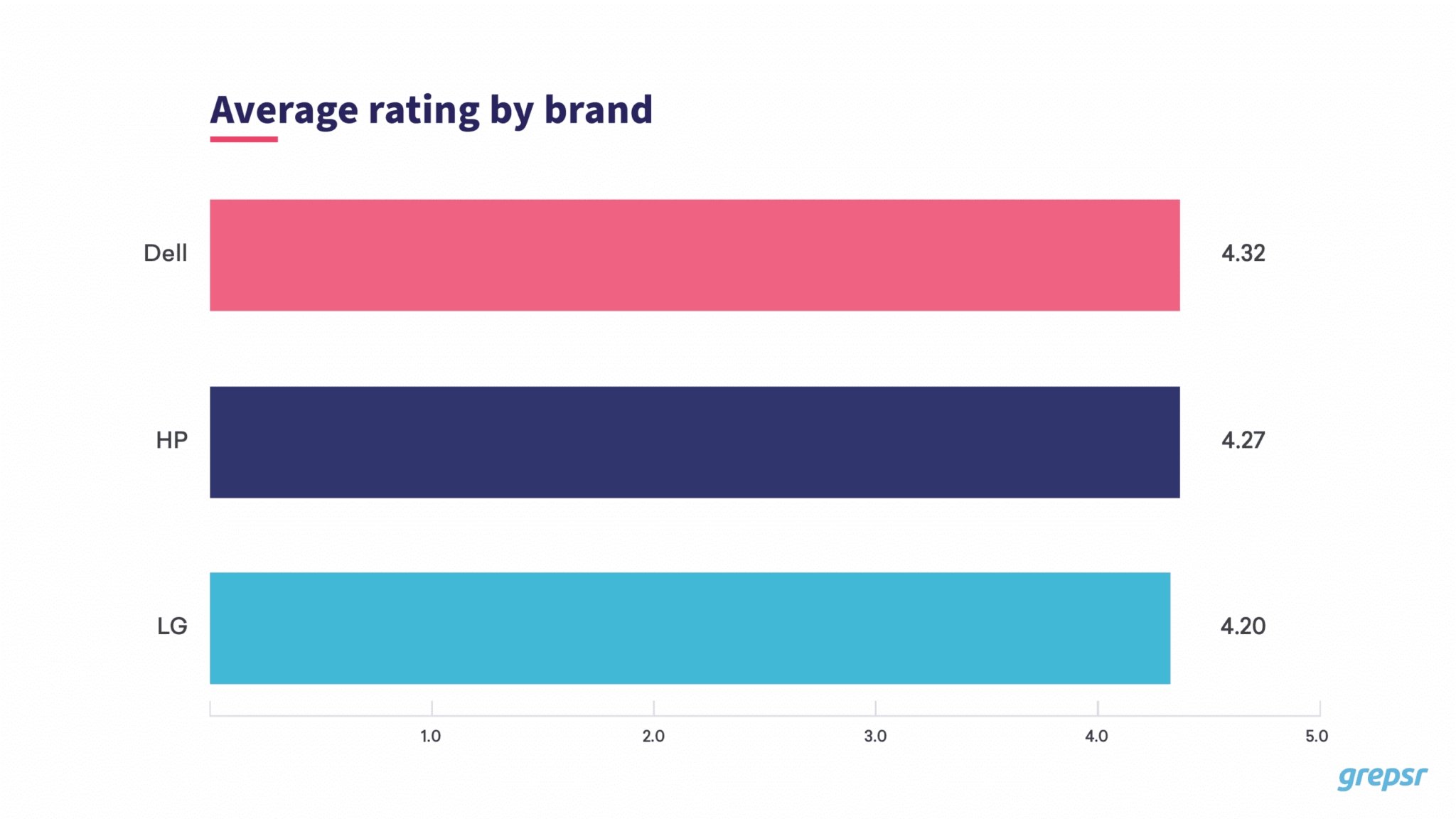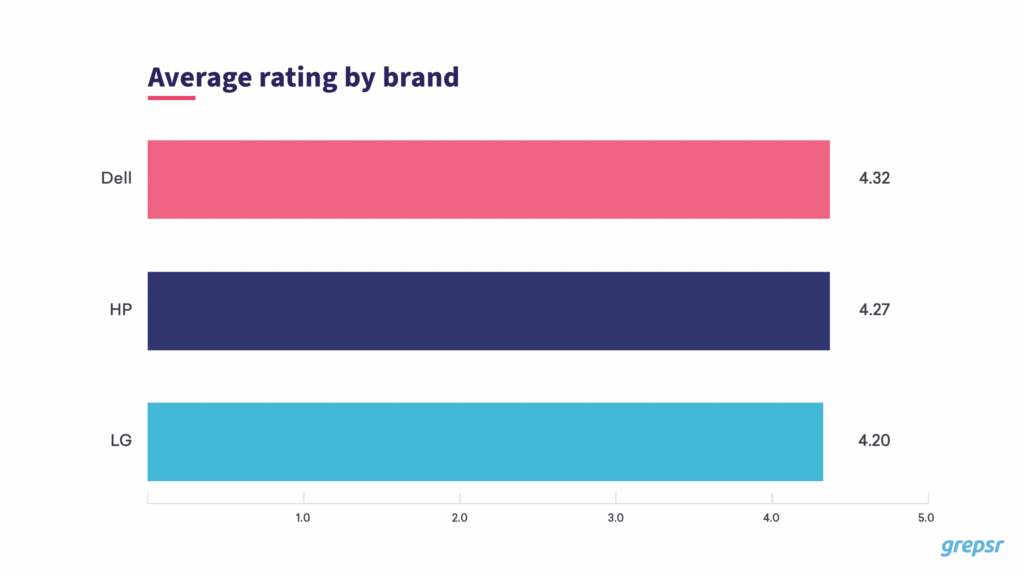 Based purely on the numbers, one can infer that each of the three brands has roughly the same market share on Amazon and is also as popular as the other two. Potential buyers would require further drill downs on the review content itself in order to make a final decision.

Data to make or break your business
Get high-priority web data for your business, when you want it.
Analyzing the top reviewed product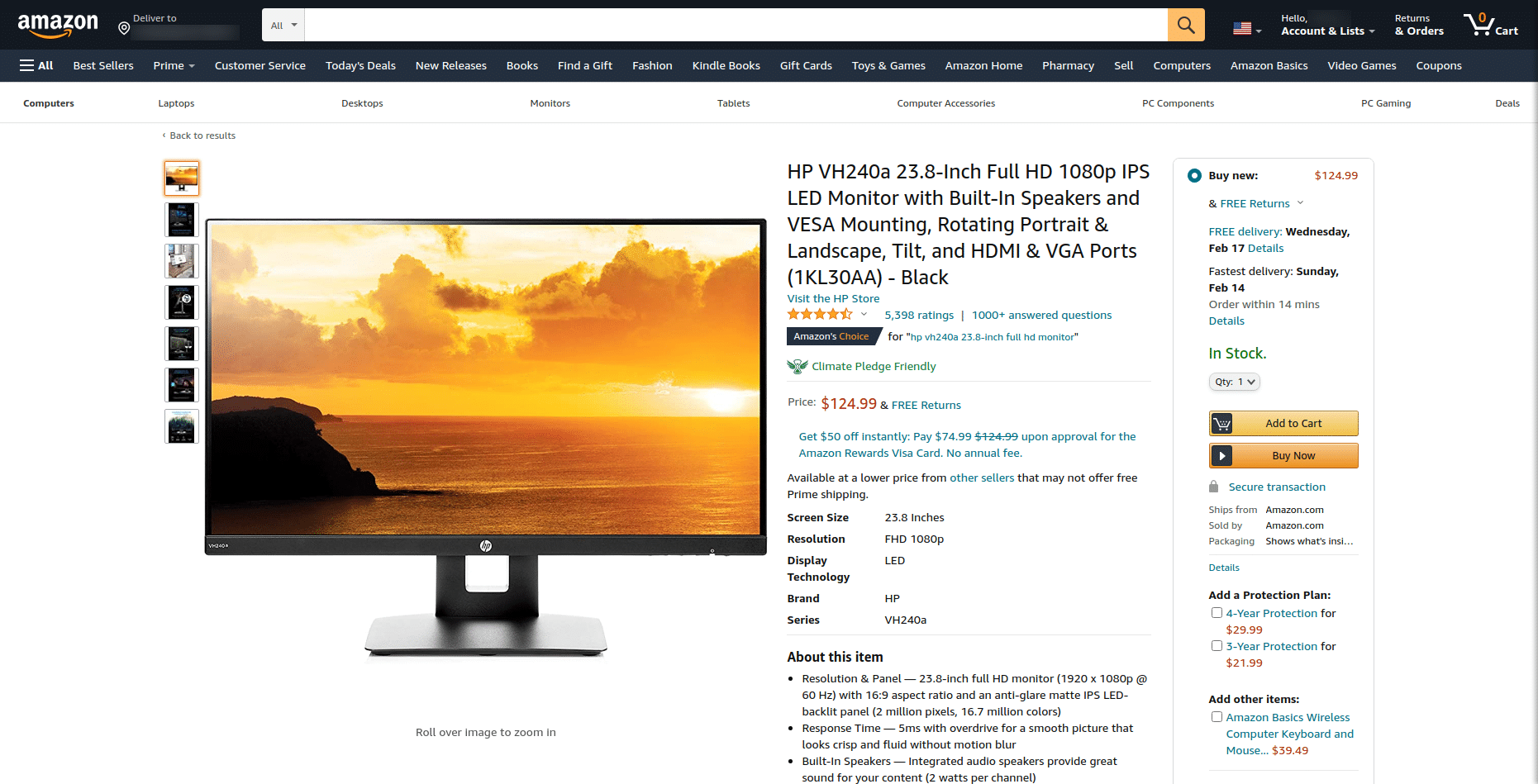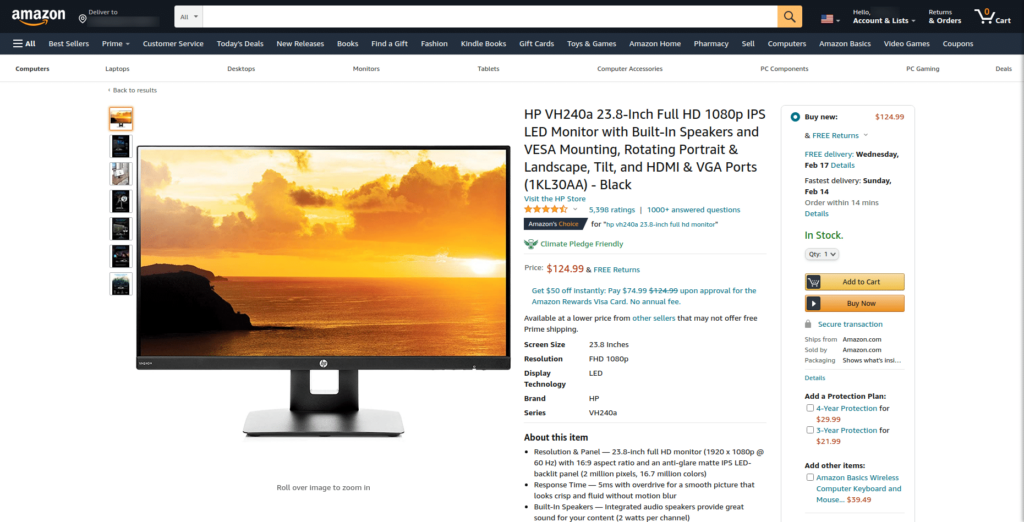 HP VH240a 23.8-Inch Full HD Monitor was the highest-reviewed product in our dataset with 3,559 reviews. As a result, we've selected it for individual analysis. The monitor model also had an average rating of 4.27.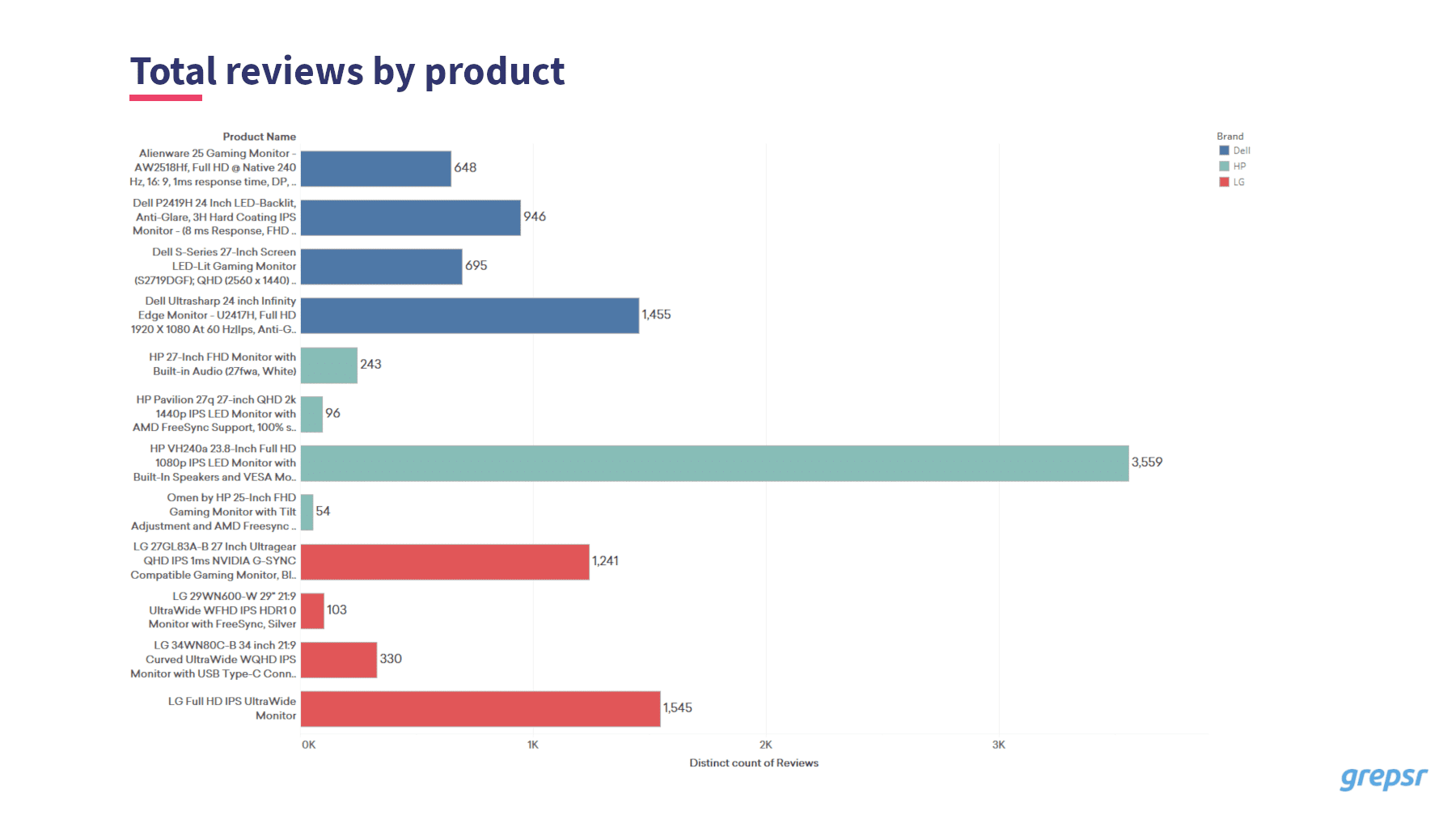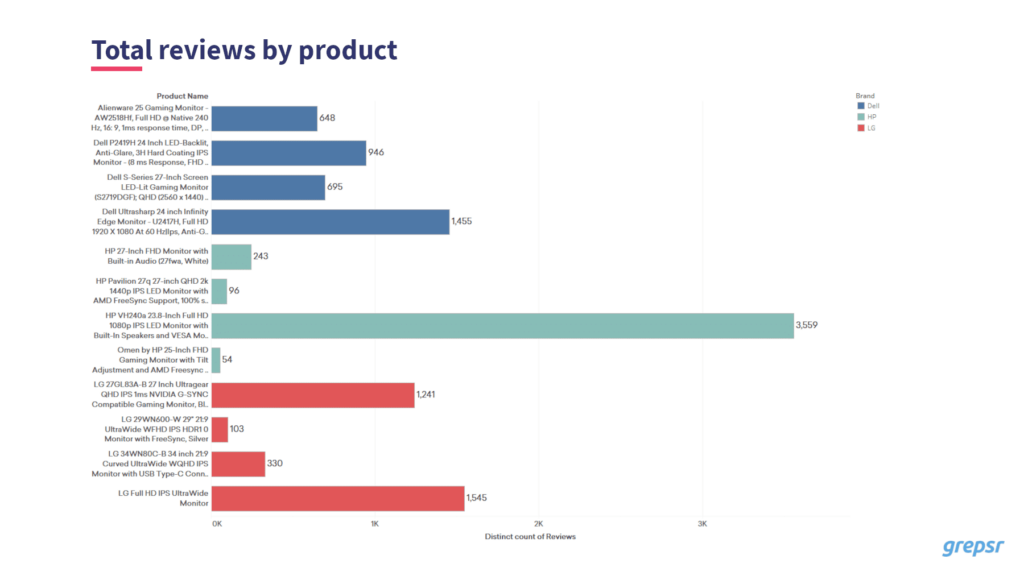 ~100% verified purchases
For our selected monitor model, almost all the reviews collected were from verified purchases, enforcing the quality of our dataset for further analysis.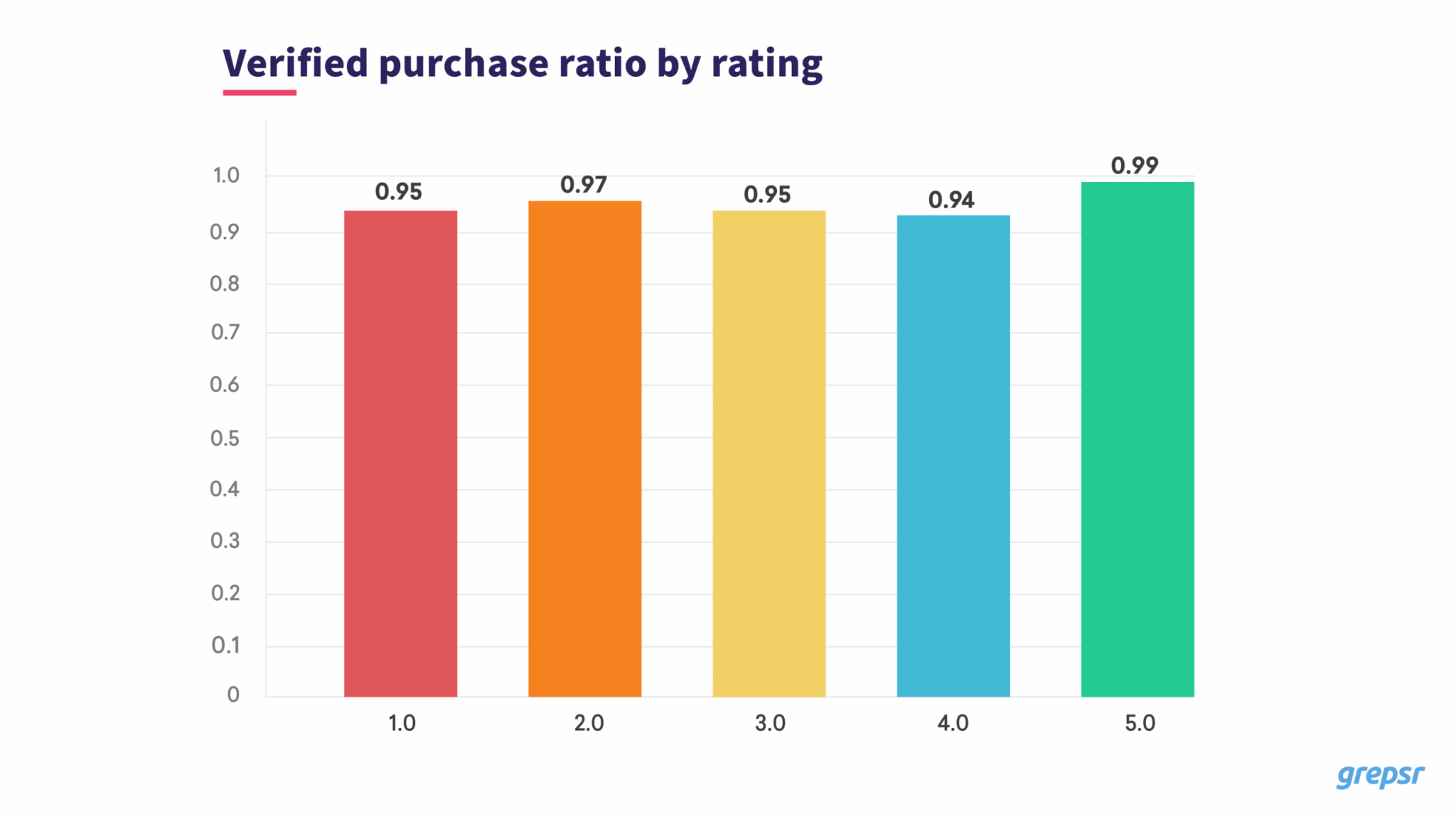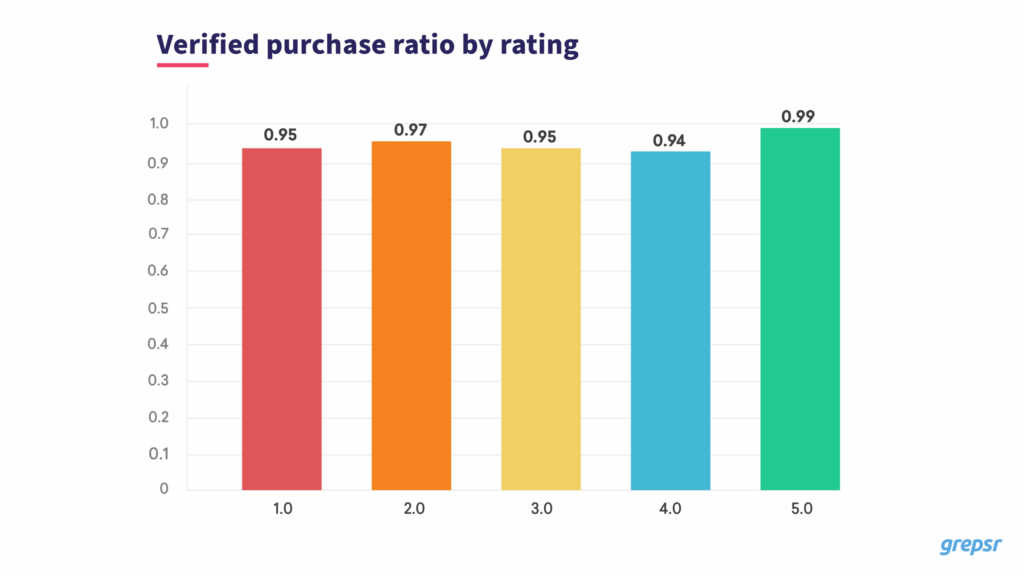 Average quarterly rating over time
The first review for the HP VH240a monitor was posted in July 2017. It achieved its highest quarterly average rating of 4.40 during Q4 of 2019.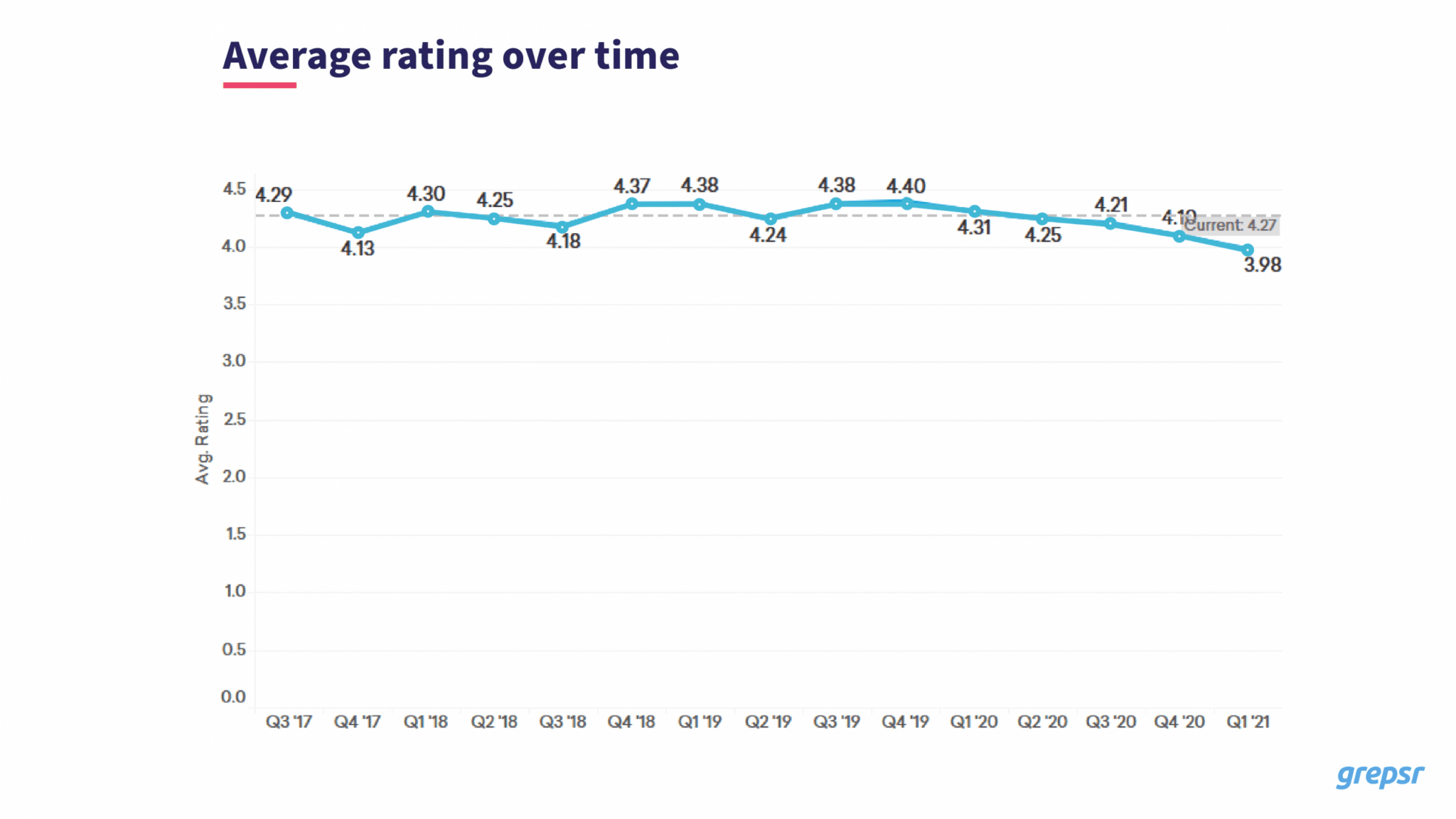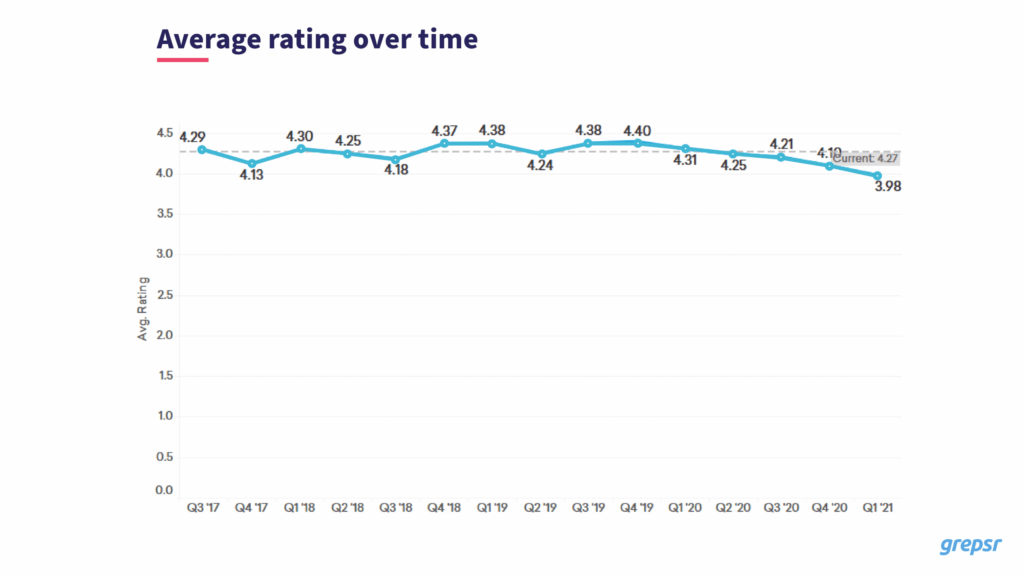 The average rating has been dropping ever since that all-time high, which could be down to a few factors, including:
Better alternatives either within the same brand or a competitor
Newer technologies in display panel hardware and picture quality, power management, etc.
87% happy customers
With almost two-thirds (2,352) of the reviewers giving it 5 stars, it's fair to say that, overall, customers were delighted with their purchase. In contrast, only 12% of the customers rated the monitor poorly with ratings of either 1 or 2 stars.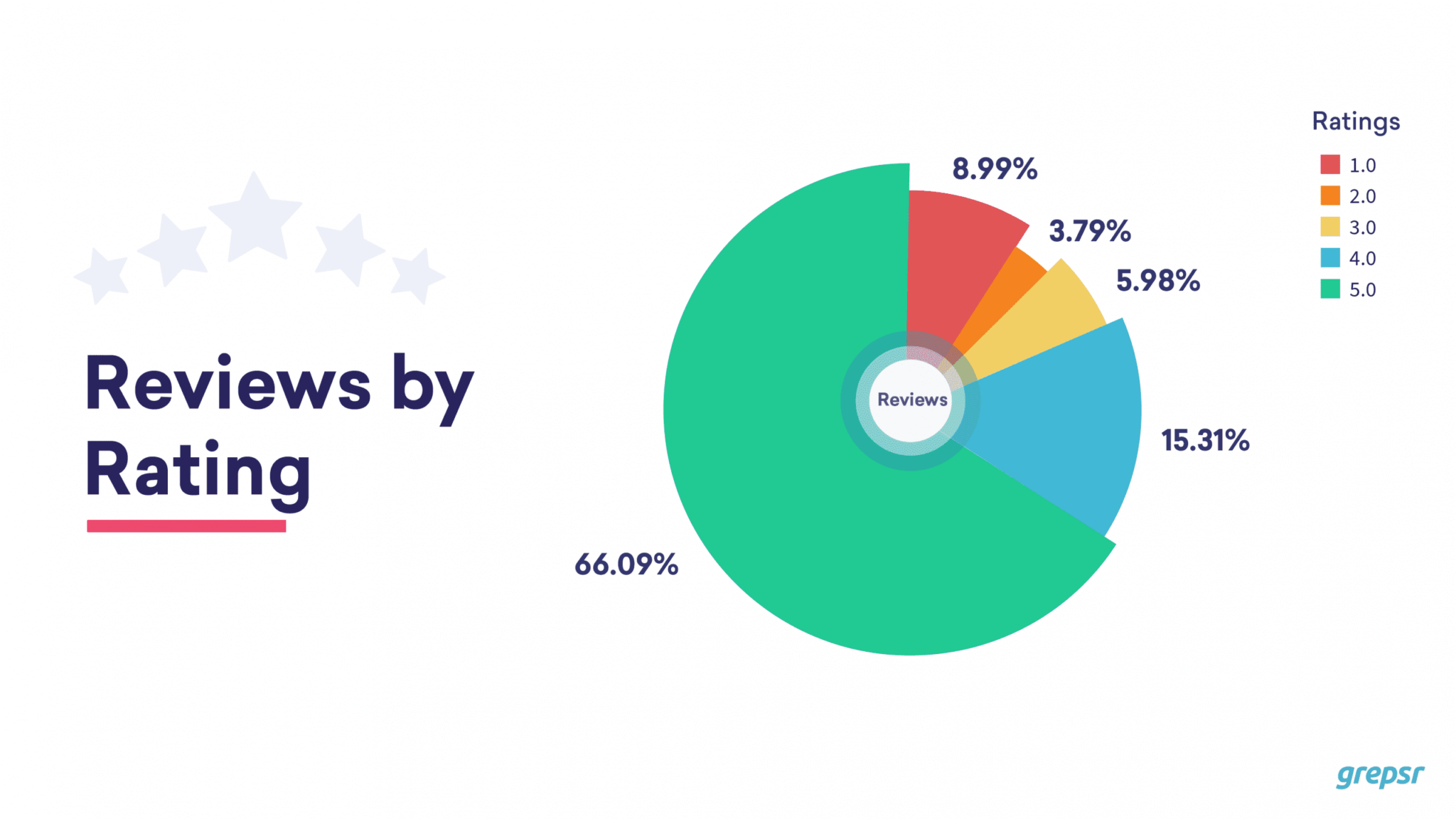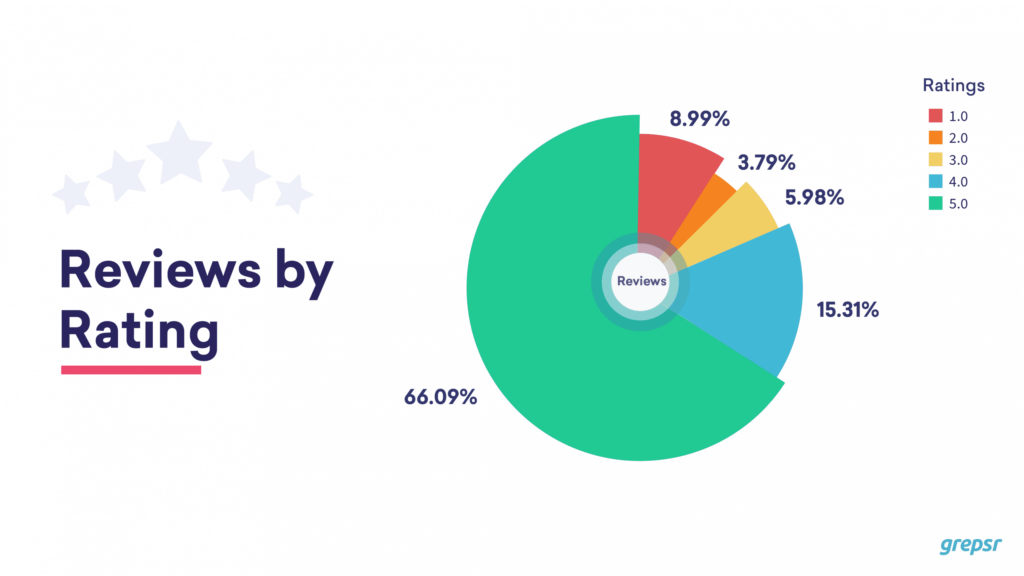 Reviews at opposite ends of scale more helpful
On Amazon, registered users are able to "like" a review to show that they found the information helpful. This "likes" count is a good indicator of the kind of information that resonates with potential customers and helps them whether to go with the product in question or abandon it.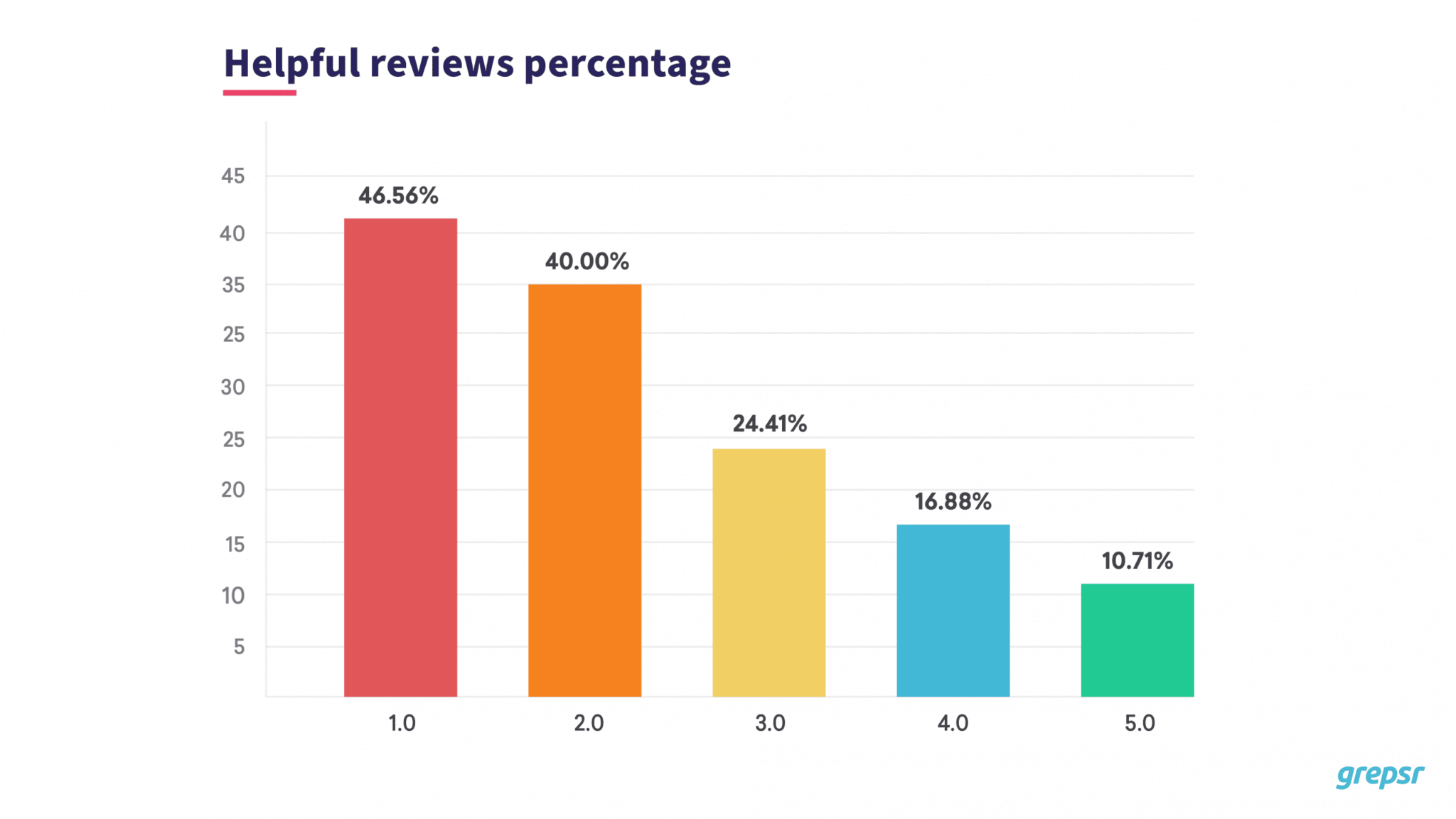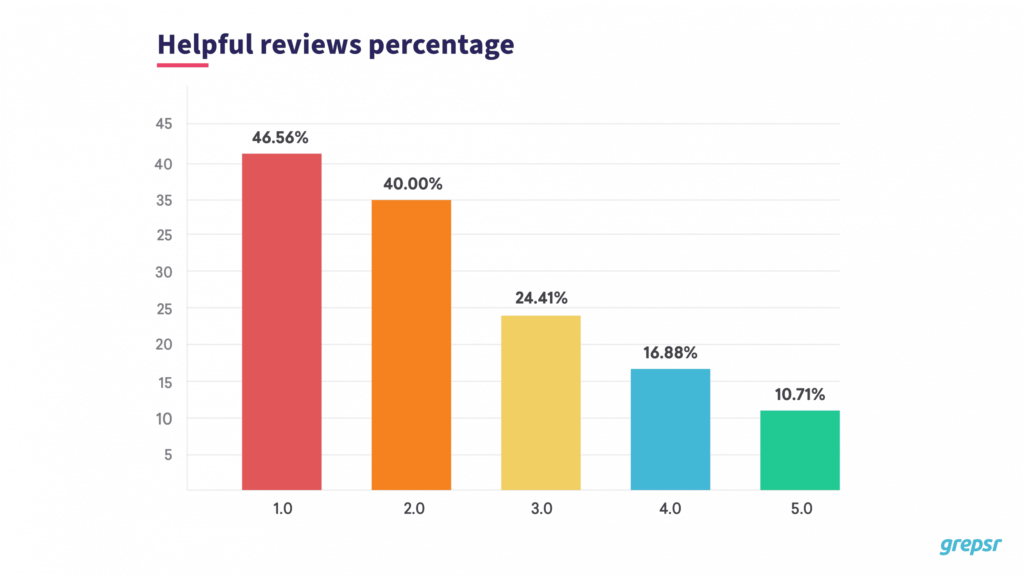 Based on the percentage of reviews that were deemed "helpful", as shown in the chart above, it is clear that a higher percentage of users found the negative reviews the most helpful during their buying process. The percentage was calculated as:
Number of reviews that were marked helpful * 100 / Total reviews for that rating
However, when considering the actual number of the "likes", the reviews of the two extremes (ratings of 5.0 and 1.0) seem the most helpful.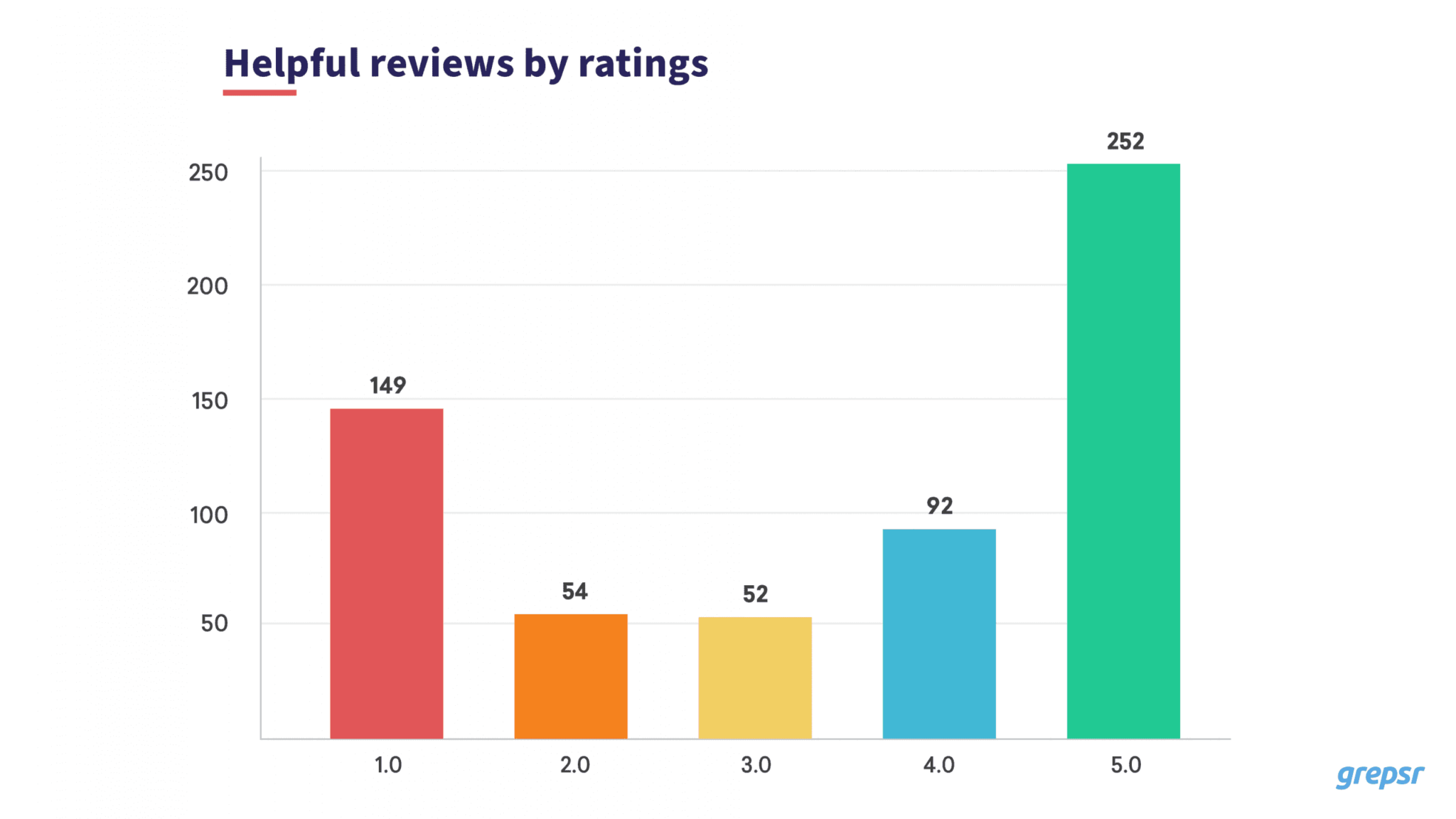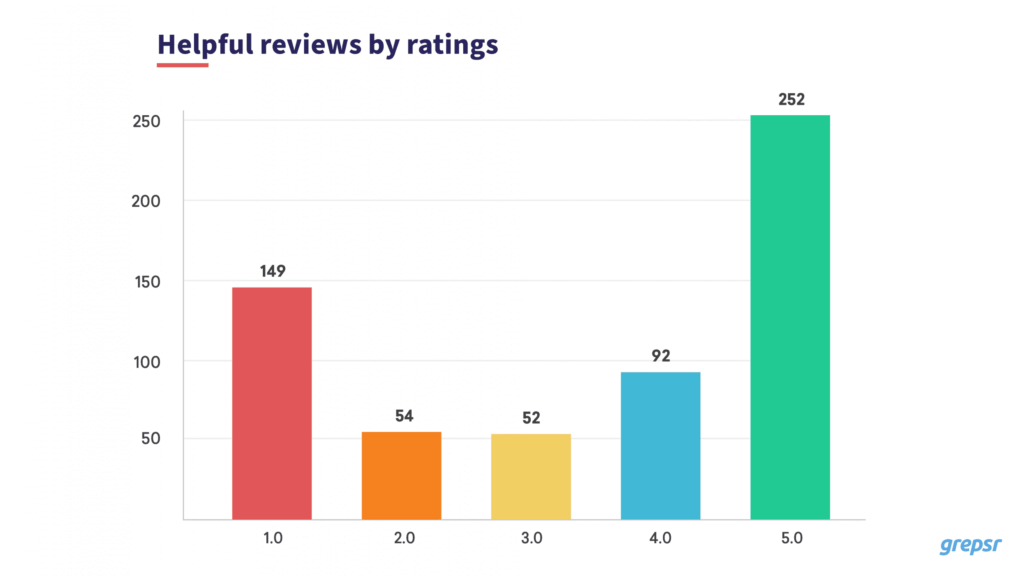 Review lengths
Based on our analysis, we found that users left reviews of similar lengths for each rating — around 350-400 words on average. This indicates that, regardless of the perceived product sentiment, customers tend to be fairly descriptive about their experience on the reviews. This could be down to the fact that monitors are an "informed buying product", about which detailed information can be shared over a review.
Having said that, there is a slight increase in the average review lengths with each rating.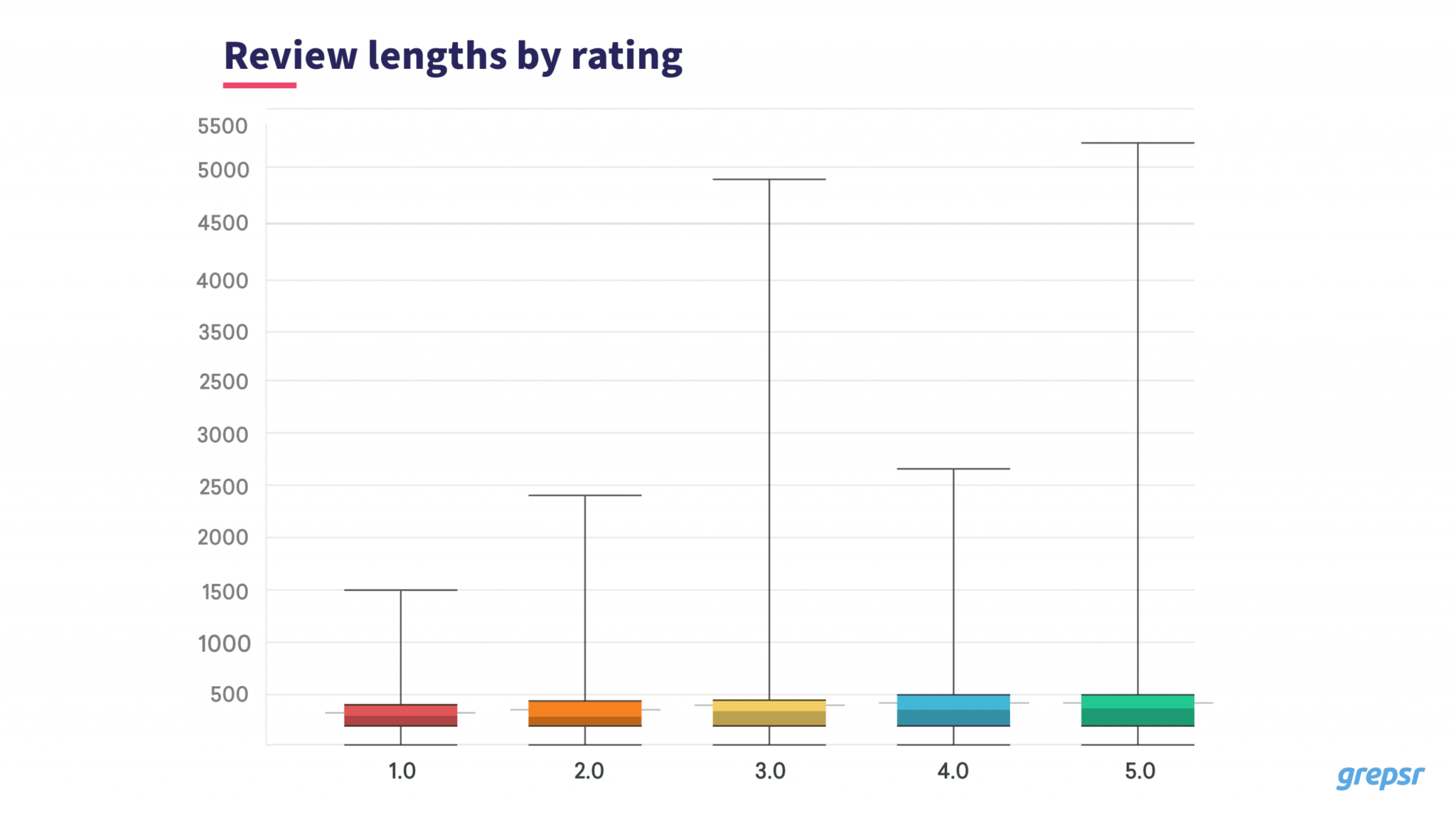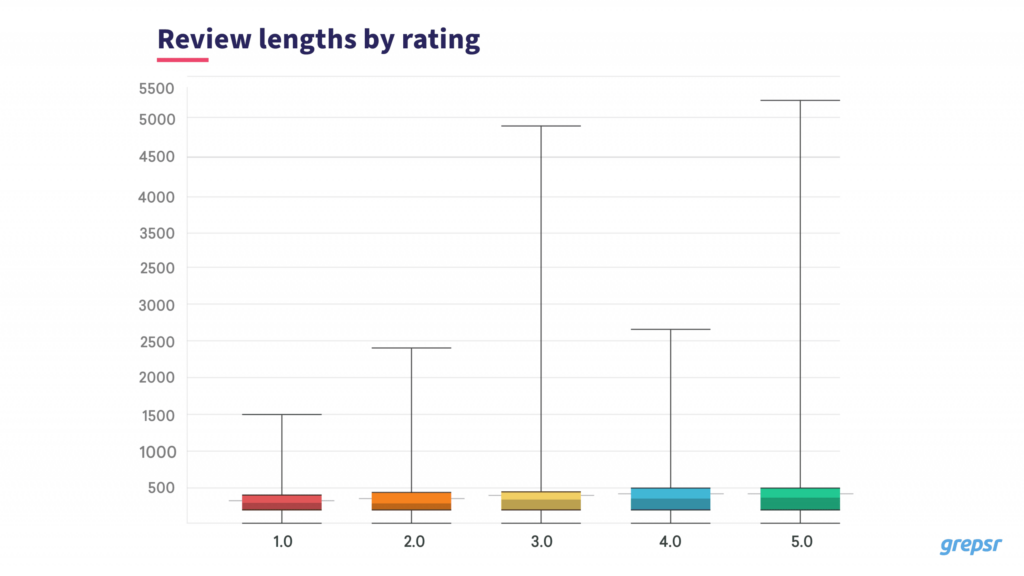 Speakers and audio quality dominate customer opinions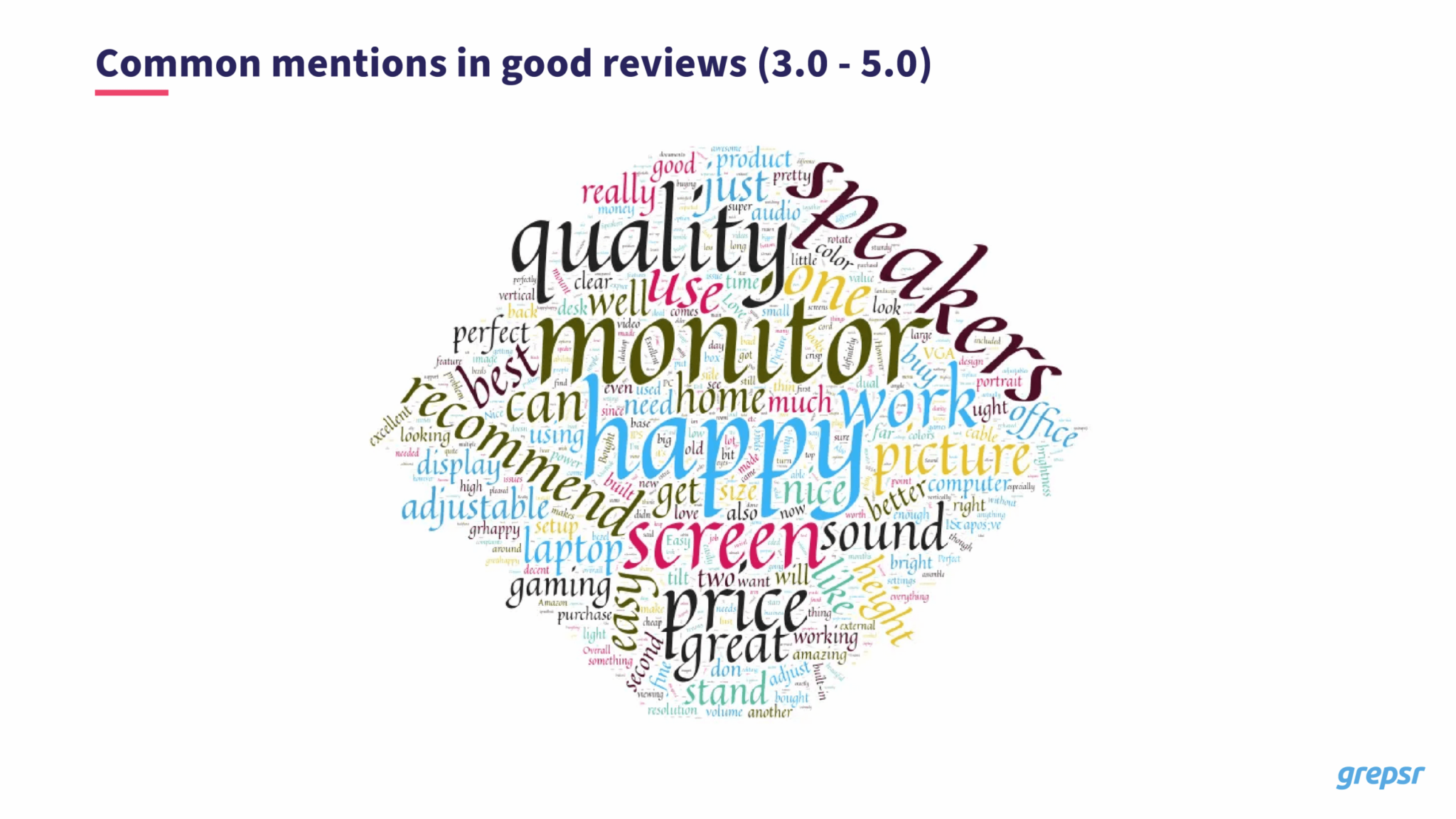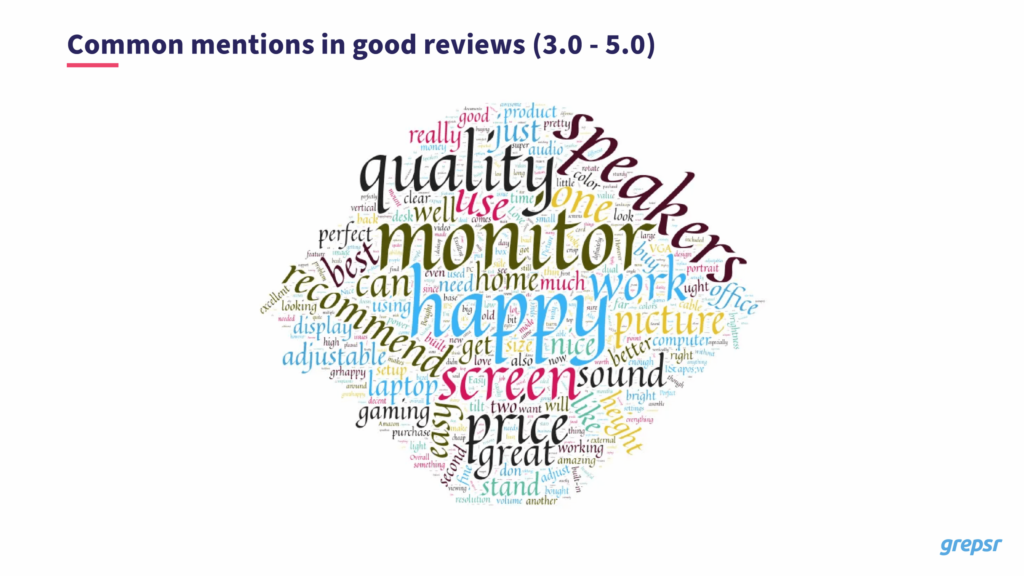 Based on the word cloud generated for the good reviews, customers are generally "happy" with the "quality" of their purchase, with "speakers", "sound", "screen" and "picture" frequently mentioned. Customers also seem to like the monitor for "home", "office" and "gaming" purposes, and are willing to "recommend" it to their contacts.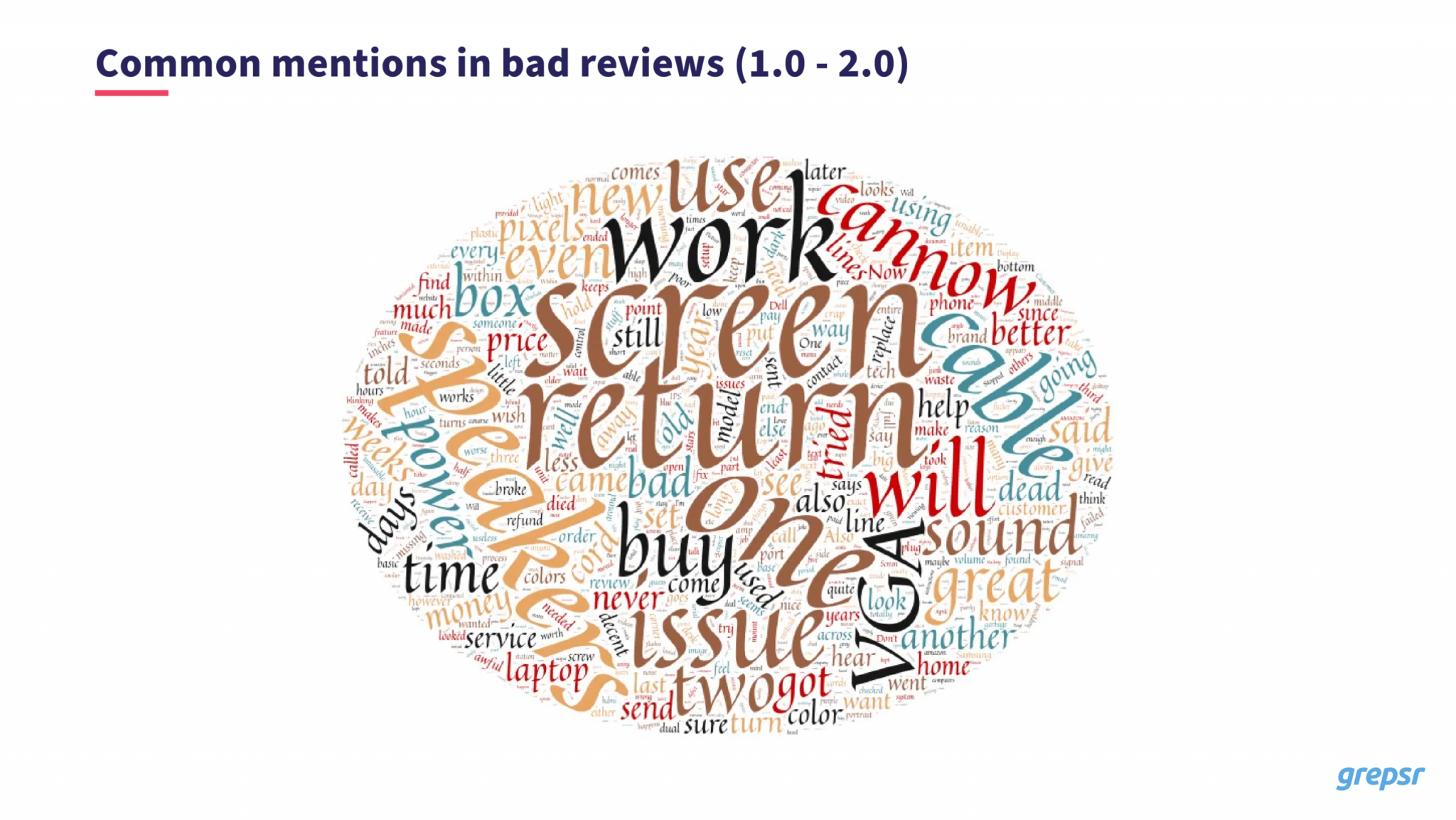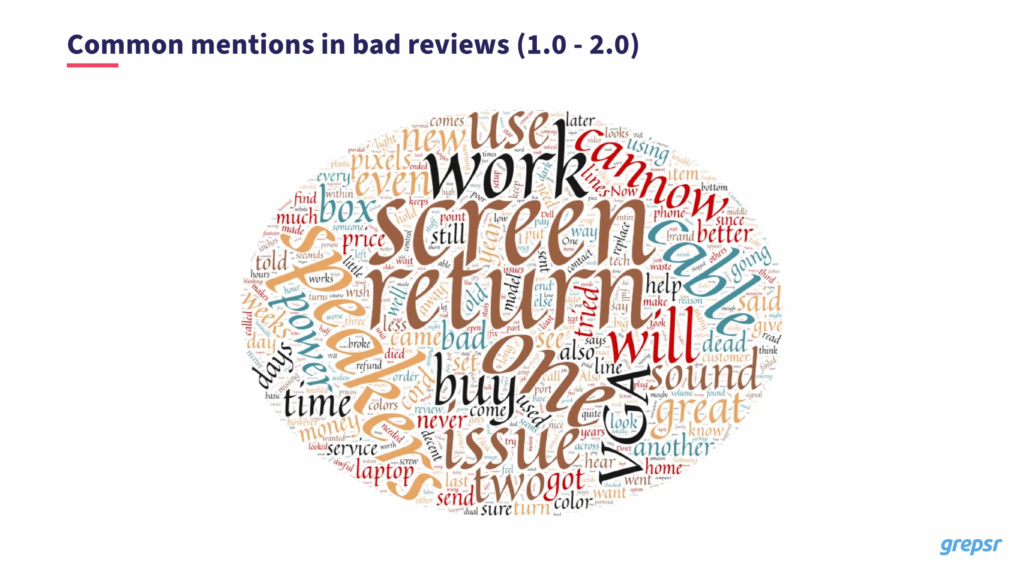 On the other hand, dissatisfied customers appear to be having "issues" with its "sound", "power" and "cable", and would "return" it.
With "speakers" featuring prominently in both review groups, we can infer that it is one feature that is polarizing customers.
---
This was just a glimpse into the kind of actionable analysis that is possible with the quality data that Grepsr provides. Analysts can perform further in-depth sentimental analysis to extract additional insights from competitive or in-house review data, which can be pivotal in driving informed product development decisions.
---
About Grepsr
Grepsr is a data acquisition platform specializing in the extraction of web data from almost all industry sectors, at scale. Get in touch with your requirements, and we're sure we can work out a solution for you.