In a post-pandemic reality, big data helps travel agents and travelers make better decisions, minimize risks, and still have memorable holidays.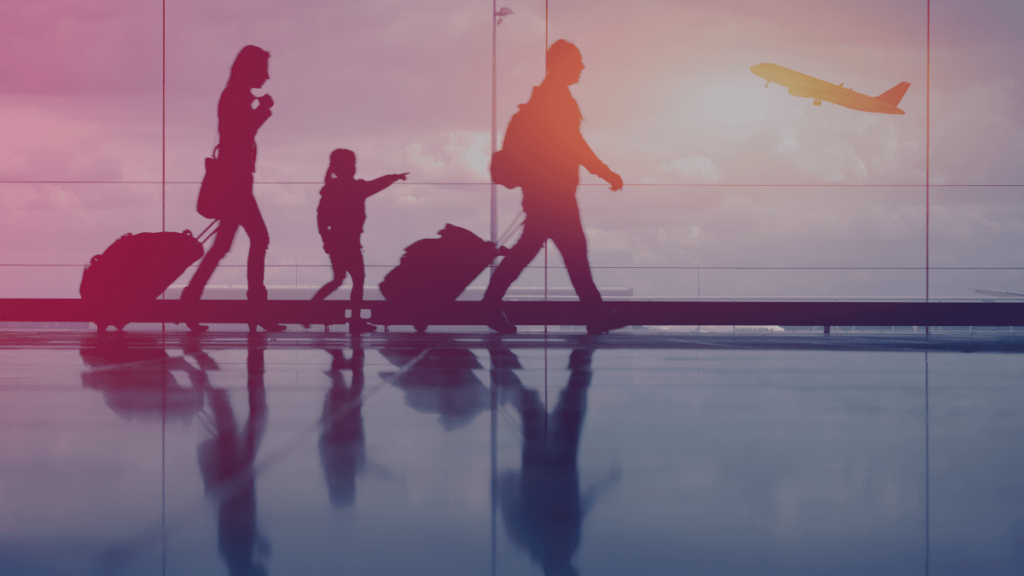 According to the UN's World Travel & Tourism Council (WTTC), tourism accounts for 10% of the world GDP. It also shares a similar statistic in the overall job market, creating one in every 11 jobs.
With an astonishing amount of data and information at their disposal, travel agents and tourism boards need proper tools to extract actionable insights if they are to have meaningful impacts on the industry. These data-driven decisions will benefit not only travelers, but local communities as well.
Kinds of available travel data
OTAs across the world are leveraging big data to improve their service offerings. Information like travelers' nationalities, length of stay, places they have checked in, travel intent, etc. can be leveraged to improve services and customer relations.
Likewise, visitors themselves have access to pricing and ticketing data, hotels and restaurants reviews, and more that they can analyze to make the most of their holidays.

Data to make or break your business
Get high-priority web data for your business, when you want it.
How big data benefits travel and tourism
Big data has the power to make disruptive changes to any industry, and travel is no exception. The following are some of the most significant benefits for tourism:
Improved customer experience
With customer data — nationality, previous travel history, spending habits, etc. — at their disposal, travel agents can create highly personalized packages and offers to deliver the best possible holiday experiences.
OTAs and tourism boards can also use predictive analyses to forecast and identify real-time trends, and respond to travelers' needs and demands immediately.
Enhanced reputation
As mentioned above, big data can be used to understand customers better. With improved experiences thanks to bespoke tours and itineraries, customers are more likely to leave stellar reviews in websites like TripAdvisor, Booking, etc., and in turn recommend their agents to their circle of family and friends.
Internally, data helps businesses make operations smooth and flexible. Insights from internal datasets help hotels, airlines, OTAs or any other tourism segment identify strengths and weak spots in their service, and make necessary improvements.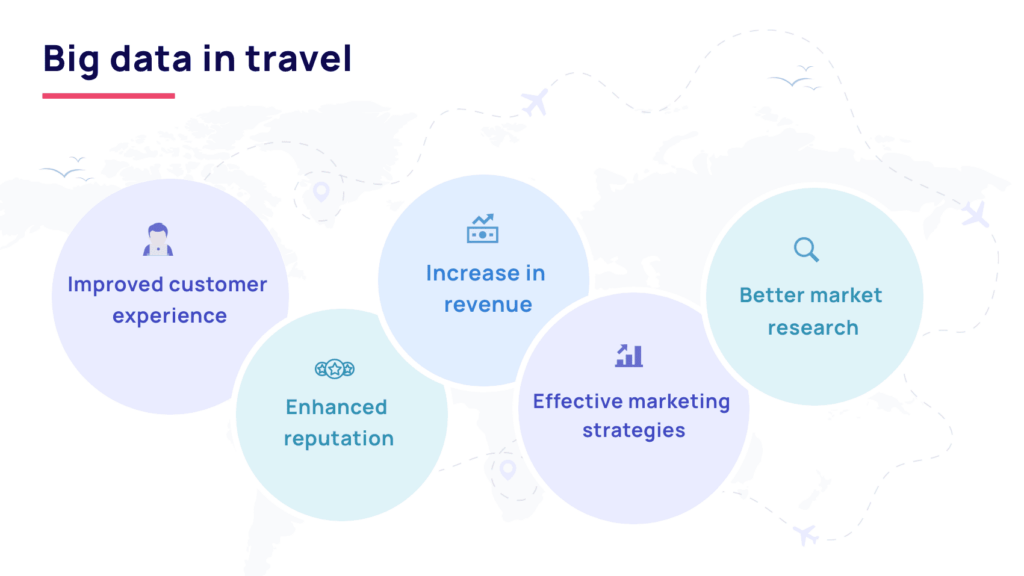 Increase in revenue
Both internal and external data are crucial if travel agents and tourism boards want a wholistic and accurate picture of their service and clientele. Internal data includes everything from occupancy rates, employees data, online reviews, website and location visits, etc., while external data could be anything from weather, flights and local events to public holidays.
Gathering important insights from this data helps businesses predict future demands and optimize prices accordingly, increasing them when demands are high, thus maximizing revenue.
In addition, accurate customer data analytics also helps identify high spending customers for agents and businesses to target most of their services to.
Effective marketing strategies
Big data gives players in the tourism industry key insights about their customers — who and where they are, their needs and preferences, and much more.
With such insights it is easier to categorize customers and prospects based on certain characteristics. A more strategic approach helps target the right segment with the right kind of campaign at the right time for increased efficiency, and to yield the best results.
Better market research
As with other industries, there are various sources of travel and tourism data. One of these sources, which is also one of the most significant, is online reviews. Businesses can analyze a competitor's reviews to discover their strengths and weaknesses, and also how their services are being perceived by customers. Improving upon a rival's weak spot is an effective way to reel their customers towards yourself.
Furthermore, data-driven insights helps travel agencies identify gaps and trends in the market, and allows them the freedom to formulate ambitious action plans to make their service stand out.
Post-Covid impact on tourism
After almost two years of lockdowns and restrictions, more people are seeking vacations to scratch their travel itch.
Having been stuck at home for months on end, people's behavioral patterns are also expected to have changed, with different habits and newer preferences. Many travelers might prefer local attractions and destinations closer to home rather than crossing borders.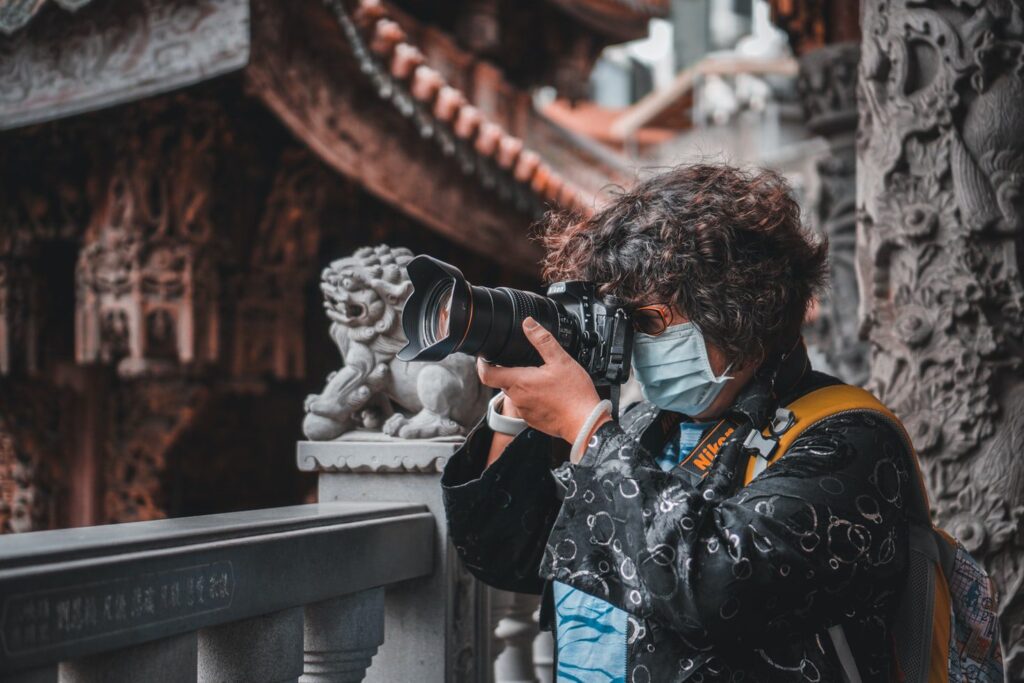 Similarly, countries with a lower standard infrastructure such as hospitals and medicine, transport, etc. are becoming less popular as people become more "Covid-conscious" and want better facilities.
Big data and analytics helps travelers and agents alike identify such areas for improvement. It also gives policy makers and companies new insights on the latest trends, and helps them plan and respond to the post-Covid reality better.
---
During the pandemic, tourism was arguably the hardest hit of all industries. However, thanks to big data and its insights, travel agencies, hotels, airlines and everyone involved have the right tools at hand to recover, build better strategies, and profit.
Travel preferences and behaviors have changed, and big data helps paint an accurate picture of the current scenario and even make informed predictions about how the future might look.
Therefore, it is high time that both agencies and travelers realize the potential and leverage big data to their advantage.
---
Related read: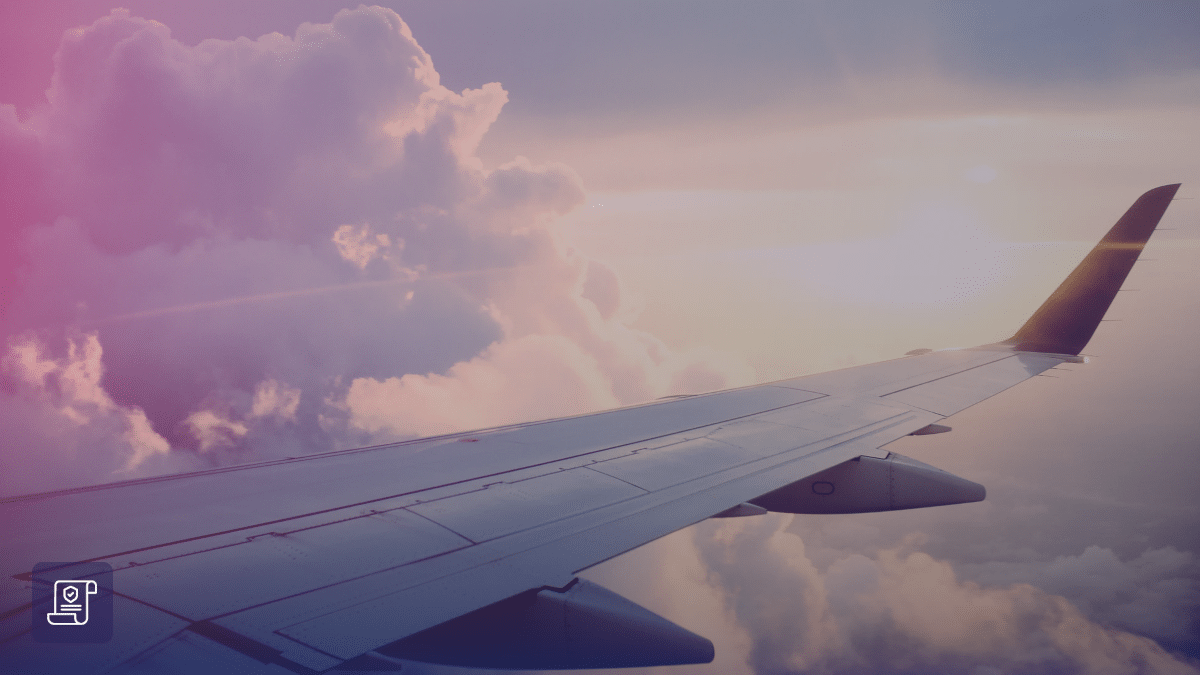 Benefits of Using Web Scraping to Extract Airfare Data from OTAs
Use web scraping to extract airfare data from OTAs and airlines' websites to give your customers the best possible start to their holiday experience.
---
About Grepsr
With over 10 years of experience in extracting travel data from hundreds of OTAs throughout the world (Tripadvisor, Skyscanner, Booking.com, Airbnb and more), Grepsr is the perfect solution for your travel data sourcing needs.
With powerful features like automated scheduling, data delivery integrations and more, our data extraction platform, Grepsr Concierge, is your go-to resource for all things data.
Contact us today with your travel data requirements, and we're sure we can work out a solution for you!

Web data made accessible. At scale.
Tell us what you need. Let us ease your data sourcing pains!