Did you know that Lotte, a South Korean conglomerate increased their sales up to $10 million thanks to Business Intelligence?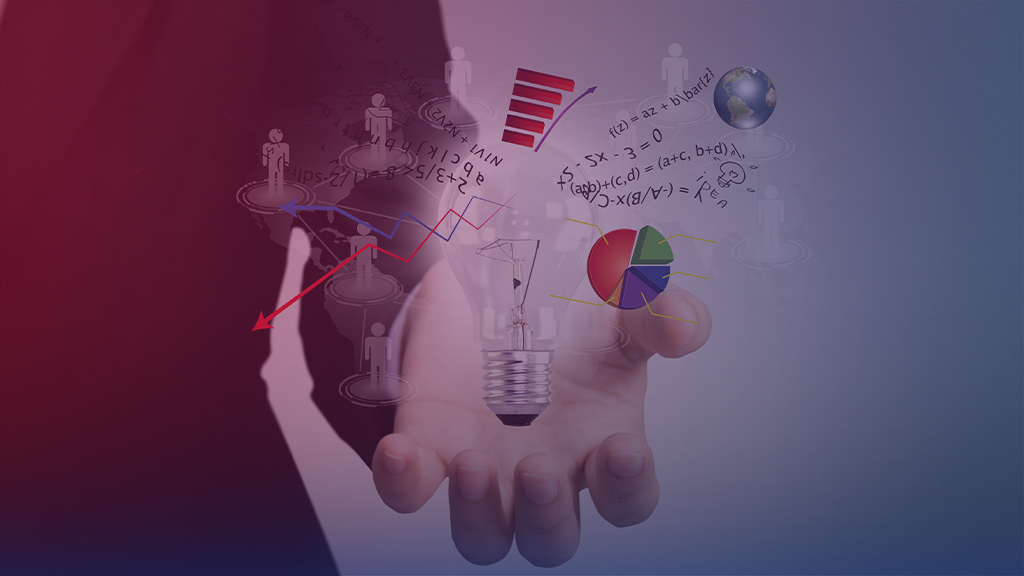 Business Intelligence is the process of collecting, analyzing, and presenting raw data that is transformed into meaningful insights. It involves methodologies that ultimately aid the business in making strategic and actionable data-driven decisions.
For a clearer understanding of Business Intelligence, you can divide it into two parts. First, it includes the strategies, techniques, and tools for collecting data. The next part is the reporting and insights from the data itself. Now these insights are significant for the business to make a variety of informed decisions.
A comprehensive BI software system is designed to facilitate and streamline the BI process, encompassing data storage, processing, analysis, reporting, and data visualization, including the creation of dashboards.
Here is a Real-World Case Scenario:
There is a leading corporation called Lotte in South Korea which consists of over 90 business units as of today.
They faced the problem that customers would abandon their carts despite having a million visitors on their websites each day.
Now as a solution, the general manager set up South Korea's first online customer experience analytics system. With it, they could analyze the behavior, implement targeted marketing campaigns, and even update their website as needed.
The outcome from the insights of this Business Intelligence system resulted in an increase in Customer Loyalty as well as $10 million in Sales.
From this, you can certainly reckon how powerful Business Intelligence actually is.
As the company's cornerstone for transitioning from daily operations to making critical decisions, data plays a pivotal role. Exquisite data accuracy, however, is not a walk in the park.
Therefore, from this blog, you can understand how legitimate data extraction service providers, like Grepsr, can enhance your business intelligence.
Importance of Big Data in Business Intelligence
Let's learn a few reasons why BI is vital to drive business success.
Together, Big data and business intelligence can lead a company to gain a competitive advantage in their industry. They can unlock valuable insights from the competitor's performance and customer behavior to make better-informed decisions.
Data scientists and analysts leverage business intelligence (BI) along with powerful analytics tools to identify improvement opportunities and make strategic recommendations for company leadership.
By combining financial data with operations, marketing, and sales data, leaders can gain findings from which they can derive moves as well as recognize factors that influence profit and loss.
For marketing, BI can enable real-time campaign tracking, measure the performance of each effort, and plan KPIs for the next projects.
Big Data in BI can help manufacturing organizations enhance processes for production and increase assurance of quality while lowering costs.
Given its possession of global data, BI can perform faster analysis, reporting, and planning.
Reports are highly customizable, and KPIs can be trackable using several data sources. Real-time generated dashboards provide pertinent data.
This form of data visualization enables corporations and their employees to interpret data from metrics which is more clear-sighted.
Thus, these reports offer information, accessibility, accuracy, and relevancy that help in making better decisions.
Challenges
However, it is quite challenging to extract data manually as the amount of data that is generated is skyrocketing each day.
Even a German market research firm Statista estimates the volume of data created worldwide by 2024 to reach 149 zettabytes.
Furthermore, it is a known fact that having false and inaccurate data is worse than having no data. There are higher chances of dealing with errors and getting botched results from analysis when you have false data.
Now, here comes the role of external data providers to whom you can state your data requirements. Afterward, they enable you to gain insights from those hundreds of data sources that are relevant to your business industry.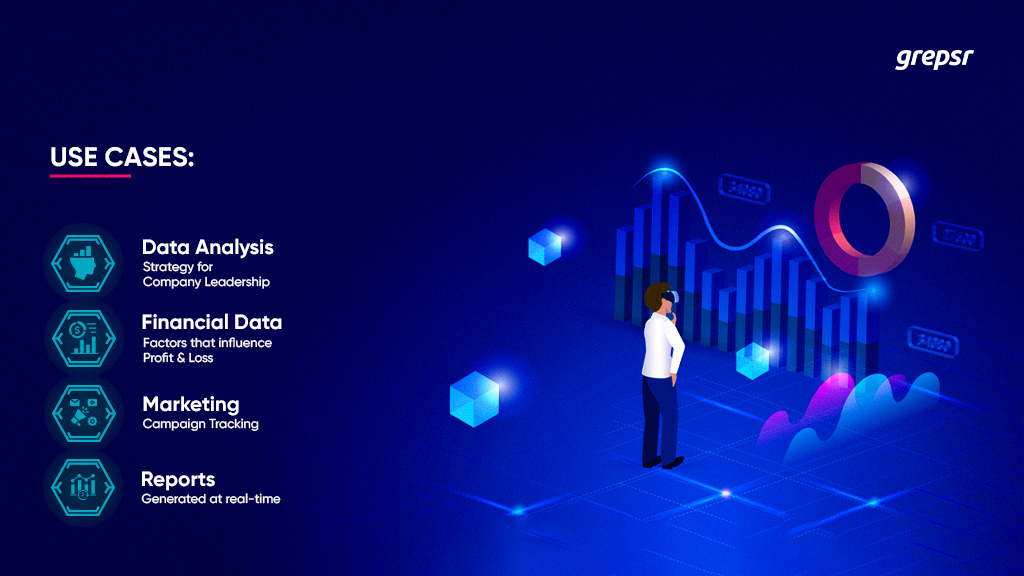 Managed Data Extraction Services for Business Intelligence
As we already stated, Big Data contains large volumes of diverse datasets that are utilized in business intelligence in many different ways.
With the help of it, you can understand the market trend, and customer sentiments and improve customer service with a more personalized experience.
Also, it is essential for the product development process, targeted marketing efforts, competitor analysis, and improved efficiency of business operations.
Features
Web Scraping is the process of automating data extraction from a certain website. A web scraping service extracts specific data from a variety of sources by writing scripts, or using specialized software to navigate web pages. Then, it is provided to the client in a structured format such as XLs, CSV, or JSON.
Now you may wonder, if it is that simple to get access to quality data by just writing scripts of codes or using a tool in-house then why would you need to outsource the process?
The main reason is that with automated tools, dealing with the IP Blocks, CAPTCHA, and Dynamic contents is challenging. Since it is a tool, it will read and extract even the unnecessary variables on the web page which will be an inefficient and redundant task.
Similarly, manual extraction and hand-coding to build a crawler elevate the possibility of errors. Furthermore, the necessity of entering, amending, and re-entering massive volumes of data wreaks havoc on data integrity.
Therefore, structured datasets provided by the service companies are validated in quality to get through the process of analysis. With this, business executives are able to make informed decisions that are backed by data.
Being backed by data means that the decision you came up with is not just guesswork but is based on research, evidence, statistics, and reports from data analysis that assure its credibility.
For business intelligence, a managed data extraction service provider like Grepsr can be handy as it is recognized for its best feature which is the quality-assured, reliable data acquisition perfected at scale.

Data to make or break your business
Get high-priority web data for your business, when you want it.
How Managed Data Extraction Services Enhance Business Intelligence
Building on from our earlier point, employing a credible web data extraction service like Grepsr, will help you enjoy the following privileges to enhance your Business intelligence:
A. Improved Data Quality
As highlighted before, we are known for our exceptional quality of data.
You can now clearly understand that Business intelligence (BI) is a technology-driven process for evaluating data and offering actionable insights that assist leaders, managers, and employees in making informed decisions for their business.
Data quality is important for analyzing, querying, and creating visualizations like BI dashboards.
As a trusted web scraping partner, we thoroughly test the millions of data records with the proficiency of our Quality Assurance team. Partner with Grepsr so you can elevate your operational decision-making and strategic planning.
B. Timely Data Acquisition
In the ever-evolving realm of technology, we have emphasized much on the importance of data. Suppose you're particularly a customer-oriented B2C business, such as online retail for electric devices. In that case, you need real-time, reliable, and frequent data to keep up with the market trends and customer sentiments.
Similar to the case of Lotte, you must be efficient in building interpersonal relationships by updating your business intelligence system. For that, you need timely data from a trusted data partner, for new information regarding the preferences of customers.
This will undoubtedly fuel the growth of your business. Only if you are able to understand your target audience, you can successfully lead in your specific industry. 
C. Cost-Effective Data Collection
Every business's ultimate goal is to induce profitable growth with the lowest cost possible. As a business that needs data at scale, you can benefit greatly from an external data partner, rather than hiring an employee for data acquisition.
After collecting data, businesses need to analyze, visualize, and use the insights to make informed decisions.
Hiring data scientists for both data collection and analysis couldn't be worse than having no data.
The reason is that it is neither cost-effective nor time-efficient. As we already discussed above, web scraping by a single person even by running scrips or using tools in-house causes issues due to anti-bot mechanisms.
Therefore, joining forces with a data extraction service is proven to be way more cost-effective and hassle-free for you to enhance your BI system. We can meet your specific requirements with lightning-fast delivery.
D. Scalability and Flexibility
Data is required in a huge volume for proper analysis. However, that volume of data is not easy to obtain by in-house efforts.
Grepsr is capable of handling even the increasing data loads without harming the performance and quality of your data requirements.
In addition, we can also adapt to the changing needs of our clients for each process, and provide them their specific dataset.
For instance, a loyal client of ours had been asking for data for Dell laptops and their prices from all the retailers on the platform Amazon. They suddenly changed their data requirement to include the product model and its sub-category along with its price. Experienced web scraping service providers can integrate data seamlessly to develop your Business Intelligence, despite the challenge. 
Thus, scalability and flexibility are the factors that make outsourcing the best option.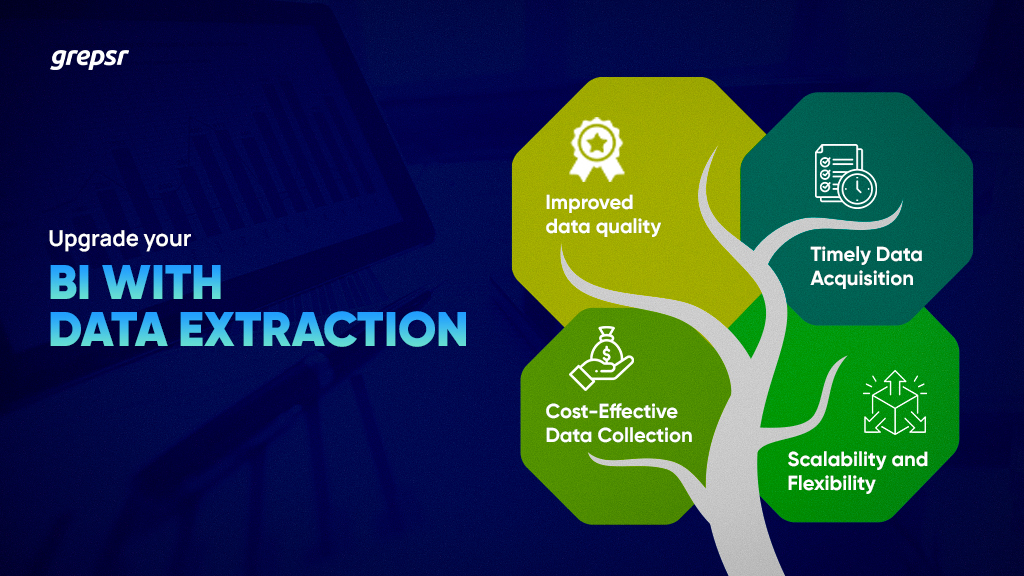 End Note
In summary, Business Intelligence (BI) is the cornerstone of informed decision-making in today's data-driven world.
Successful businesses stand out by effectively collecting, analyzing, and deriving valuable insights from large data sets.
With Grepsr, you can harness the power of quality data at scale to enhance your Business Intelligence and secure your competitive edge. The benefits are clear:
Improved Data Quality: Elevate your decision-making with thoroughly validated data.
Timely Data Acquisition: Stay ahead in your industry with real-time and reliable data.
Cost-Effective Data Collection: Achieve profitable growth while minimizing costs.
Scalability and Flexibility: Adapt to changing data requirements seamlessly.
Don't let data challenges hold your business back. With Grepsr, supercharge your BI efforts and stay at the forefront of your industry today.

Web data made accessible. At scale.
Tell us what you need. Let us ease your data sourcing pains!