Harness the potential of car rental data extraction with Grepsr. Gain an edge over competitors, streamline fleet management, and analyze customer sentiment. Drive your car rental business to success with data-driven insights today!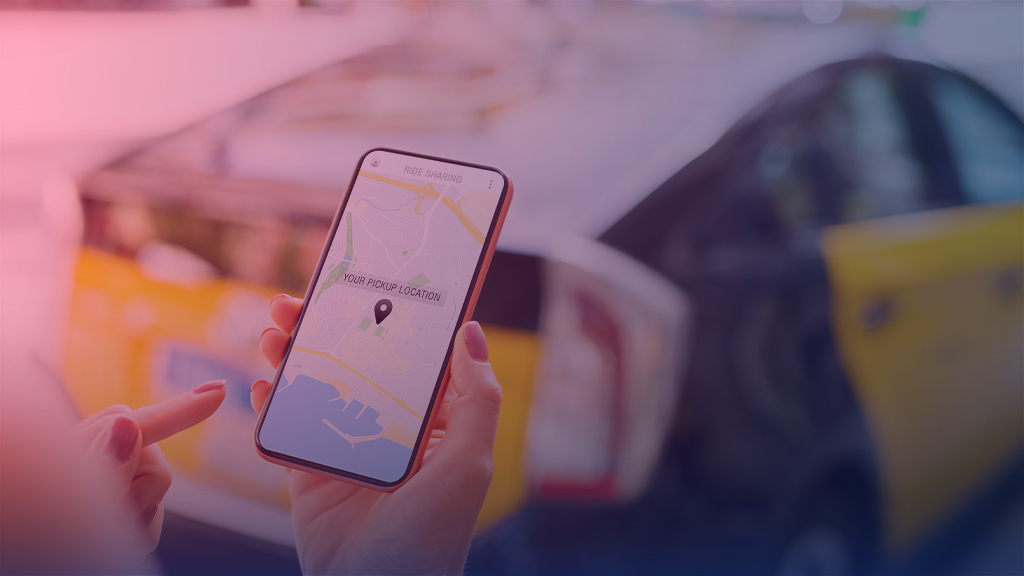 The car rental market is expected to see significant growth in 2023, with a projected total value of $99.27 billion. Despite facing challenges due to the global pandemic and the Russo-Ukraine war, the car rental industry continues to thrive.
Analysts predict that the market will expand even further, reaching a market share of $111.70 billion by 2027.
For those in the car rental business, there is both positive and challenging news. The positive aspect is that you are part of a growing industry, which is a promising sign. However, it's essential to note that a few major players dominate most of the market share, and the business model tends to be fairly standard. Therefore, closely monitoring your competitors' strategies is crucial.
This is where data becomes invaluable. In the car rental industry, data is the driving force behind revenue. Whether you need to efficiently manage your vehicle fleets or stay updated on your competitors' special offers, a real-time data extraction solution can be a game-changer.
Grepsr is a trusted provider of managed data extraction services with a proven track record of assisting some of the largest car rental companies in leveraging web data to their advantage. To learn more, please continue reading.
How does Car Rental Data Extraction work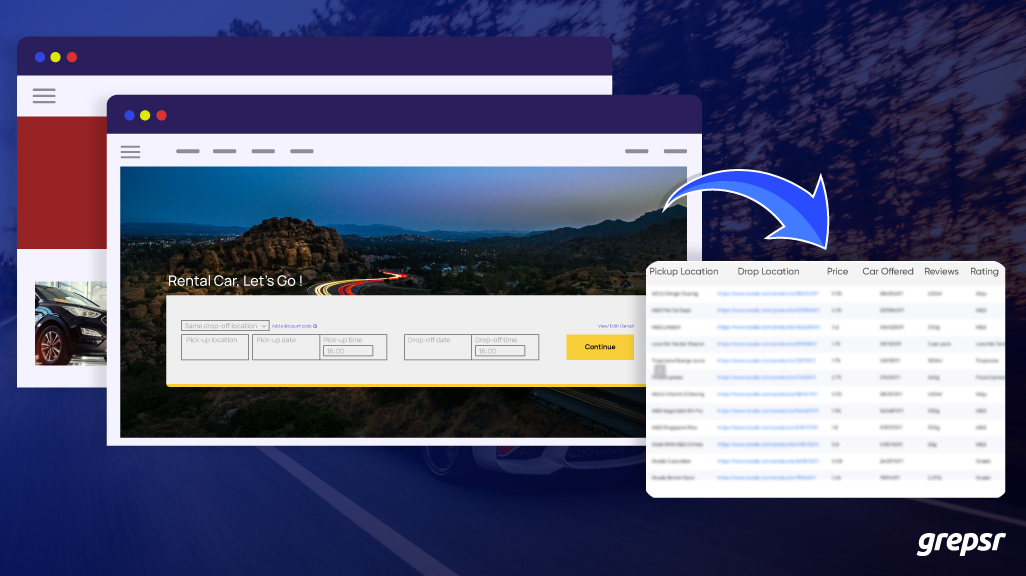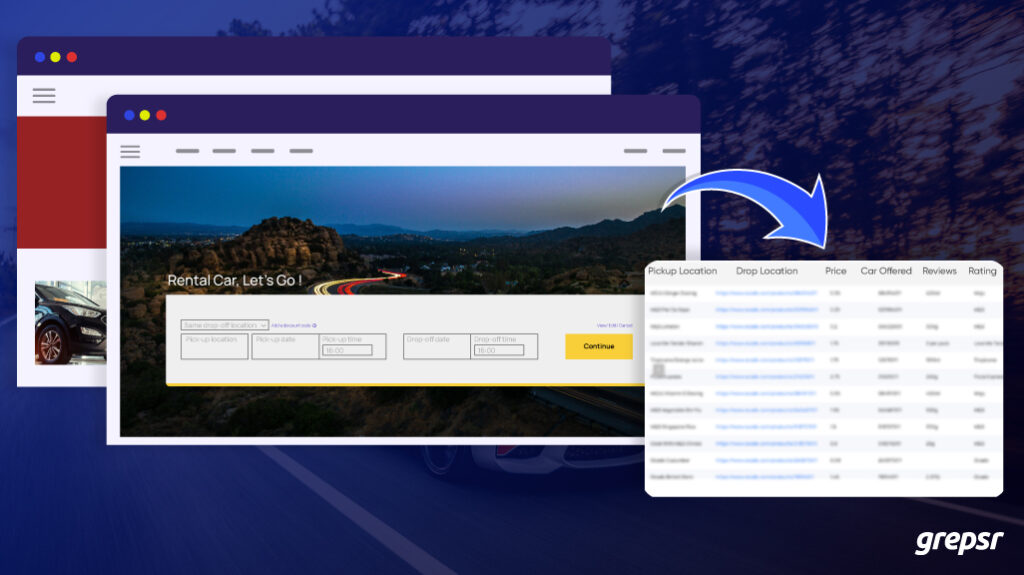 Numerous credible sources on the web offer invaluable insights into the car rental industry. Leading car rental websites such as Hertz, Avis, and enterprise.com not only provide a wealth of information but also engage in lucrative sponsorship deals, demonstrating the industry's thriving nature.
Success in this sector isn't happenstance; rather, it results from a combination of various factors.
Additionally, aggregator sites and booking platforms like TripAdvisor play a pivotal role in shaping consumer choices within the car rental market.
For high-level executives, the choice of vehicle matters significantly. They wouldn't opt for a Honda Accord. Therefore, it's noteworthy when a car rental company updates its fleet to include premium options like Audi A8s. This speaks to the diverse offerings within the industry.
Factors such as pricing and customer reviews wield considerable influence over brand perception and, consequently, business success.
Car rental data extraction is the process of automating the collection of data from these websites. Managed data extraction services like Grepsr specialize in streamlining this procedure, making a vast array of car rental data accessible to anyone in their preferred format, whether it's CSV, JSON, or a simple spreadsheet.
The applications of Car Rental Data Scraping
Now that we've identified the importance of car rental data extraction, let's explore the myriad ways in which car rental data can assist you in making informed decisions and staying ahead of the curve:
1. Nab market trends
Capture market trends by collecting data from various sources, including competitor prices, consumer preferences, demand patterns, and booking trends.
By automating data extraction and regularly updating your database, you can closely monitor even basic competitor tactics, such as changes in base rates and promotional offers.
2. Effective fleet management
Car rental data available on the web can significantly impact the day-to-day operations of a car rental company. Proper utilization has the potential to enhance efficiency, bolster safety, and reduce costs.
By monitoring historical car rental data, you gain the ability to predict when and where the demand for rental cars will increase. This equips you with actionable insights to allocate your fleet more efficiently.
Moreover, extracting data on customer preferences and booking patterns enables you to tailor your fleet to better meet the needs of your target audience.
For example, if data indicates a high demand for SUVs in a particular location, you can increase your inventory of SUVs there. These trends also underscore another critical aspect—your fleet mix. 
Data extraction allows you to keep track of your vehicle inventory, ensuring you maintain the right mix of vehicle types and models in your fleet.
But that's not all. Data extraction also assists in processing insurance claims by providing detailed information about accidents, damages, and the condition of vehicles at the time of rental.

Data to make or break your business
Get high-priority web data for your business, when you want it.
3. Price optimization
As mentioned in an earlier section, real-time car rental data extraction empowers you to forecast demand.
However, it's important to note that these data points provide insights that extend beyond pricing strategy.
In addition to identifying pricing trends, car rental data also offer actionable insights into competitive rates and seasonal patterns that can significantly impact decision-making.
4. Customer Sentiment Analysis
In one of our blogs, we discussed the detrimental effects that a negative brand perception can have on your business. Unhappy customers can do more harm than satisfied customers can do good.
On average, unhappy customers share their negative experiences with approximately 16 people, while satisfied customers typically share their experiences with only around 9 people.
You can employ data extraction techniques to gather customer reviews, ratings, and comments. Additionally, incorporating QnA data into your dataset can further enrich your information.
Once you've collected this data, the next step is to analyze it, which can provide valuable insights into customer preferences and overall behavior.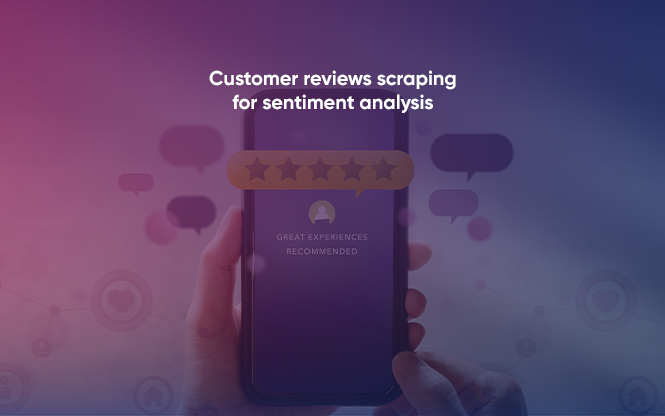 Customer Sentiment Analysis and the Role of Web Scraping
Web scraping is indispensable for any Customer Sentiment Analysis Project. Learn how you can leverage web scraping to your advantage.
5. Comprehensive business strategy
Like a skilled pilot navigating a plane, a successful founder watches key numbers and acts quickly if things go off course.
Using data to make decisions not only helps you decide better but also gives you useful insights.
This data-driven way helps you decide with confidence.
If your important numbers include car rental rates, occupancy, turnover, revenue, or customer happiness, using web data helps you improve your car rental business and make more money.
By using modern tools and tech, founders can stay ahead by spotting trends and changing their plans early.
And keeping an eye on customer happiness in real-time helps you make customers happy and get more business from referrals.
In short, using data and watching important numbers guides your journey as an entrepreneur. With data on your side, you can grow your business and drive more revenue.
Final words
To say that the car rental industry is competitive is to understate it. In such a competitive environment, one thing is certain – data is your GPS, guiding you to your destination.
As we've explored the vast potential of car rental data extraction, we've uncovered a treasure trove of opportunities for those who dare to harness its power.
In a highly competitive and rapidly growing industry, staying ahead of the curve is not just a goal—it's a necessity. The good news is that you're part of this dynamic and thriving landscape. The bad news? Well, there's always room for improvement, and the industry giants are constantly setting the pace.
However, with data-driven insights at your disposal, you're not just keeping up; you're leading the pack. By leveraging the capabilities of data extraction, you can:
Nab Market Trends: Stay ahead of the game by capturing vital market trends, from competitor pricing strategies to consumer preferences and booking patterns.
Optimize Fleet Management: Ensure the efficient allocation of your vehicle fleet, making data-backed decisions to meet the ever-changing demands of your customers.
Price Optimization: Not only forecast demand but also identify competitive rates and seasonal patterns, giving you an edge in pricing strategy.
Customer Sentiment Analysis: Understand your customers on a deeper level through reviews and ratings, fostering loyalty and positive word-of-mouth referrals.
Comprehensive Business Strategy: Equip yourself with a centralized dashboard of key performance indicators, allowing you to adapt and refine your strategy as you navigate the business landscape.
Embrace the data-centric approach and partner with Grepsr, the trusted managed data extraction service provider, to unlock the full potential of your car rental business.

Web data made accessible. At scale.
Tell us what you need. Let us ease your data sourcing pains!