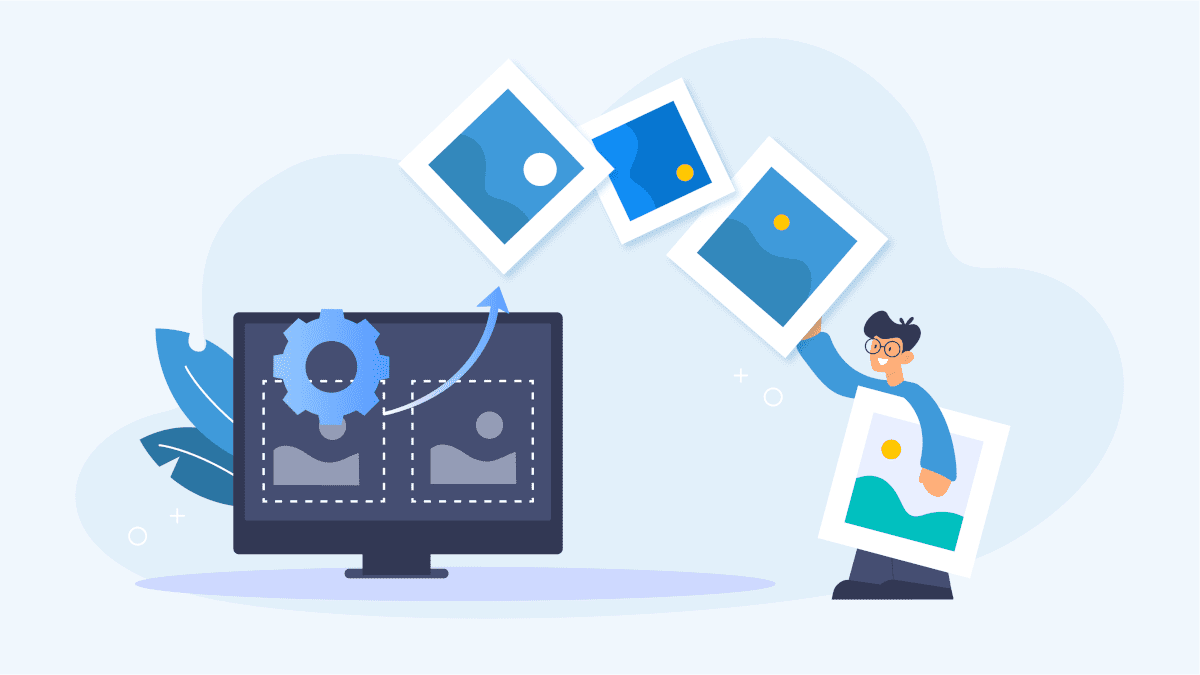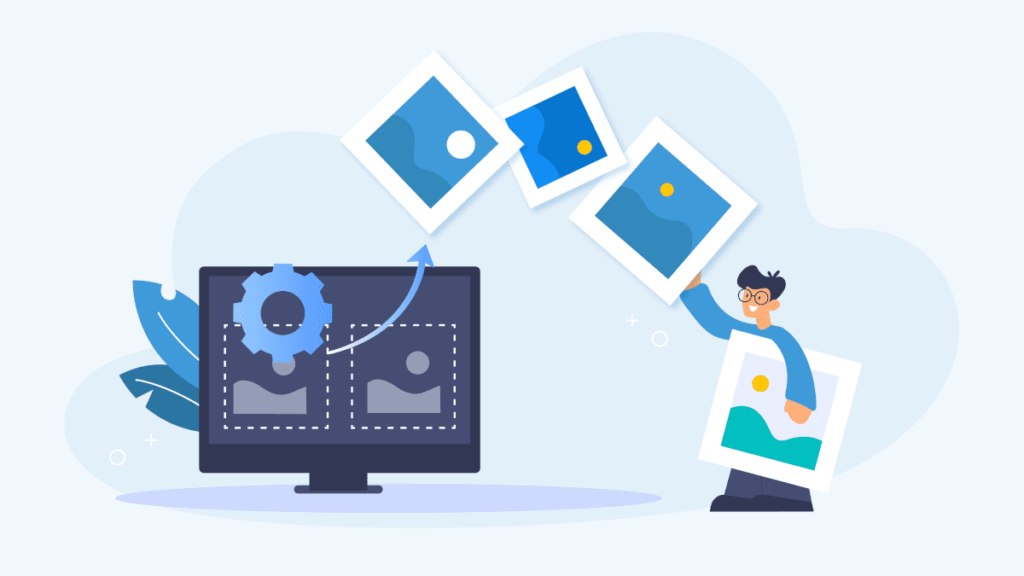 From retail and real estate to tourism and hospitality, images play a vital role in influencing customer decisions. Hence, it is important for brands to see what kinds of photos are turning prospects into customers.
On the other side, customers go through numerous products and images before settling on a final choice. Similarly, analysts browse several pages and analyze hundreds of images to gain any meaningful insight. In such cases, they have to download these images, which is extremely error-prone and time-consuming when done manually.
In these scenarios, you need an automated solution that is provided by image scraping.
What is image scraping?
Image scraping is a subset of the web scraping technology. While web scraping deals with all forms of web data extraction, image scraping only focuses on the media side – images, videos, audio, and so on.
How is image scraping done?
While there are several tools and techniques available to extract images from websites, we'll take a look at two solutions provided by Grepsr — Grepsr Concierge and Grepsr Browser Extensions — in this article.
Via Grepsr Concierge
Grepsr's Concierge service is the perfect solution for bulk image extraction requirements — such as multiple image URLs for an item, or extracting images as JPG or PNG files, compressing them into zip files, applying a certain file naming format and so on.
Once we receive your project details, our team of expert engineers get to work setting up the project tailored specifically to your requirements.

Data to make or break your business
Get high-priority web data for your business, when you want it.
Via the Grepsr Browser Extension
The Grepsr Browser Extension is a simple-yet-powerful DIY tool built for simple data extraction projects. Its point-and-click interface allows users to visit any well-structured website and collect data points with ease.
Before we get into the step-by-step procedure, make sure you have the browser extension installed. It is currently available for Google Chrome and Microsoft Edge.
Phase 1 — Mark & tag data points
1. Visit the website you want to collect your data from, and click the Grepsr icon — the blue 'g' icon next to the browser's address bar.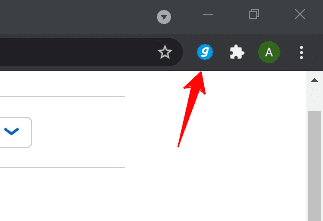 2. When the plugin is activated, click on one of the images. This will select and highlight the current image, as well as the display image of the other items on the page.
If not, click on any other display image and then the rest should also be automatically highlighted.
Sometimes, other items might also be selected, which might give you an error saying "The data is unstructured." In such cases, you need to clear the unwanted selections before proceeding to the next step.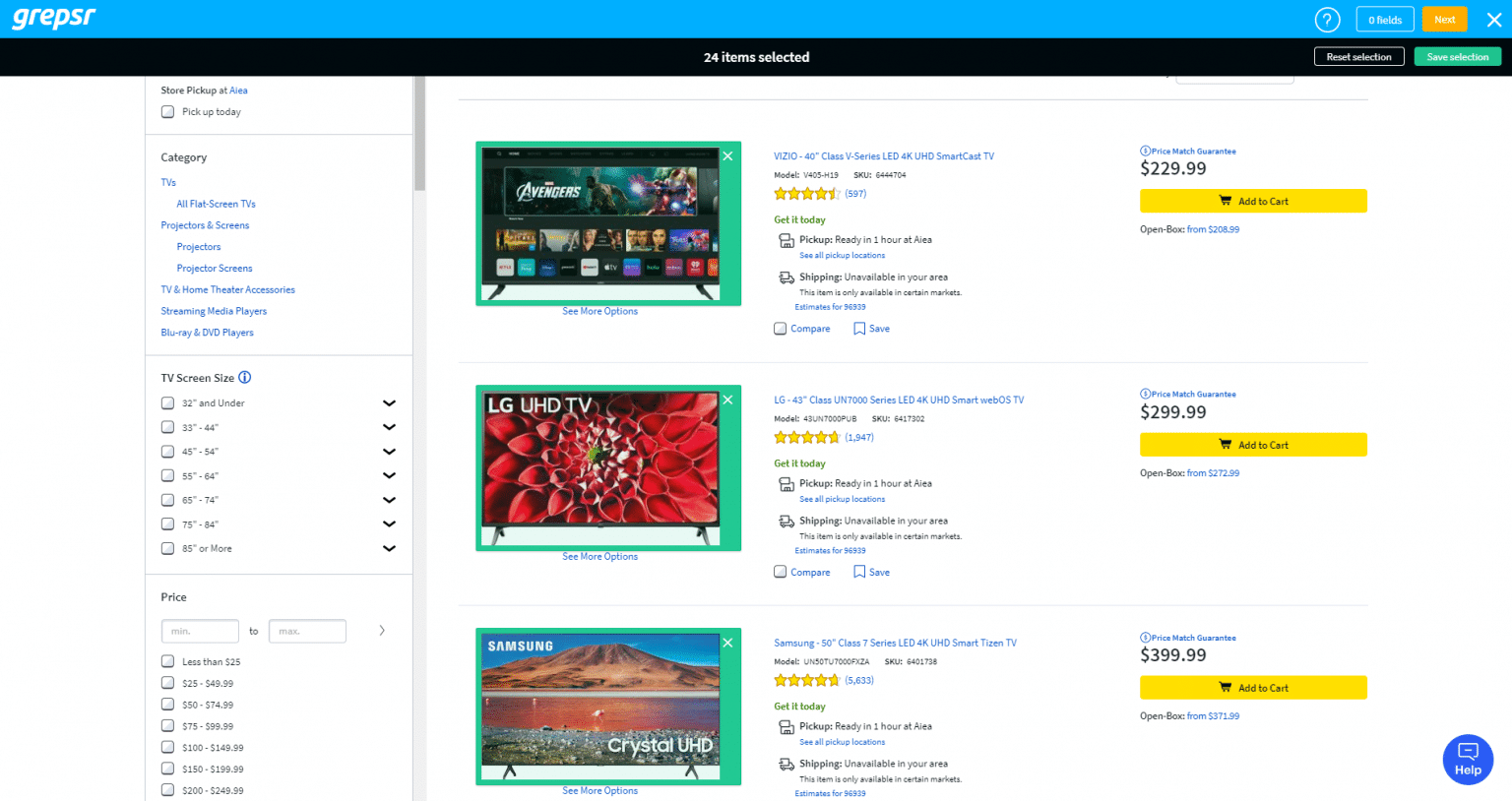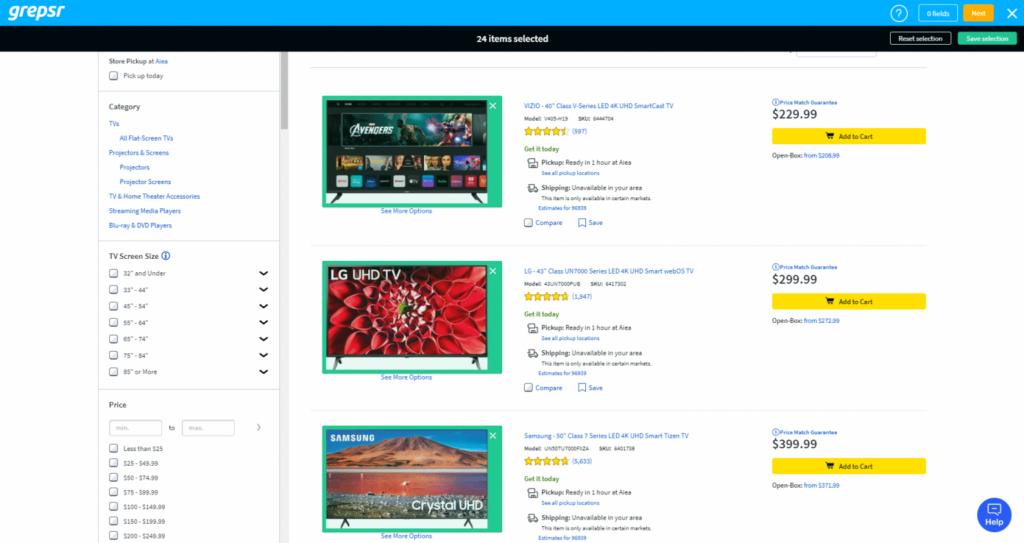 3. Once you're happy with the selections, click Save Selection.
4. Since we only want the image URLs, or the source URLs, select the 'src' option on the Extract column dropdown.
5. Give the field a title (say, "Image URL") and click Save Fields or press Enter.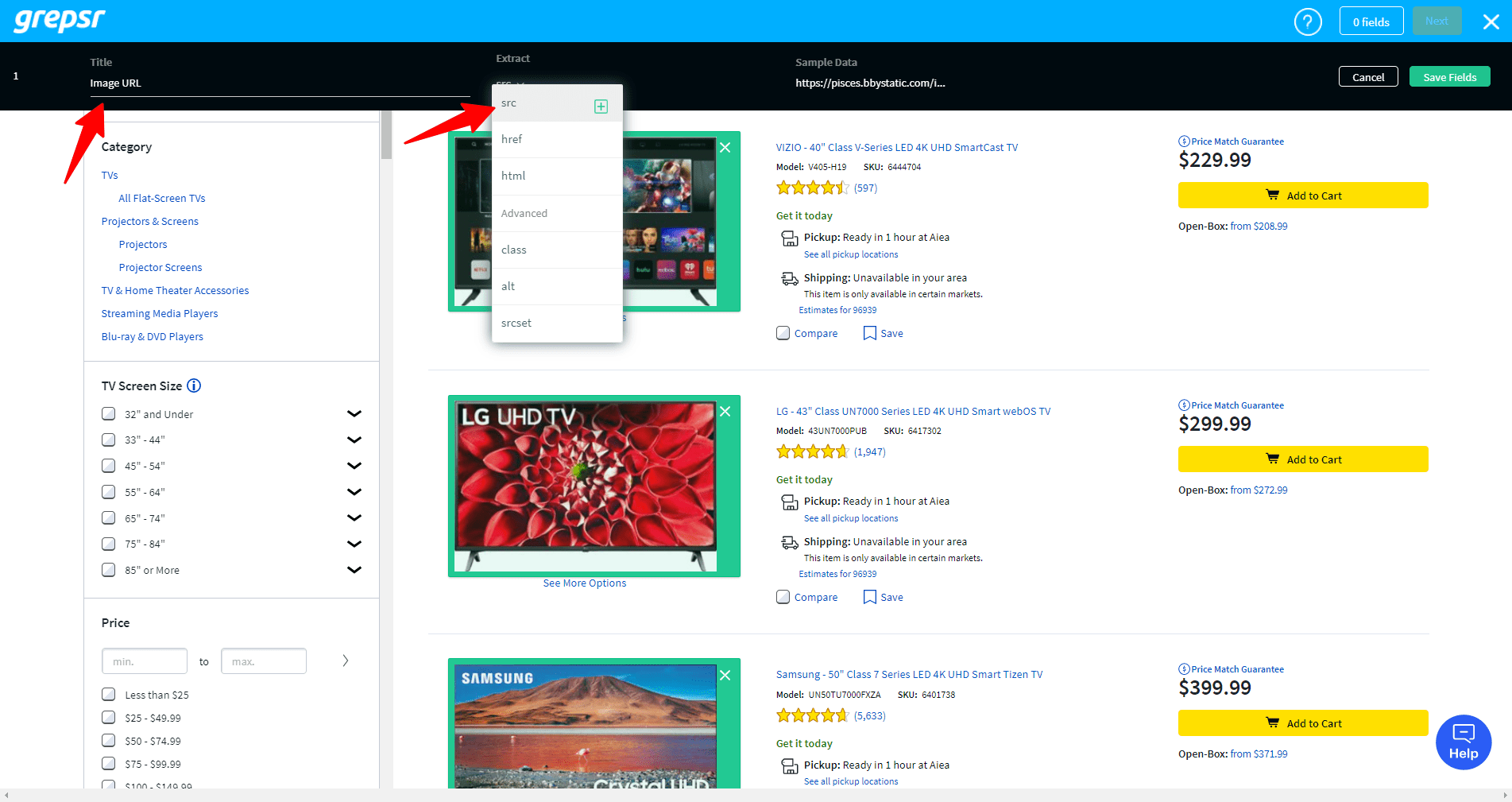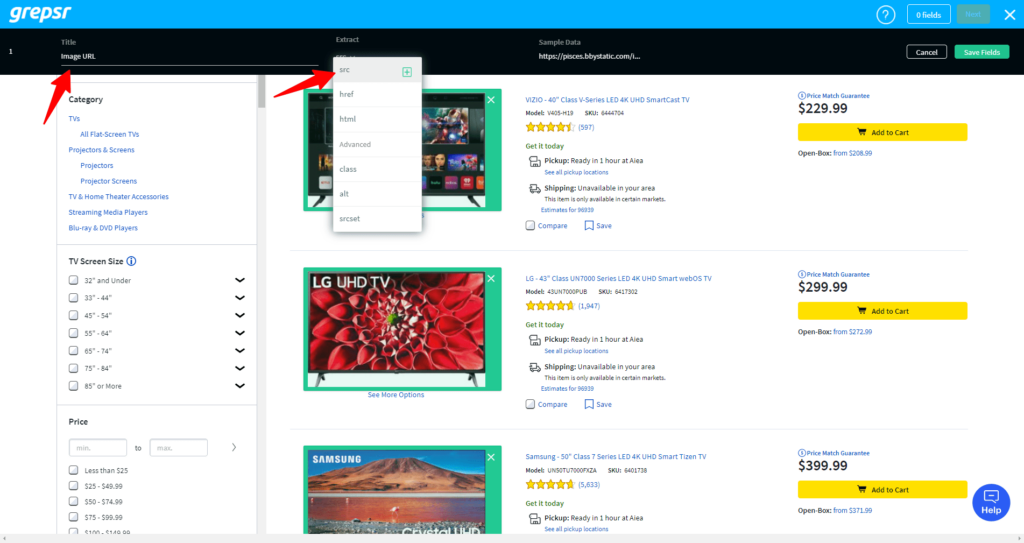 6. For the sake of this tutorial, let's assume we only want the image URL. Click Next to proceed.
7. Next, the extension will ask you if the page has pagination. Click No if it doesn't have any. The three pagination types supported are:
"Next" link or button – where the subsequent items are listed in new pages
Infinite scroll – where new items continue to load as you scroll down a page
"Load more" link or button – where you click a button at the bottom to load new items in the same page

If the current page has any of the above pagination styles, select the option, then navigate to the button on the page and click it to continue. Then click Done.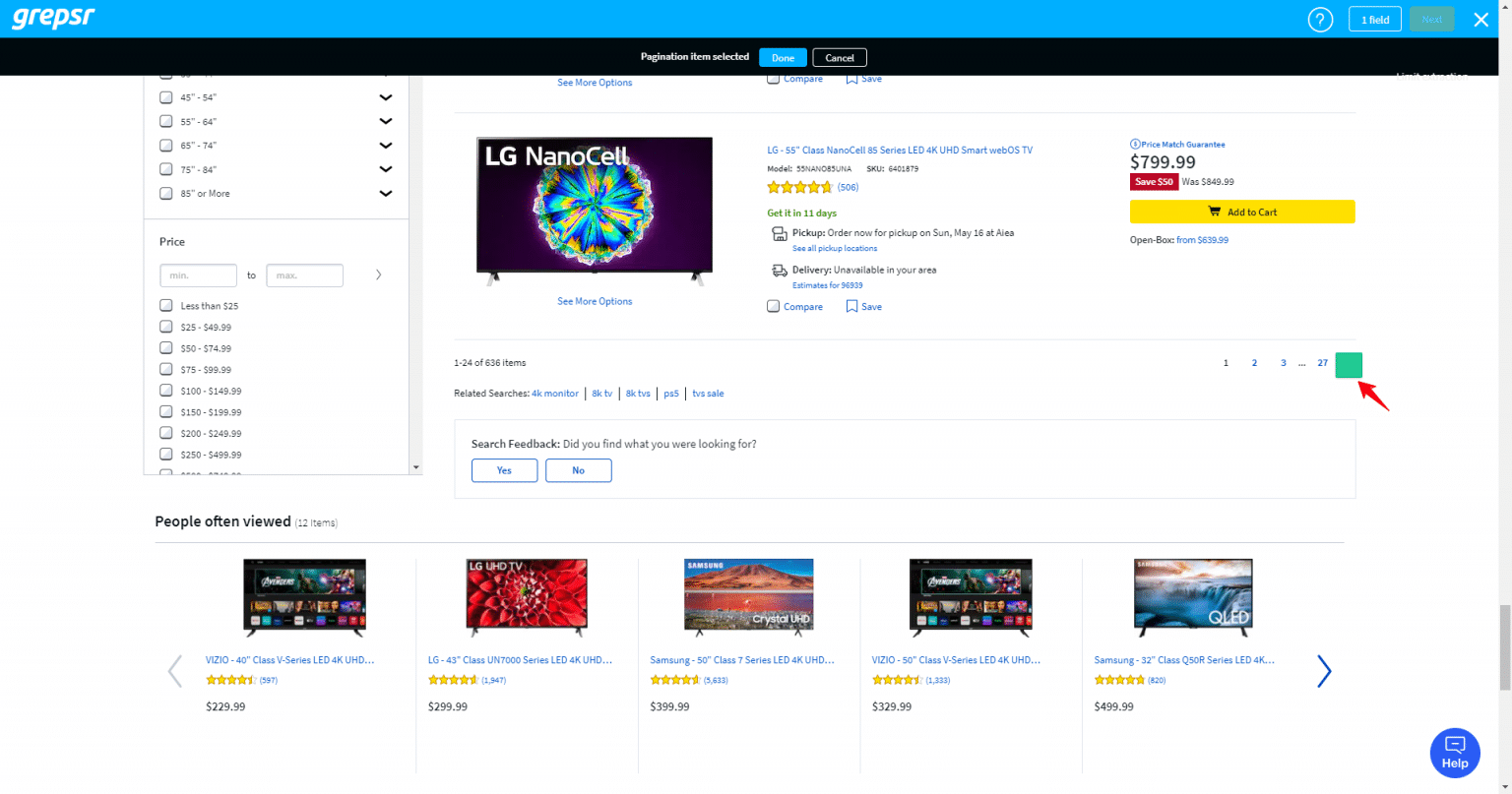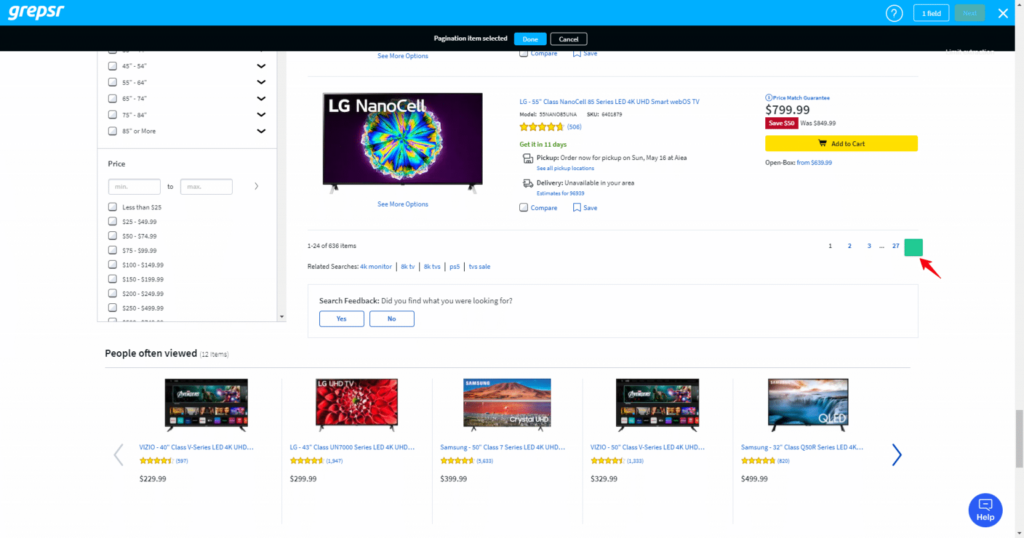 8. If you want to go into the details page for the item, then select the option and click Next. this will take you to the product details page where you can mark and tag other data fields.
For this tutorial, we'll proceed with No.
Click Continue.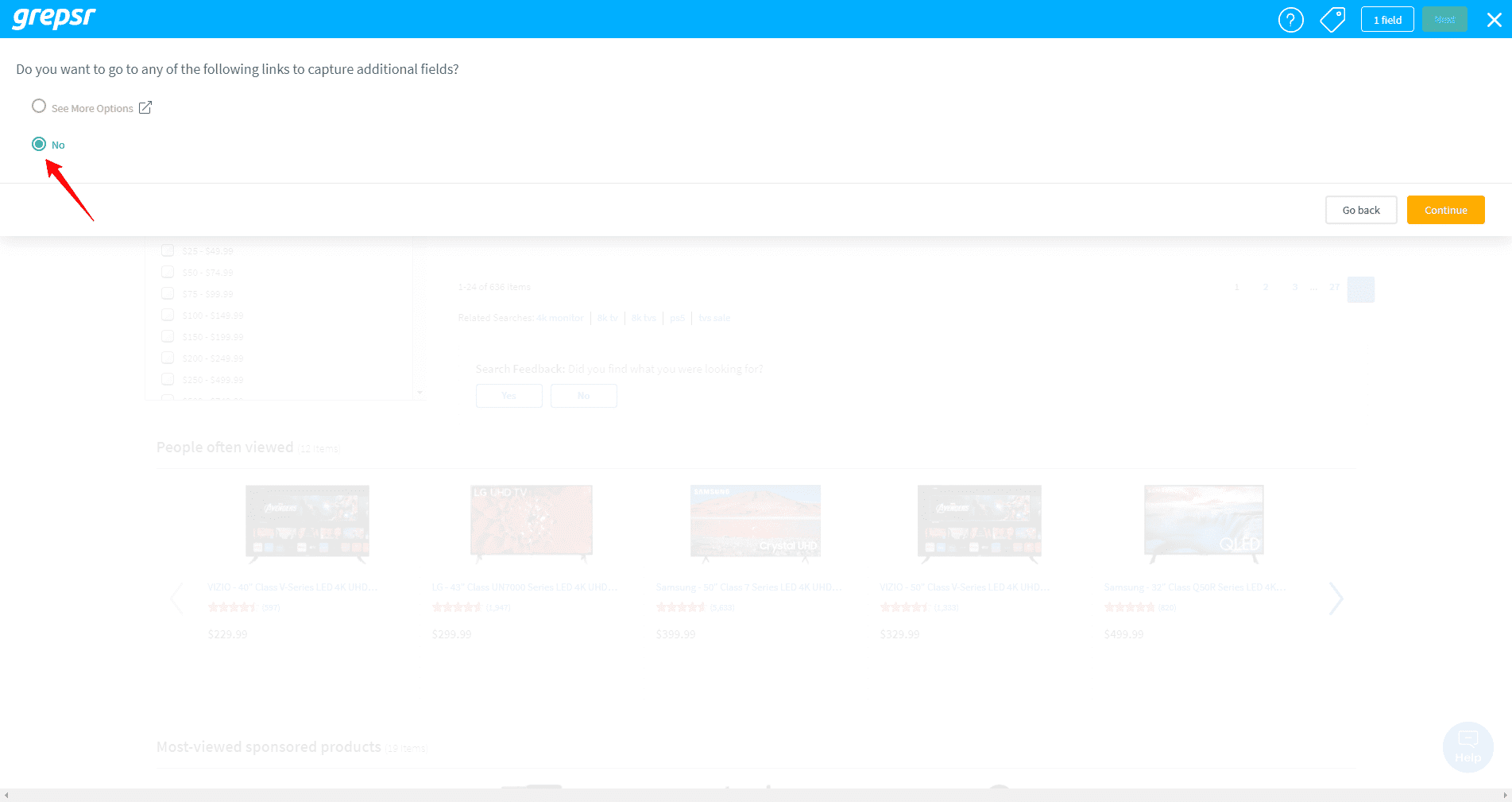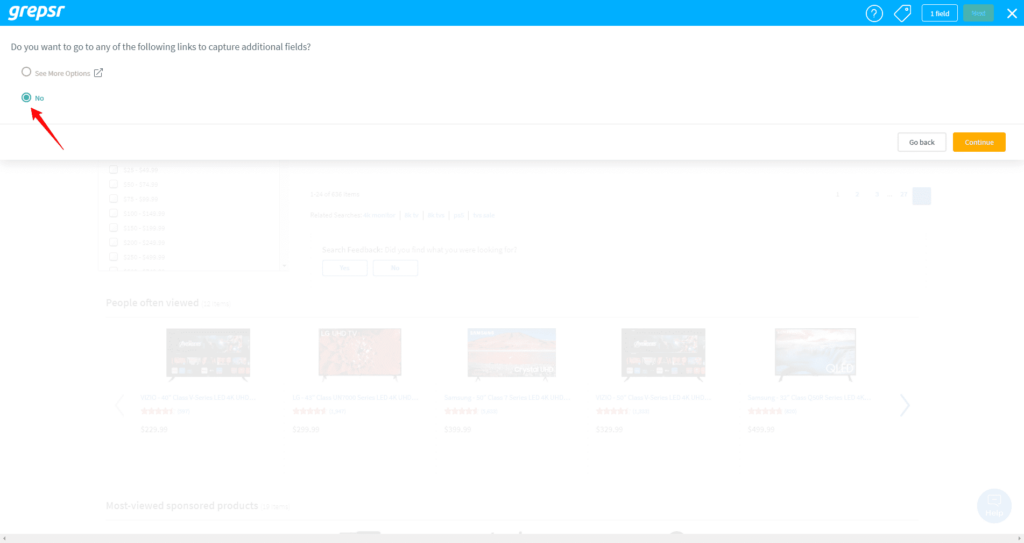 9. Next, if the website requires you to log in before any data is accessible, then you will need to enter your login credentials in this step.
To get to the login page, simply click the icon marked with the red arrow below. This will open the website in an incognito or private browsing mode. Go to the login page, and copy the page URL, navigate back to the extension interface and paste it.
Rest assured that your username and password are encoded in our database, i.e. converted into humanly unreadable formats.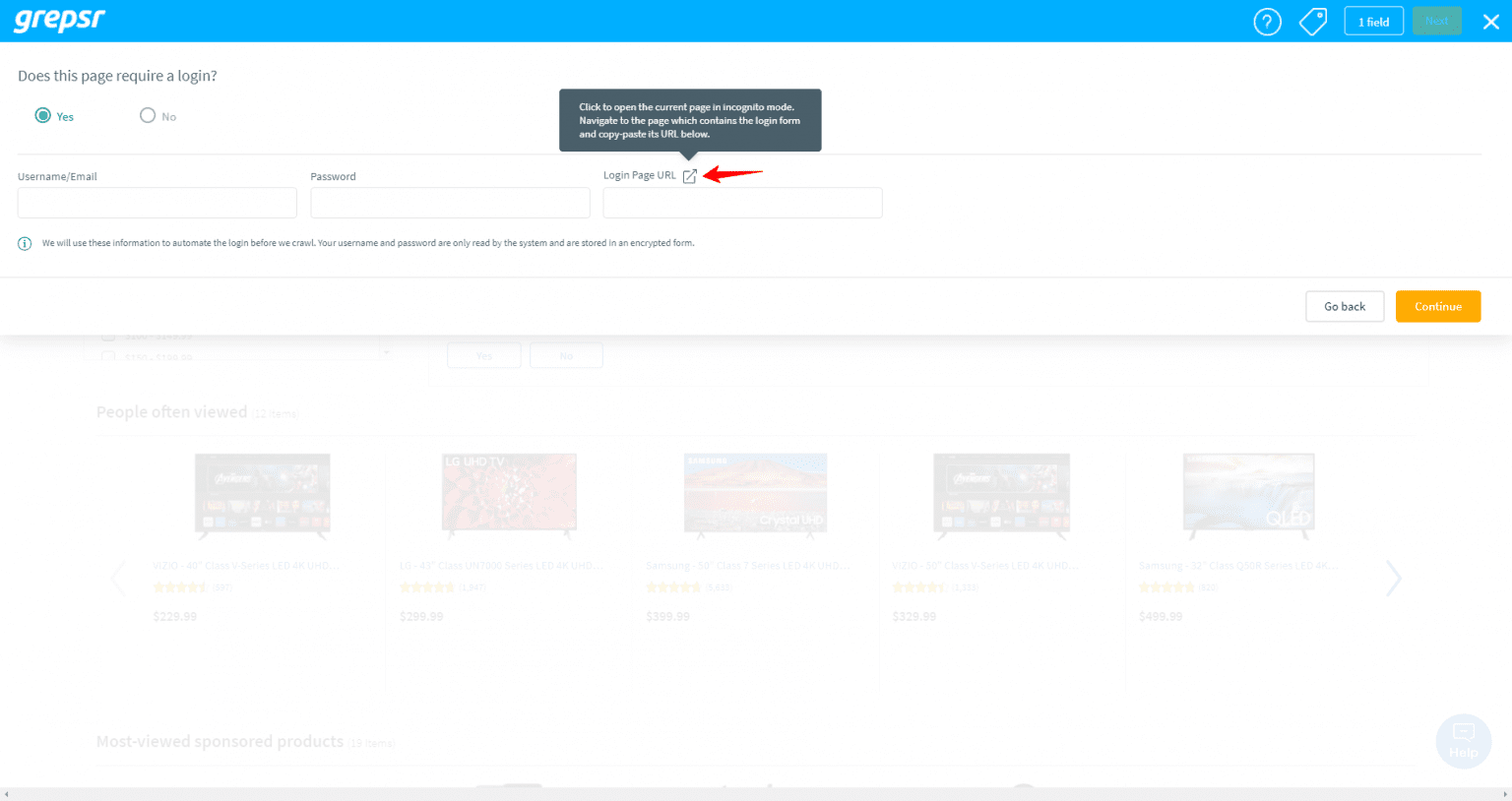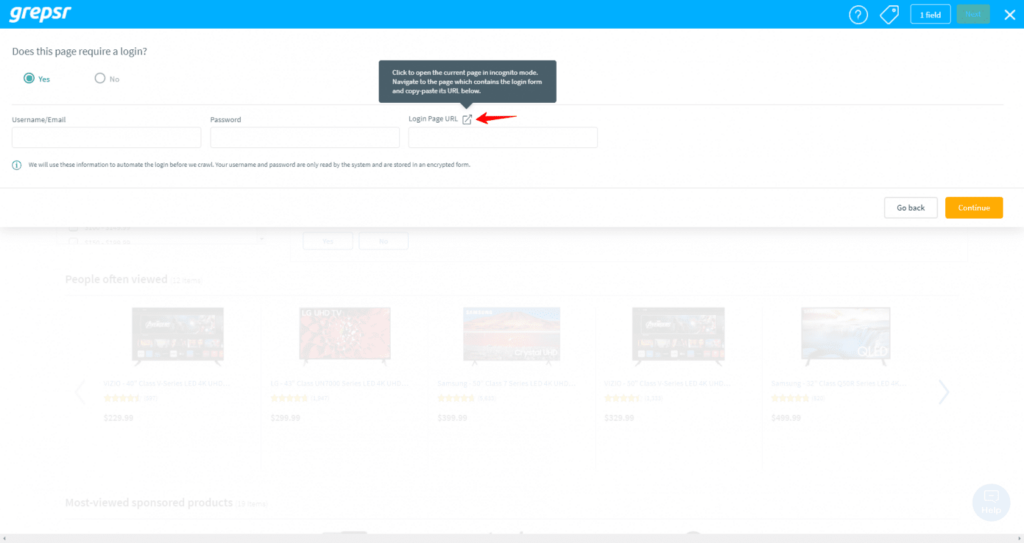 For this example, we don't need to be logged in to the website. So we'll select No and Continue.
10. Preview your data and click Continue.
Phase 2 — Project setup
11. In case this is your first use of the browser extension, fill the form to sign up to Grepsr. In case you already have an account, simply log in.
12. Then either create a new project or select one that already exists. Do the same for the report. You can have multiple reports within a project.
13. Start crawling!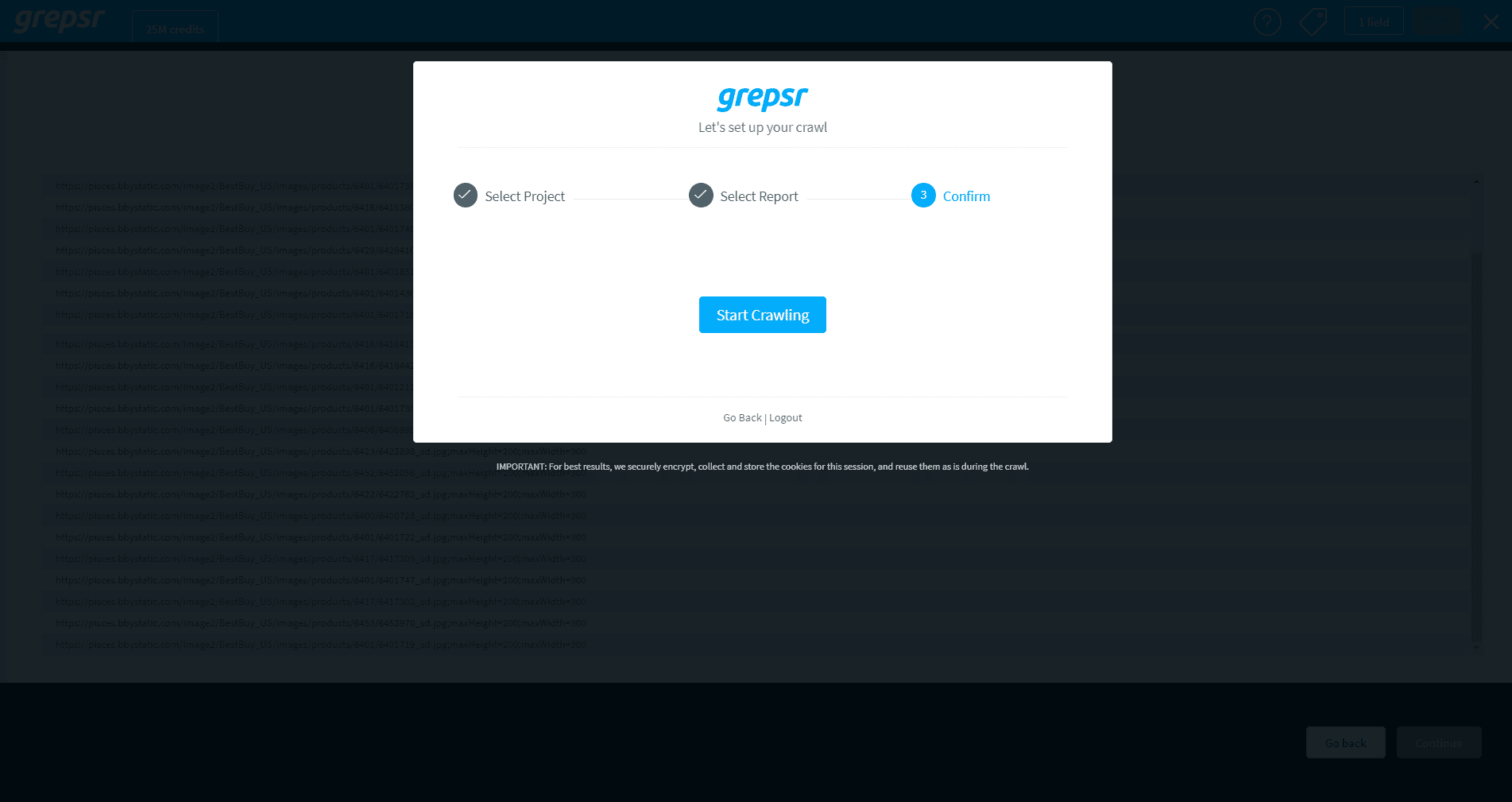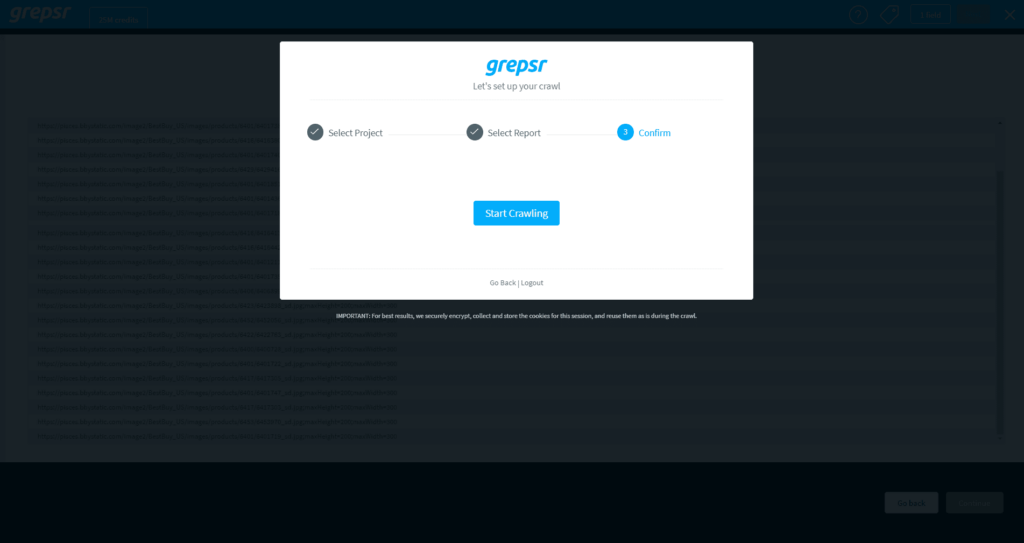 14. You'll then be redirected to the Grepsr app platform, where you can see your extracted image URLs start to populate the data table.
Depending on the complexity of the website, the full data extraction may take a few minutes to complete.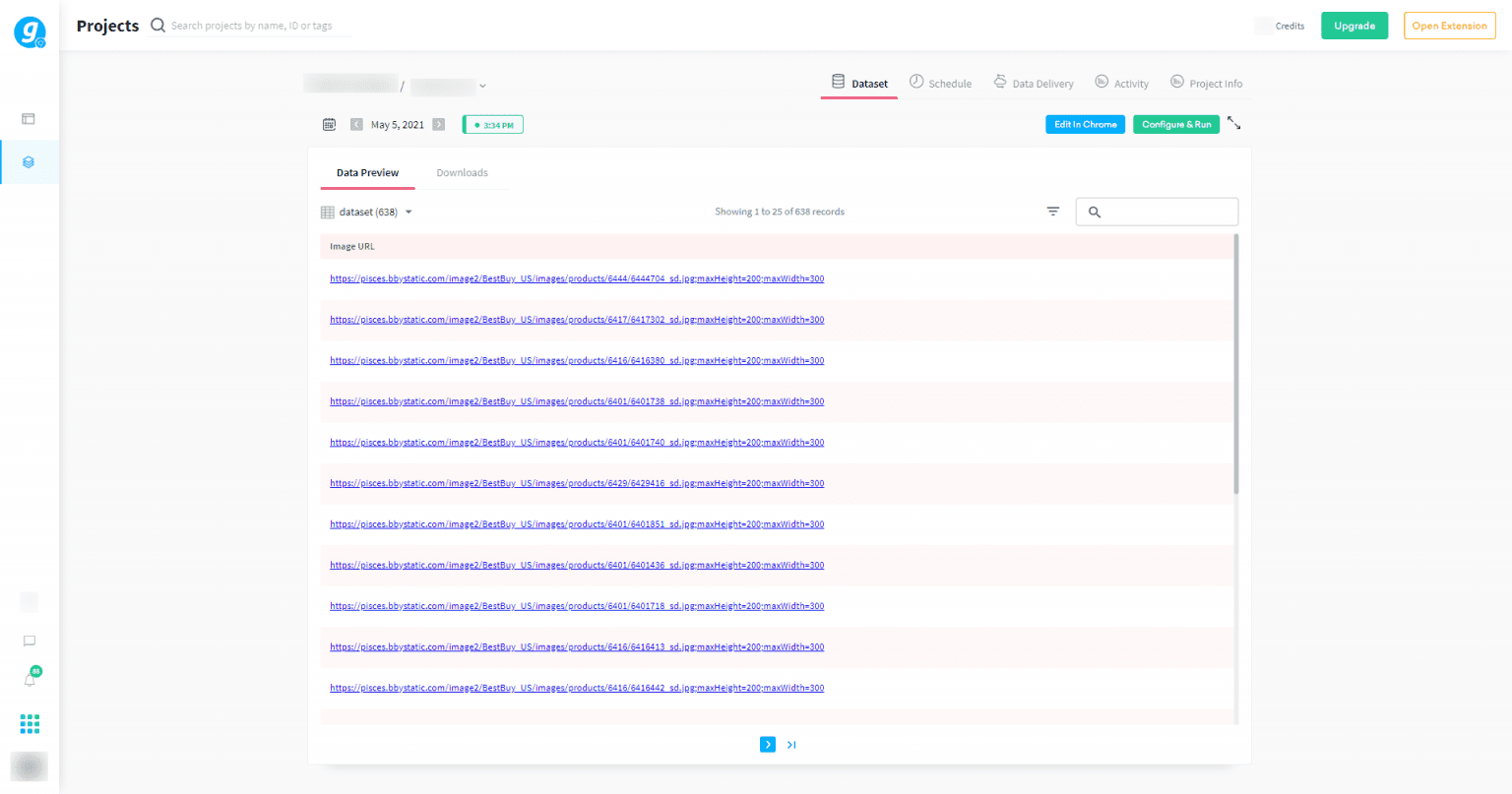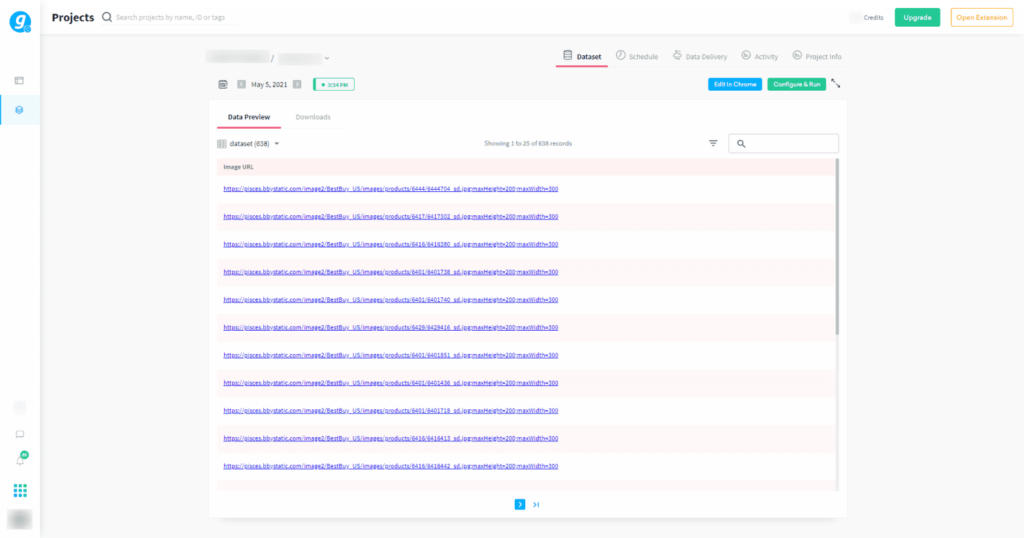 ---
For a niche data extraction requirement like image scraping, you need a specialized solution that capable of delivering the best results at scale. At Grepsr, we have more than ten years of experience behind us in providing our clients with any complex data.
Sign up or get in touch with us today with your requirements, and we'll work out a solution for you!
---
Related reads: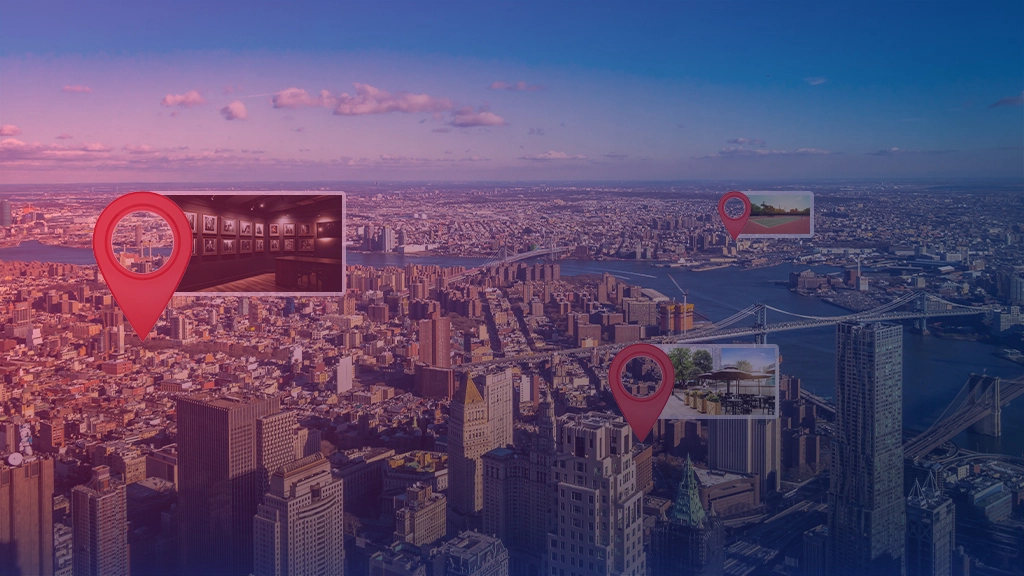 Google Image Scraping Enriches Your Point of Interest Datasets
Incorporate Google Images scraping to enhance your POI datasets — add visual context to provide immersive and engaging experiences.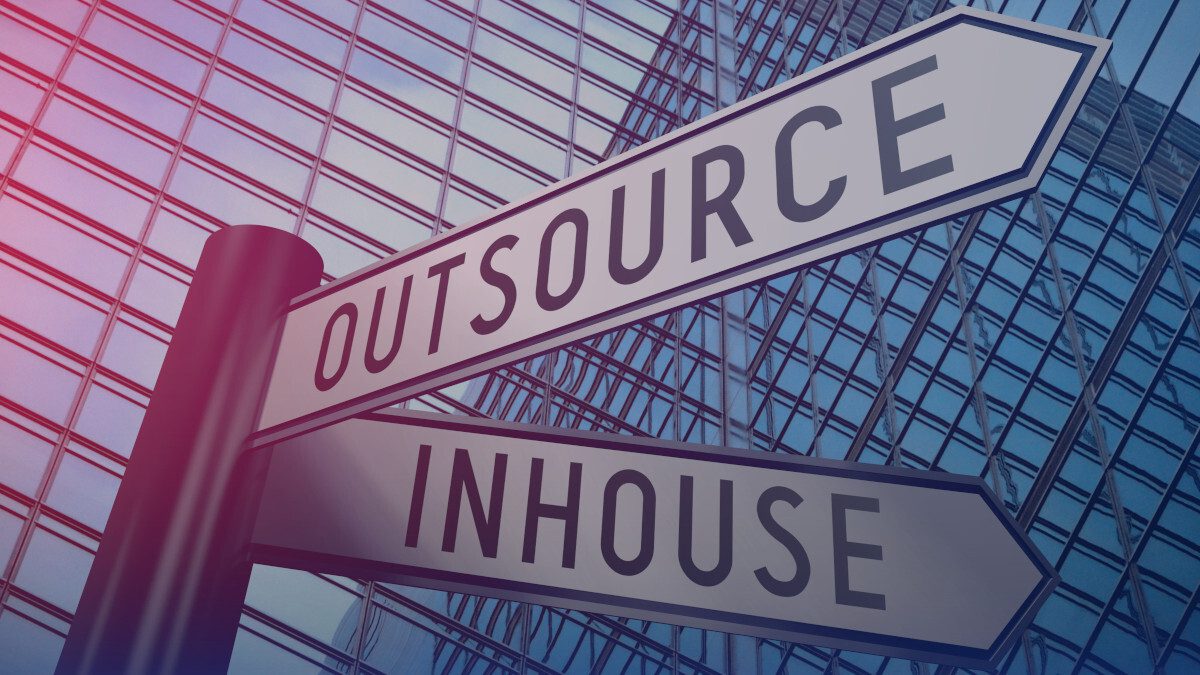 Why You Need an External Data Provider
Web data extraction of large datasets is almost impossible with in-house capabilities. Learn why you need an external data provider.

Web data made accessible. At scale.
Tell us what you need. Let us ease your data sourcing pains!