Observations and experiences of 2020, and a glimpse into what's in store for 2021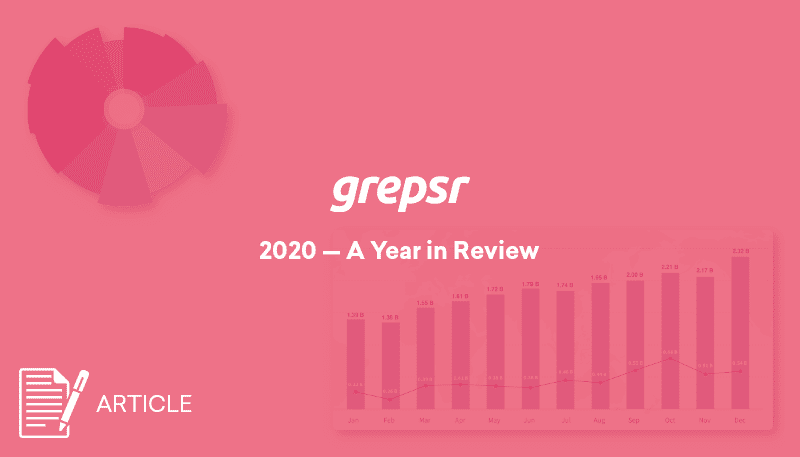 Articles and updates on all things data
Stay updated on all our recent posts, and much more, via our monthly newsletter.
Firstly, everyone here at Grepsr would like to wish our customers and readers a very happy new year 2021! We're extremely grateful for the support we've received throughout the year, and hope it continues into the new year and beyond.
Though not the worst year in history, 2020 was still a difficult year for many businesses around the world – we sympathize with everyone who has been adversely affected.
Despite the struggles, the past year presented employers and employees alike, with an opportunity to make changes to their worklife, and adopt novel and innovative methods for remote collaborations. We, here at Grepsr, were no different.
eCom boom fuels our growth in 2020
In March, the pandemic started to unfold and nations around the world went into lockdown. With everyone forced indoors and making purchases online, the ecommerce industry saw a massive boom.
Since we've historically had strong partnerships with the eCommerce sector, we managed to continue our growth and build on the solid platform we had laid in previous years.
In addition, with almost 10 years of experience behind us, we were also able to deliver on new requests from other industry verticals. For obvious reasons, this year we noticed a clear rise in demand for healthcare and medicine data. With new use cases in this segment, we also did our own research and analysis on Covid-19 test centers in the USA.

Data to make or break your business
Get high-priority web data for your business, when you want it.
Drive towards upgrading our technology stacks
With the primary motivation of making quality web data more accessible, we started the process of reinventing the Grepsr platform.
We released the reimagined Grepsr website and browser extension in June, while the new Grepsr platform went live in September. In addition to a complete aesthetic overhaul, we've also made significant technological upgrades behind the scenes to make the entire data collection process — from project setup to delivery -— more seamless.
The new-look Grepsr suite has numerous exciting updates, including:
Simpler UI design
More features — Data Quality Dashboard & Scores, in-app Notifications and Alert Rules
Additional Data Delivery integrations — Slack, Azure Cloud and Google Cloud
More control over the data in terms of file formats and compression options
More Support options — project-based or general inquiry
More visibility to existing useful features like historical runs, Schedule and Attachments
Starting the new year in a new location
With the team gradually growing and further expansion in the works, we moved from our old headquarters into a new futuristic complex, which has more than five times the previous floor space.
The ample spacing has been a boon especially during these Covid times.
Work culture adaptations thanks to Covid
Like everywhere else, the work culture here at Grepsr also underwent significant changes in 2020.
During the two national lockdowns in March and July, working from home was the only option. Since we already had prior experience in working through a crisis — particularly during the 2015 earthquakes in Nepal — we had all necessary provisions in place to ensure all of our data extraction and web application processes would run seamlessly.
At the moment we've made working from the office a voluntary decision, with a maximum of 20 people allowed at any given time. Moreover, we're helping the team build a basic home office setup to ensure WFH productivity.
New milestones in data collection & user numbers
Gartner forecasts that by 2024, "pre-Covid models based on historical data may no longer be valid." Hence, to make more informed business decisions, the reliance on quality data is going to be significantly greater than ever before.
We've noticed as much in the volume of requests we've been receiving for data across market sectors.
Billions of records collected
With the global demand for data ever increasing, more users trusting us to fulfill their data needs and more specialists joining our team, we were able to collect more data than ever before.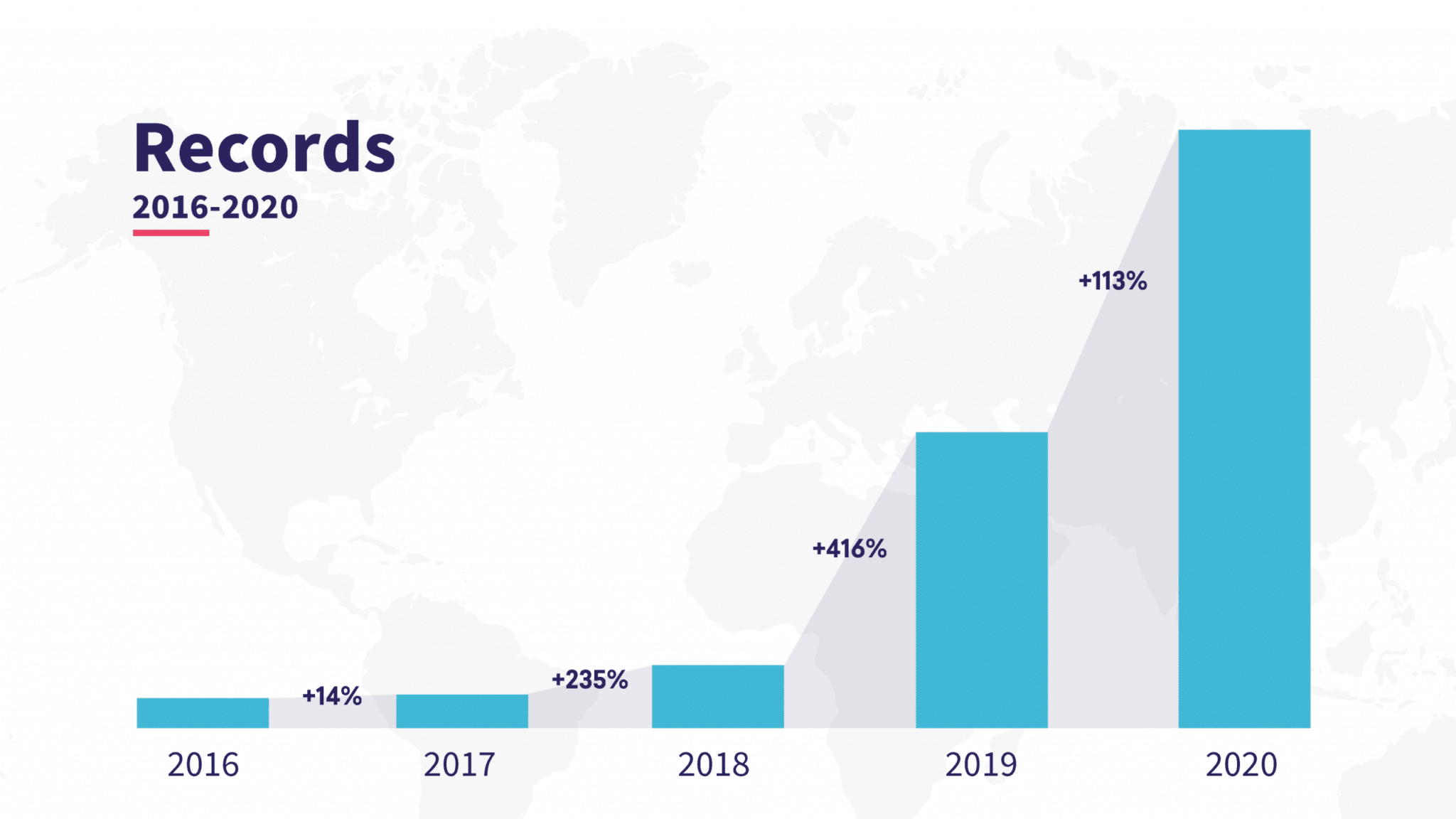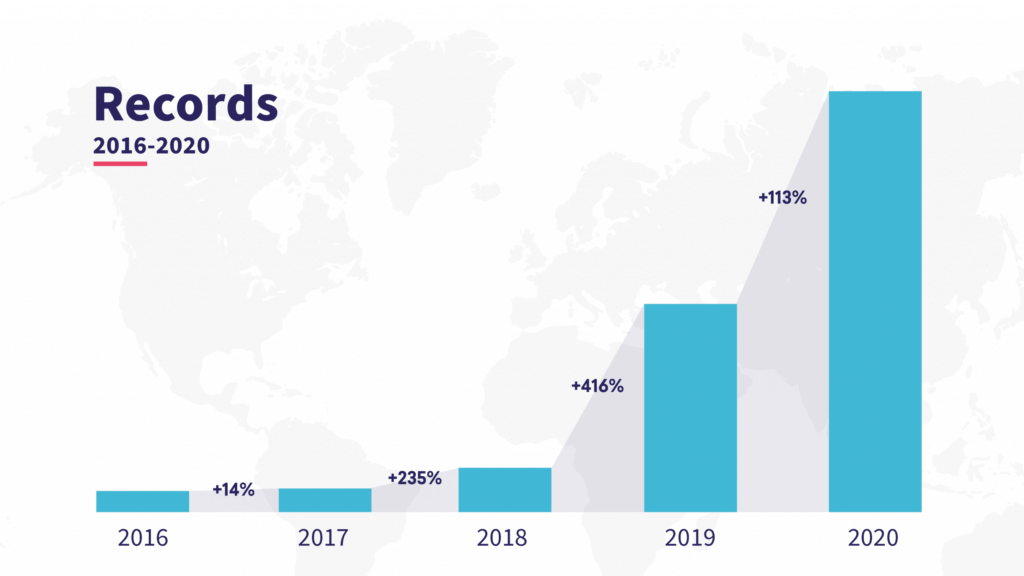 Total userbase of 50k
Although we don't base our success on the number of new users, it was a welcome surprise to find out that we'd reached the fifty thousand mark. We were able to achieve this milestone in December, as we closed the year out with a total of 9,375 new sign ups across our platforms.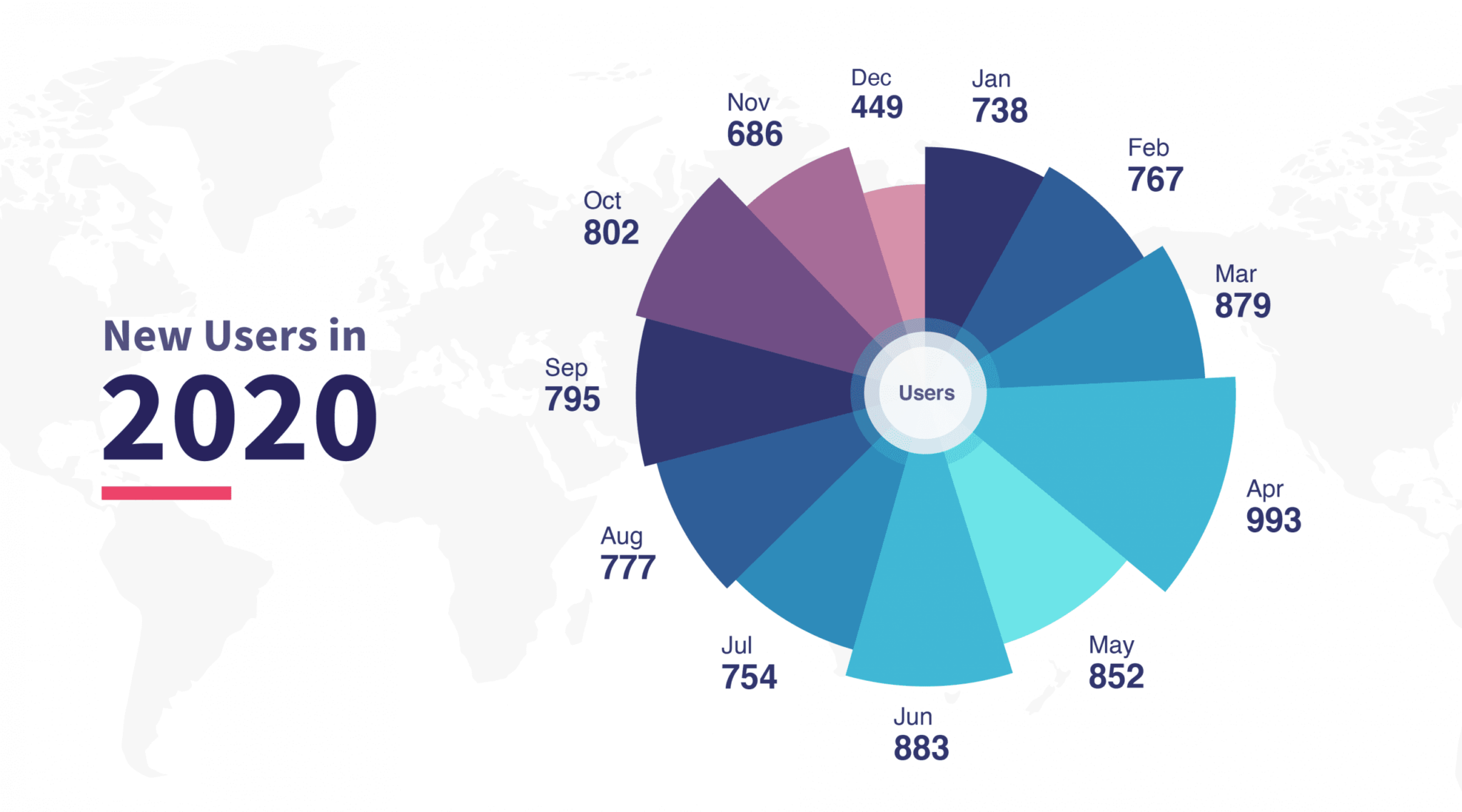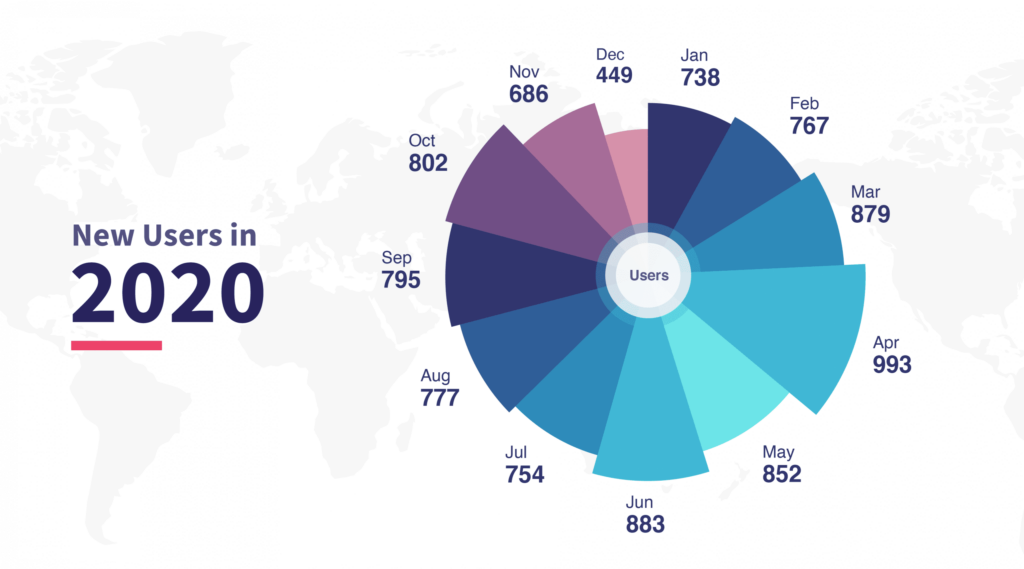 New members enrich and diversify the team
Since we're committed to constantly improving our service, in terms of both quality and scalability, we're always on the lookout for talented individuals.
2020 was a busy year in that regard. We've almost doubled our workforce compared to 2019, bringing in a host of new and diverse talents who we believe will be crucial in our path forward.
---
QA and visibility our mantras for 2021
Thanks to our solid foundation of strong leadership and team of specialists, we're glad that we were able to come out of 2020 stronger. Our aim for 2021 is to push ourselves even further. To that end, we've set out a few goals and targets.
Drive towards achieving the highest data quality
As a DaaS company, we pride ourselves in empowering our customers with the highest quality data every single time. We plan to further enhance our quality assurance side of operations — both in terms of personnel as well as more intuitive features. This will help users and teams get more clarity and control over the quality of their data.
We'll have all the new updates and announcements on any new feature right here on the Grepsr blog.
Addressing compliance to industry standards
On our ongoing pursuit of the highest data quality levels, compliance to the latest standards is essential. As such, we've initiated certification processes for industry standards such as HIPAA and SOC. This will allow us to not only meet the unique needs of our clients, but also accelerate our quality assurance quest.
More resources on everything data
In 2021 we plan to explore new content ideas — data industry news & updates, market insights, web data extraction techniques, technical issues & solutions, etc. This will allow our readers to stay updated on the ever-growing data industry, and at the same time also gain key know-hows to further enhance their technical skills.
Here at Grepsr, we're always open to new ideas. For any feedback or technical pain points, please feel free to get in touch with us via our Contact Us page, or write to us at contact@grepsr.com. We'd love to hear from you!
Getting closer to our clientele
As almost 90% of our clients are based out of the US, it was only natural for us to set up a base there. While the initial groundwork was already laid in 2020, we intend to further the planning this year.
---
Once again, we'd like to express our sincere gratitude to all of our regular as well as first-time customers, without whom none of our achievements would have been possible. We look forward to continuing our partnership and playing a part in each other's success in 2021 and beyond.
P.S. We would ideally have liked to add a team photo here, but such has been the situation this year that we haven't had a single day since March where all team members have been in the same location at the same time.