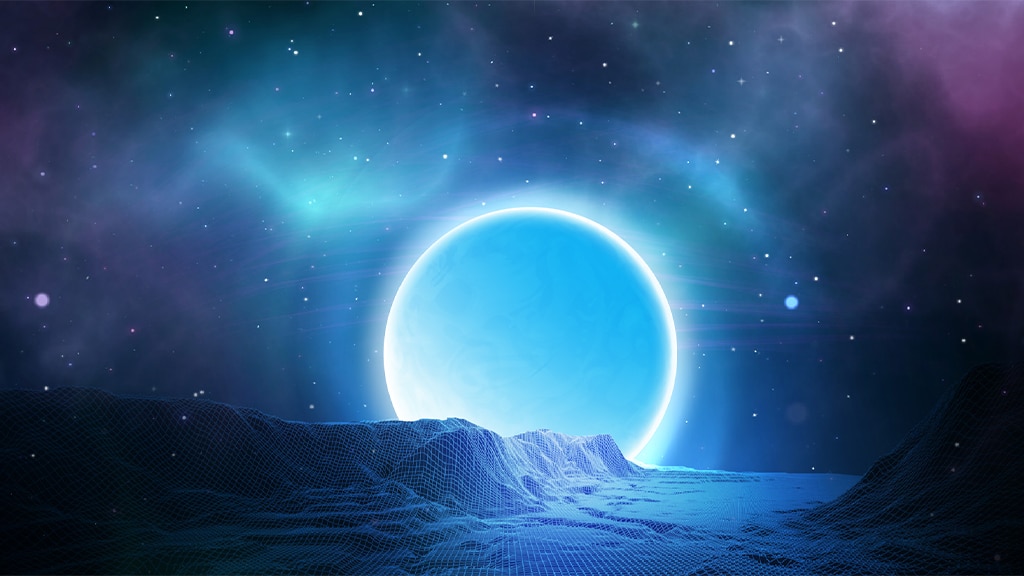 Reaching out to leads and converting them into customers doesn't have to be a shot in the dark. Web scraping can help you get access to high-quality leads databases and scale your lead generation process.
We've all been there. Potential customers fill your contact form, and you see a possibility of conversion. But, when you talk to them, they couldn't be farther from your ideal clients.
Even worse, you spend weeks, and sometimes months, following up on a lead. At the moment of truth, nothing can be more infuriating than realizing that the contact was not interested in your services, to begin with. They don't even remember taking the initiative to contact you.
Here's how Binodit, our Head of Customer Success explains the predicament: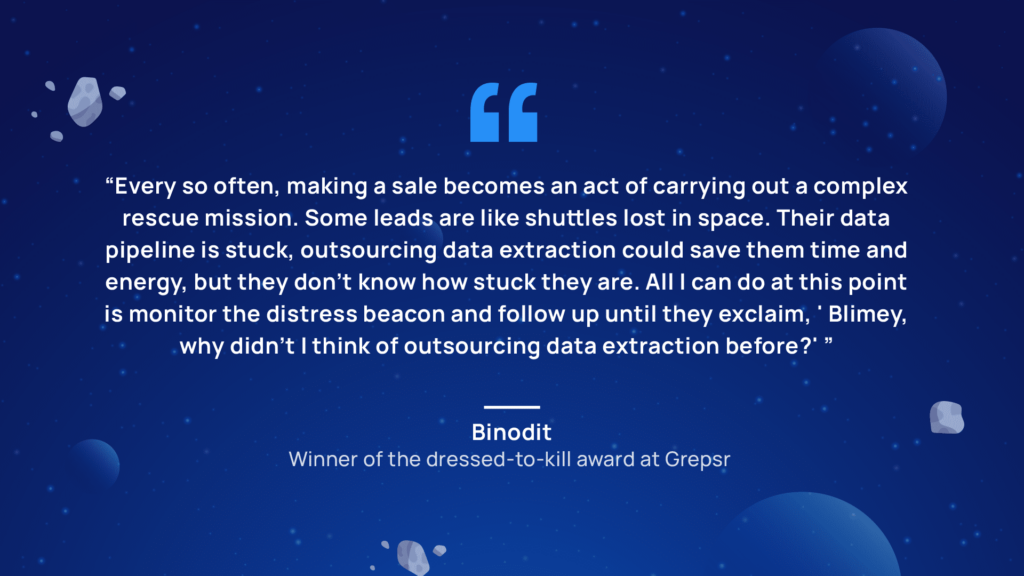 Thanks to the internet, the world is a small place now. If you have found one customer who loves your product, then rest assured that there are thousands of them out there who value what you have to offer.
The key differentiator is how many of them you reach out to, and how relevant they are to your cause.
Lead generation and conversion don't have to be a wild goose chase. You can get access to thousands of highly-relevant contacts, and even enrich your existing leads pipeline with a simple technique called web scraping.
Web scraping to the rescue: Sales teams assemble
On a fundamental level, web scraping is a handy tool people mainly use to replace the manual task of copy-pasting the information you need from the web at scale.
In simple terms, it is the process of automating web data extraction. The next important step in data extraction is to save the data in a structured format, i.e. JSON, CSV, or a simple excel spreadsheet.
Enterprises resort to data extraction when they need data in the millions. Suppose you need to train a machine learning algorithm. That's when manual data extraction is not really an option you can consider.
Businesses use web scraping for a variety of applications. With the proliferation of Big Data, it has become mandatory for companies of all shapes and sizes to incorporate web data into their workflow. Web scraping gives you more information to chew on and provides a clever way to garner actionable insights.
Data available on the web comes in many forms. Not only that, it's also spread across a variety of web sources.
For instance, in lead generation, if you are a real estate developer looking to invest in a series of high-value properties, you can turn to Zillow for possible leads. If you are a grocery supplier you can go to Yelp and Google Maps to find local businesses you can target to sell your services.
What web scraping does is provide you with a big pool of high-quality leads to target. Depending on the data points you decide to collect – contact name, contact phone number, email, business ratings and reviews, you can obtain insights on a granular level.

Data to make or break your business
Get high-priority web data for your business, when you want it.
Be like the tiger with web scraping (for lead generation)
The king of the jungle – tigers (it's not the lions, they live in grasslands) are proactive hunters, crouching behind their unsuspecting prey before attacking.
Whereas the Python is a more reactive hunter, they don't chase after their prey. They lay ambush for their prey, and use their superior sight and smell to snare their game.
Most businesses follow the Python approach. They create landing pages, publish gated content, push industry-related blogs, and spend their efforts on SEO.
While there is nothing wrong with this approach, it is terribly time-consuming, and you miss out on a whole lot of leads. Your customer is out there, hitting his head against a brick wall, unbeknownst to what problem plagues his business. And, here you are, waiting for them to make a move.
This is where web scraping for lead generation comes in. Managed data extraction services like Grepsr have the capability and experience of providing high-quality leads data. Contrary to what you may think, this leads database is not good enough just for cold calling.
We provide you with leads data in a standardized format that can be seamlessly integrated with your data processing and data classification systems. Thereafter, you can pair your internal leads database with our external leads database, cross-reference data points, and create a gushing sales pipeline the whole year round.
Popular leads data sources for web scraping
Businesses come with varied value propositions. Hence, your use case defines the web scraping project for lead generation. The qualitative and quantitative nature of your Ideal Customer Profile (ICP) has a heavy impact on the web sources you can use to shortlist leads.
Furthermore, here are a few of the popular web sources enterprises generally prefer to automate leads data extraction from:
Job listings extraction for lead generation
Every day companies post thousands of job vacancies on popular job boards like Indeed and Glassdoor. They are an overlooked insights mine.
These job postings give a clear indication of what the business is looking for. You could think of it as signals companies emanate that sum up their pain points in one way or another.
You can skim through the job postings of the industry you are interested in and see the kind of profile they are hiring for. It should give you enough information to populate your leads database.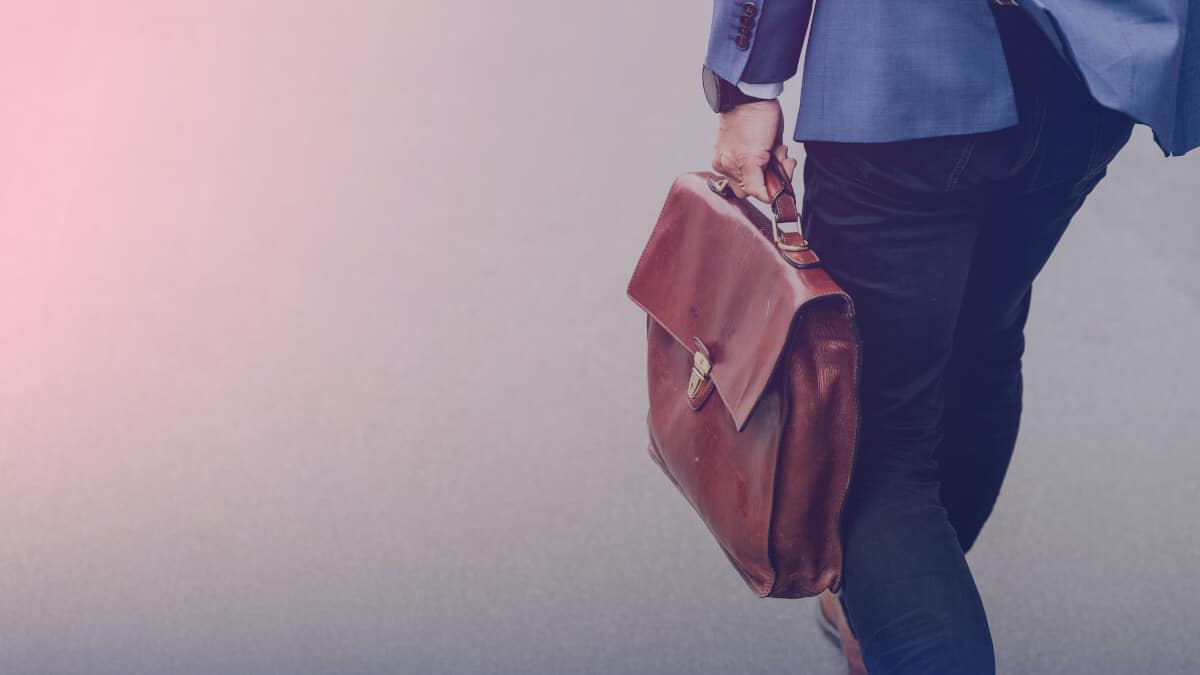 An Overlooked Insights Mine: Job Postings Data | Grepsr
Job postings data is often overlooked by companies. Read about the various applications of jobs data and see if you can leverage human capital data.
Real estate listings extraction for lead generation
Real estate listing e-marketplaces like Zillow and Realtor have thousands of listings at a given time. One major benefit of these listing websites is that they give you insights in real-time. Moreover, here are some data points you can consider: property price, property address, agent name, agent phone number, agent ratings, etc.
You can leverage Grepsr to extract historical real estate data or extract real estate leads data in real-time to reinforce your decision-making.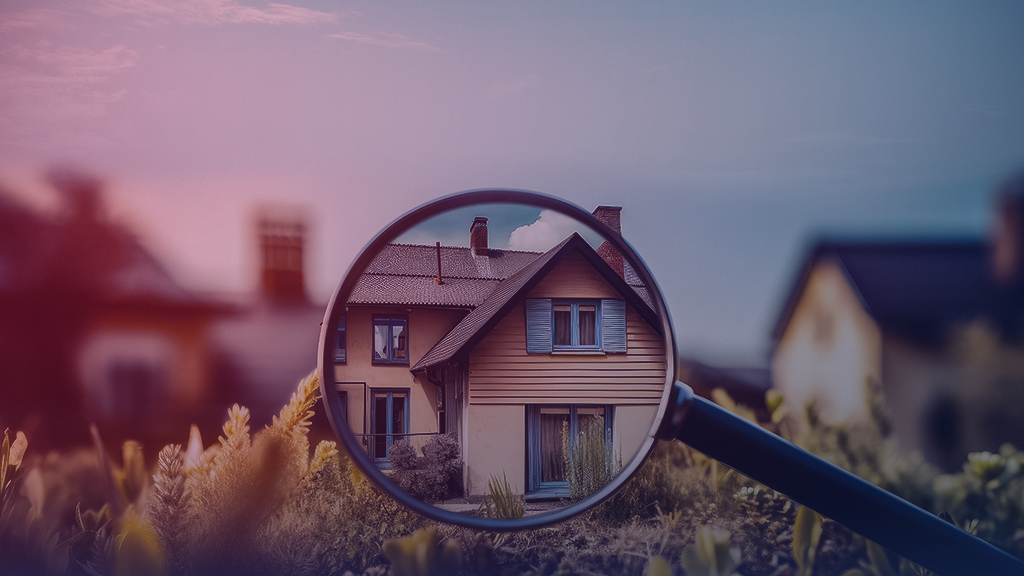 Zero-in on Your Real Estate Prospects with Data | Grepsr
Learn how you can zero-in on your real estate prospects with data. Also, read about the applications of web data extraction in real estate.
Google Maps scraping for lead generation
Google Maps is one of the foremost sources for leads data extraction. Moreover, you can find a company's business model, phone number, address, ratings, and number of reviews, among many other data points to create a dependable database.
What's even better about this approach is that you can get access to local insights regarding the needs and performance of a business.
What's more, Grepsr helps you get access to POI data points at scale. You can augment your sales strategy by enriching your leads database.
Furthermore, you can read more about the applications of POI data in business here.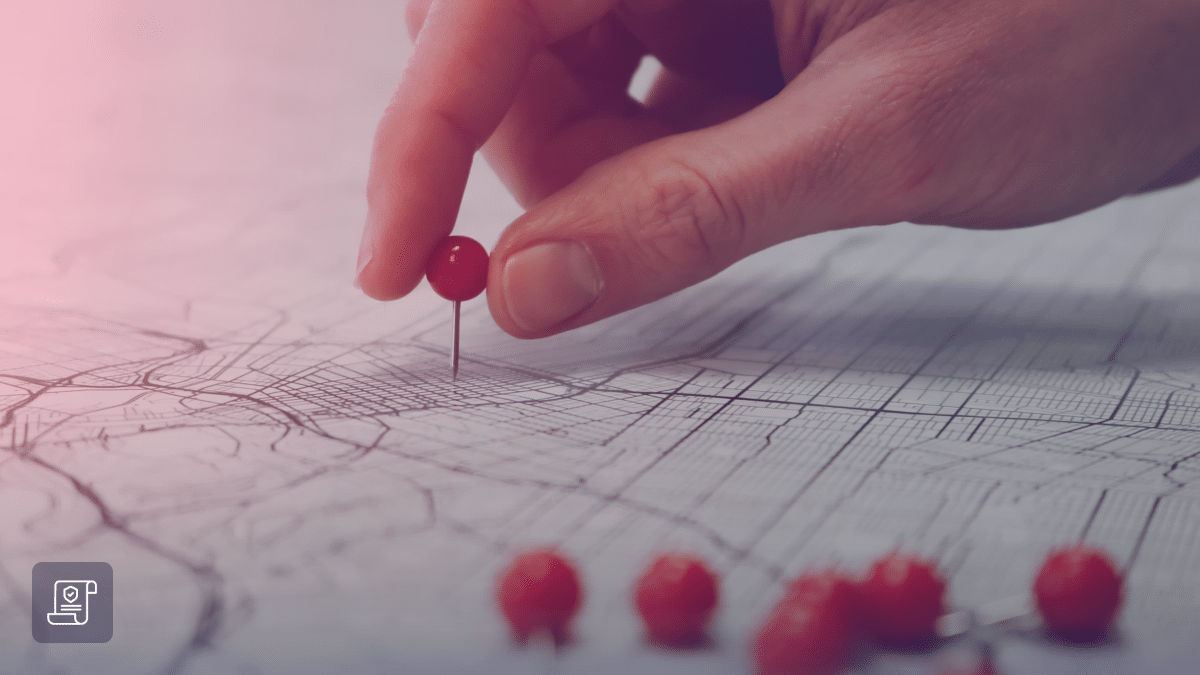 POI Data Applications & Its Significance to Businesses | Grepsr
As one of the most important forms of data, POI (Point Of Interest) data is a crucial component that can help you scale your business.
Yelp & Yellow Pages scraping for lead generation
Extracting leads data from Yelp and Yellow Pages helps you gather location-specific information about the performance of a business. Furthermore, Yelp is a reliable source for generating leads for your local business.
Importantly, you can use this data to perform effective competitive analysis.
Company-specific email extraction for lead generation
Last but not least, what better way to hear about the needs of your ideal customer's pain points than straight from the horse's mouth?
If you can provide Grepsr with a list of companies you want to target or competitors you want to watch out for, we can provide you with a list of leads pertaining to the business.
Ready to get started with leads data extraction?
By now, we believe you pretty much understand the importance of leads data extraction. But, data extraction at scale is easier said than done.
As external data requirements increase, you inevitably run into problems like dynamic content and captchas. Since web data extraction is about automating data collection, web sources block IP addresses that make too many requests. Proxy rotation is a natural but expensive solution.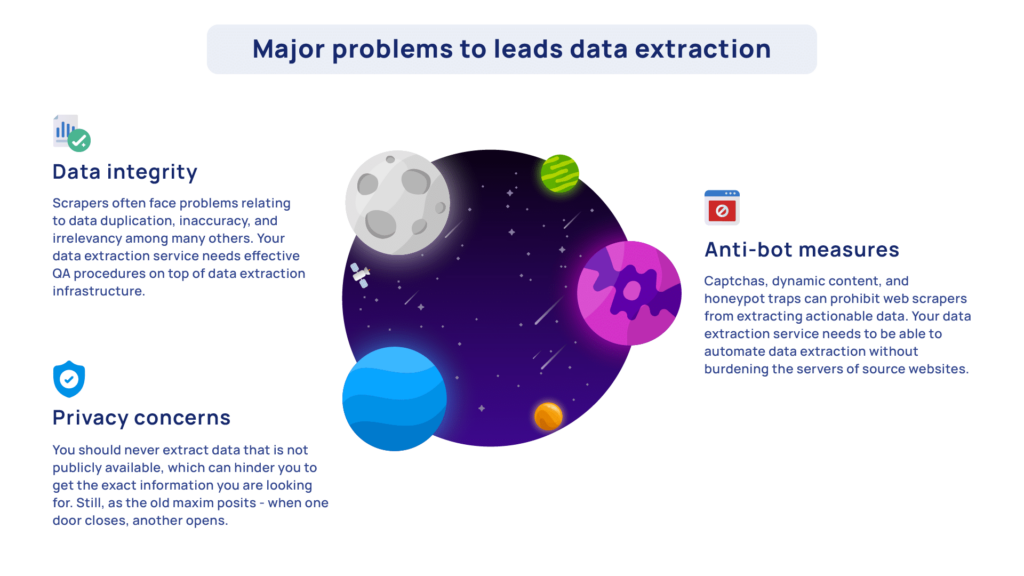 Read about the problems associated with web scraping here.
If you are facing a drought and are looking for a way to build a robust sales pipeline, then we can help. Just give us the following information. It will help us understand your leads data needs properly which in turn will allow you to target highly-relevant personas.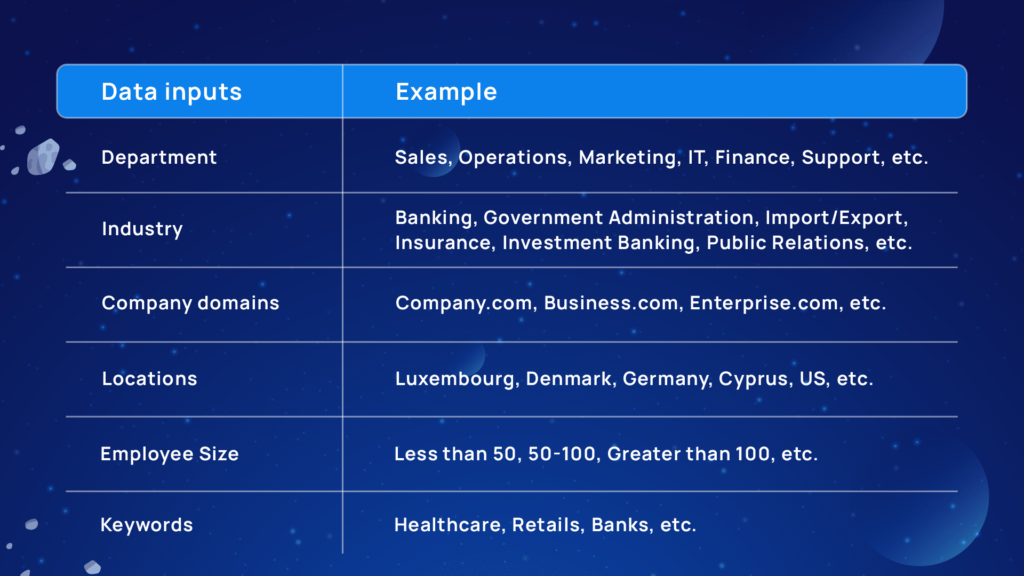 Expedite lead generation with web scraping
Bringing it all together, we want to let you know that there are potential customers out there who don't know how stuck they are. They feel in their bones that a service or product like yours could seriously help them improve and better their lives.
But like a spaceship drifting aimlessly in the expanse, they don't believe there's a vessel on its way to the rescue.
Let us know the kind of leads you are after, and Grepsr will provide you with the data you need to reach out to relevant leads and send them off on the correct trajectory.
We come with more than a decade of experience in managed data extraction. Our DaaS offering is characterized by responsive customer service, superior data quality, and the ability to solve complicated use cases.
Until next time, space cadet.

Web data made accessible. At scale.
Tell us what you need. Let us ease your data sourcing pains!