In today's car rental industry, data isn't just an option; it's the key to making pivotal decisions that drive success.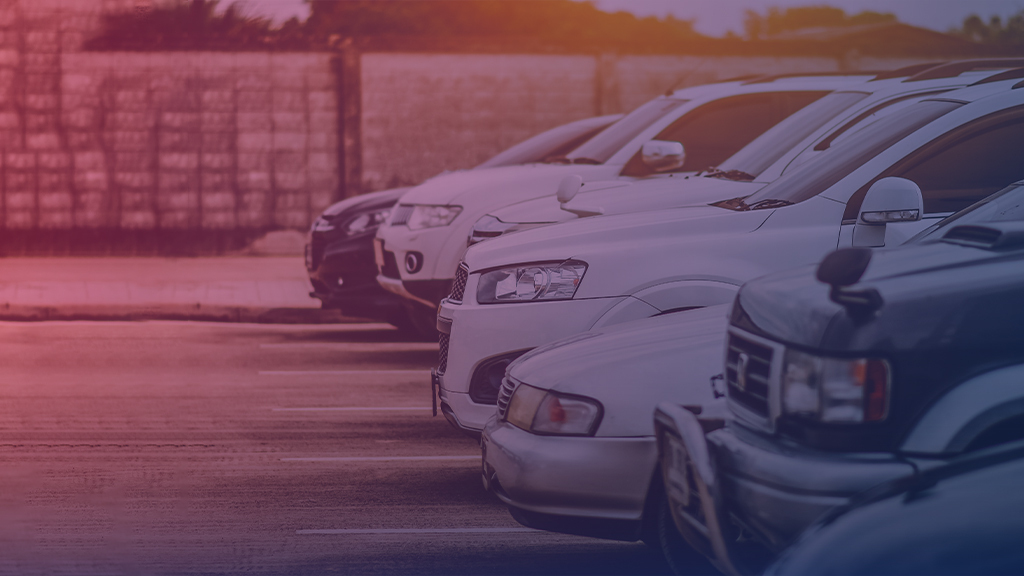 The car rental industry is poised for a lucrative path ahead, with a projected revenue surge to $1.9 billion by 2027.
The holiday season ignites a desire to explore and experience new places, which, in turn, drives the demand for car rentals.
In this competitive landscape, every player strives to ensure their fleet is available in the right place at the right time. To succeed, embracing a data-driven approach is essential.
This festive season with busy travelers everywhere, you can surely blend in the data insights from across the web to enhance your business. Subsequently, making your car rental service rise in this fierce market.
In this blog, we will explore the fundamentals of fleet management for such businesses and how outsourcing to an external data provider can make your operation more structured than ever.
Fleet Management
One must understand what a fleet actually means. A fleet is a group of commercial assets that are owned or leased by a company to transfer either products or people every day.
It can be ships, machinery, airplanes to couriers, small car rentals, or taxis for light passengers.
In simple terms, fleet management is looking over the entire business by evaluating each vehicle's operations, driver's safety compliance, the optimum price range for rental, improving customer experience, and the productivity of the entire workforce.
The ability to track the whereabouts of every vehicle in your fleet during the day, regardless of how far distant they are, is essential to boost performance and dependability.
Further, optimizing the function by accurately estimating the time of arrival using the GPS and updating the person who booked the ride helps you improve the customer experience.
Every business has a different approach depending on its fleet mix.
Similarly, every customer also has a different preference for the rented vehicle that leads to their satisfaction.
Thus, you must consider a diverse range of vehicle options, including everything from budget-friendly Hondas to high-end Mercedes-Benz models.
Some big enterprises even hire a dedicated fleet manager. Their responsibilities are ensuring that the vehicles used for rental are well maintained with regular servicing.
They are also accountable for driver's safety training, planning the routes, managing inventory, and staying up to par with legal compliances.
Nonetheless, their primary objective is to boost revenue with the least expenses.
Key Challenges in Holiday Fleet Management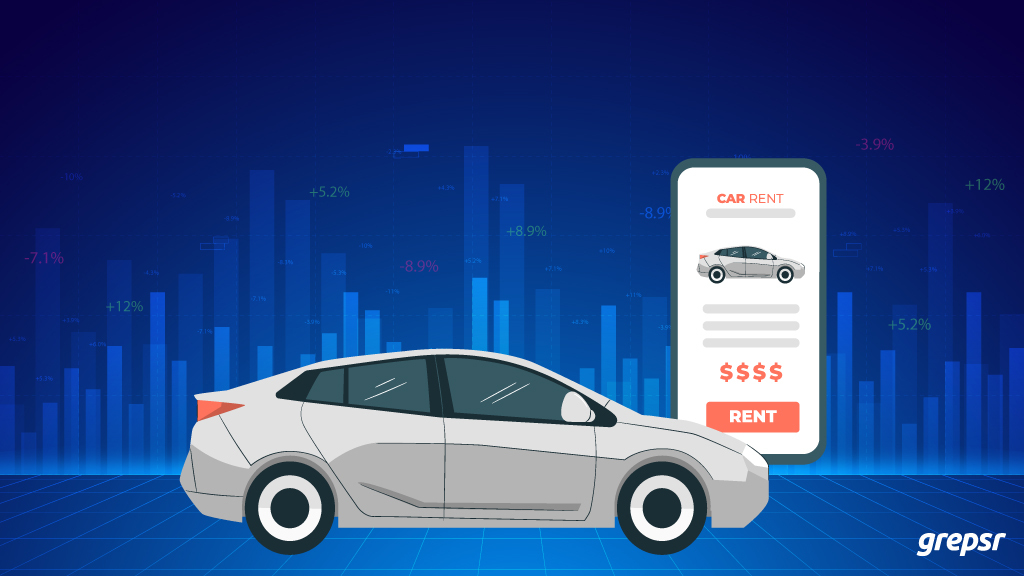 While the car rental industry appears to be a profitable investment, it also presents substantial challenges that are equally significant.
Seasonal demand fluctuations
Serving foreign travelers is a complicated task for the car rental business.
In bustling urban centers, particularly during the holiday season, there is an unprecedented demand for rental cars. However, the supply may fall short due to the sudden increase in demand, creating potential shortages.
And even if the supply reaches the equilibrium point, later there is a high probability of the added mix of vehicles being idle.
Thus, idle inventory could lead to a loss in revenue for the car rental business's foreseeable future.
Booking and Pricing
During the holiday season, numerous challenges emerge in the booking and pricing processes.
You might be in a tight spot when providing special offers for customers who rent your car.
Navigating the booking and pricing structures in persistently high-demand locations can be particularly daunting, making it challenging for both customers and service providers to become well-acquainted with the processes.
Assessing the gravity of the situation is mission-critical for in-demand tourist attractions, transit points, carnivals, and primary business hubs.
Hence, accurately estimating costs for such high-demand locations, especially when considering the element of time, can frequently become an uphill battle.
Customer Service and Brand Awareness
Following that, adhering to customer demands and happiness along with creating a brand reputation in the industry are also extremely vital components.
One of the most important aspects of every successful company is its ability to satisfy its customers. However, it becomes challenging for car rentals to provide their customers with complete transparency and precise details.
Likewise, newly established rental companies find themselves engaged in fierce competition, vying for a strong reputation. Prioritizing high-quality services becomes imperative as the initial step toward building market awareness. A negative assessment of your offerings could significantly harm your reputation, underscoring the importance of delivering exceptional service from the outset.
Thus, creating brand awareness through excellent customer service goes hand-in-hand.
Competition in the Car Rental Business
In addition to the new entrants in the car rental industry, existing businesses are also intensively competing to establish their presence in the market.
The changes in the base rate and the promotional offers of your competitors can heavily influence the whole car rental industry. That will eventually impact the pace of your business growth.
Without the data on your competitor's marketing tactics, campaigns, and performance, it'll make it even harder for you to grow your business.
Thus, competitor analysis is extremely necessary to sustain in this booming domain.

Data to make or break your business
Get high-priority web data for your business, when you want it.
Obtaining & Utilizing Quality Data
As mentioned above, data is key to nourishing the performance of your car rental business.
Vehicle Telematics
Vehicle data include the speed, location, maintenance, and servicing requirements. You can gather details about your vehicle with the help of Vehicle Telematics.
It is a combination of various technologies that incorporate GPS systems, black boxes, and wireless networks for the storage and transmission of telemetry data with the goal of improving driver and customer safety and fleet efficiency.
It even delivers information on driving habits, such as speeding, abrupt braking, and strong acceleration.
Insights on your vehicle can be obtained from vehicle telematics to make appropriate changes in fleet management. However, just having knowledge of your vehicle and how you run the operations is not enough to drive success in this fiercely competitive industry.
You must know what your competitors are up to along with what's trending in the market. You need loads of data and analyze the key points to form a strategy so you can stay ahead of the game.
Therefore, gathering quality data at scale requires a meticulous process of web data extraction.
Data Extraction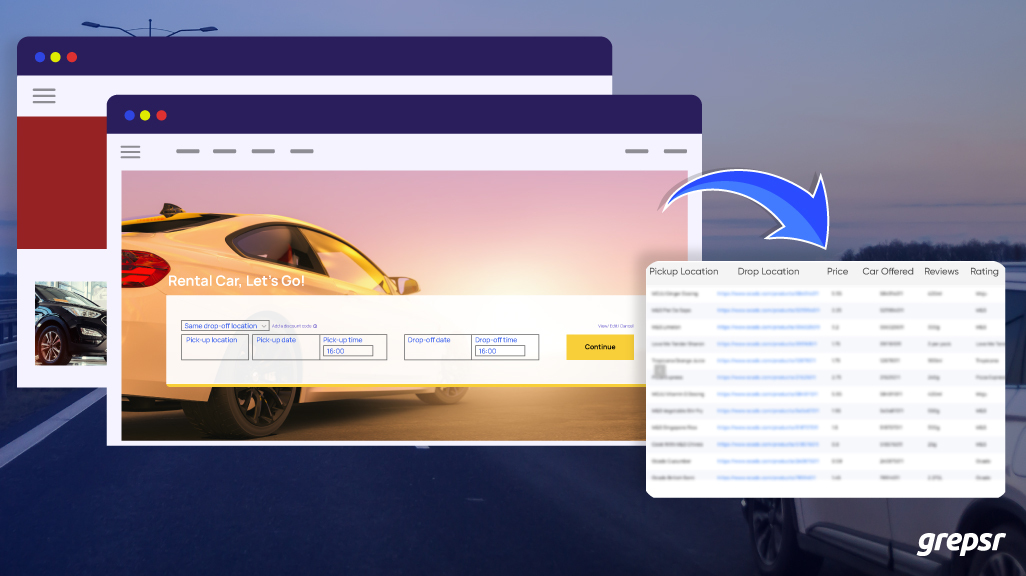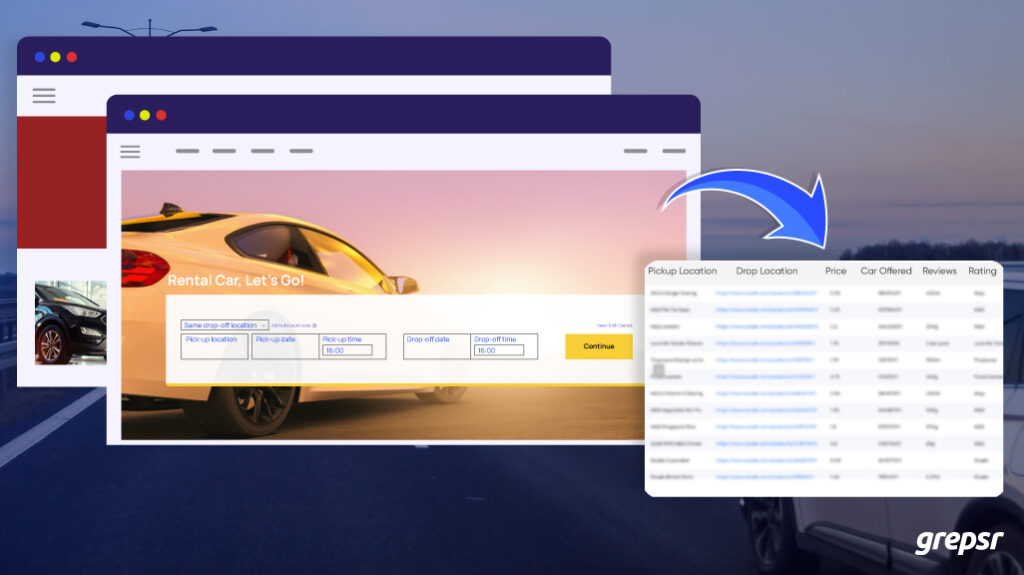 Online scraping is simply extracting relevant data from websites and web pages. There are authentic car rental websites like Hertz, Avis, and enterprise.com that offer credible information.
In the automated scraping process, machine learning, and artificial intelligence are utilized for forecasting demands.
You can monitor the historical and current local events, public calendars, hotel, and airline booking as well as other relevant data that are publicly available. You can leverage the data to manage the time and place for vehicles as per the estimated demand.
Thus, forecasting demands that can prove to be accurate will enable car rentals to optimize fleet management. Such as deciding when and where vehicles can be readily available for people at different locations.
Web scraping aids in the collection of market statistics from online automobile platforms, OEM websites, customer sentiments from review sites, and even evaluating your competitor's moves.
Keep reading to learn more about the advantages of quality data from web scraping services.
Data-Driven Decisions
As more people have become accustomed to researching before making purchases, renting, or using specific products or services, the digital presence of potential customers is steadily increasing.
External data extraction partners like Grepsr will definitely help you gain leverage from people's online presence.
The collected data can then be employed to study market patterns, track used or rental automobile price shifts, and even collect client ratings and feedback to help you improve your car rental business strategy.
Let's take a more in-depth look at how external data can help your business make data-driven decisions.
Optimal Vehicle Allocation
As mentioned before, you can implement your strategy of effective fleet management.
By leveraging the quality data from current and historical events, you will be able to understand the increasing market demand. Especially around the holiday season and organize your fleet accordingly.
From the data provided by your external data provider, you can deploy the vehicle inventory in specific locations. For example: fests, tourist attractions during holidays, and corporate precincts during rush hours.
Pricing Strategy
You can access actionable insights from the data to formulate your pricing strategy.
In order to familiarize people with your rental service your offers must be compelling and more enticing than your competitors.
Data extraction aids you in understanding the numerous aspects that influence the vehicle's pricing such as the rate appointed by your competitor.
Like in the Game Theory of Economics, a strategy of price cut down by one of the players (car rental business in this case) can cause the overall outcome of the whole industry to drop.
Thus, in making crucial decisions about the pricing offers, you must also take your competitor's course of action into account.
Adapt to Market Trends
You can certainly shape your business to adapt to the market trend via web scraping.
It is possible to retrieve data from multiple databases to identify market trends such as rival pricing, customer needs, demand patterns, and booking statistics.
Competitor analysis is key to navigating the dynamic market trend. The successful strategies and campaigns that your competitors implement bring a shift into the whole car rental industry.
Customer Experience Enhancement
As a customer-centric business, their perceptions of your company are crucial in the long term.
Data extraction empowers you to monitor feedback from your car rentals as well as other rental services. This provides valuable insights into customer experiences.
From the dataset, practical understandings can be pulled from customer reviews, ratings, and feedback.
Moreover, you can put those into making strategies that can ensure customer satisfaction and boost your car rental service.
End Note
In conclusion, data-driven fleet management has emerged as the keystone of success in the car rental industry. Here are a few key points that will help you comprehend the gist of this article:
Fleet management involves the strategic coordination of various tasks such as efficient operations, driver safety, and pricing optimization to enhance customer satisfaction.
At the same time, data is becoming essential for making such critical decisions in the car rental industry.
Web scraping is especially vital for collecting data on market statistics, customer sentiments, and competitor actions in your industry.
Henceforth, data-driven decisions assist you in optimal vehicle allocation, pricing strategy, adapting to market trends, and enhancing the customer experience.
Grepsr is a managed data extraction service that specializes in accelerating this approach.
We focus on rendering a huge array of car rental data available to our clients in their favored format; XLS, JSON, or CSV.
Therefore, you can rest assured that once you partner with Grepsr as your external data provider. Grepsr will leave no stone unturned to filter out the best data for the enhancement of your car rental business.

Web data made accessible. At scale.
Tell us what you need. Let us ease your data sourcing pains!